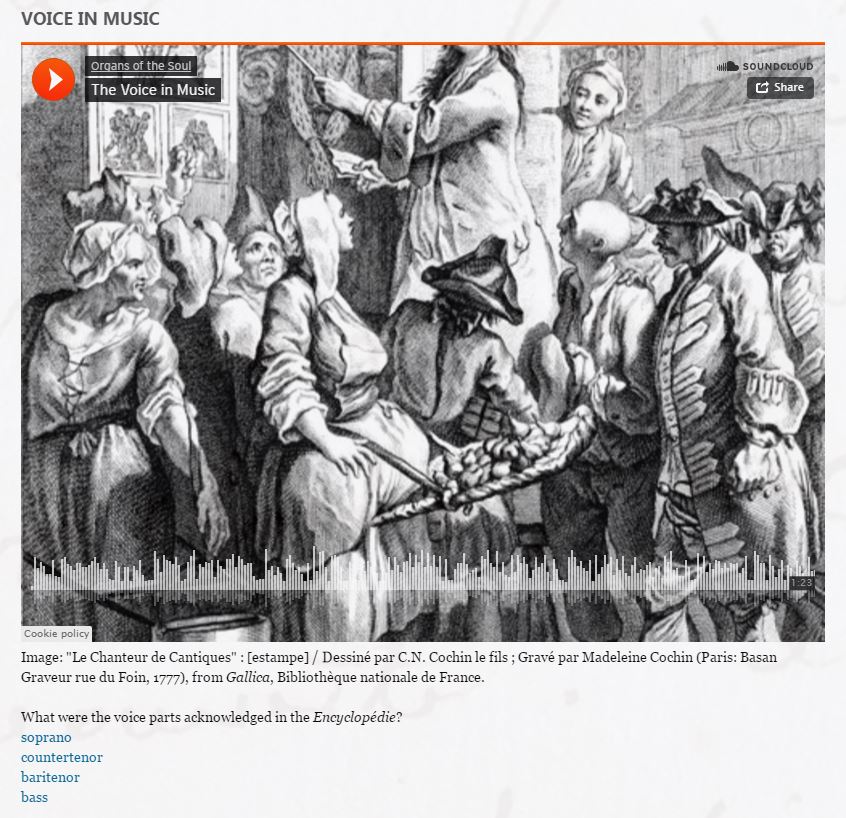 Screen capture of "The Voice in Music" from Organs of the Soul
What is it?
Dr. Rebecca Geoffroy-Schwinden (UNT College of Music) created Organs of the Soul: Social Networks in Eighteenth-Century Paris when she was a Ph.D. candidate in musicology at Duke University. The goal of this interactive multimedia project is to historically and culturally situate hearing and listening in eighteenth-century Paris by exhibiting archival and primary source materials from this time. Materials range from opera librettos and descriptions of church bells to writings from the Dictionnaire de musique.
The digital sound archive is designed in a "choose your own adventure" format. Visitors are given the option of which pages they wish to explore and in what order they'd like to explore them. There are all kinds of narrative pathways to explore, giving each individual user the freedom to customize their interactions with the project.
When Dr. Geoffroy-Schwinden joined the College of Music at UNT, she continued to add to and refine Organs of the Soul. In her MUMH 5110 course ("Quarreling about Opera in Eighteenth-Century Paris"), masters and doctoral students created a series of podcasts that were added to the project. In these podcasts, the students re-enact quarrels about opera in eighteenth-century Paris, revealing tense relationships between French and Italian opera in Louis XIV's France.
What you'd need to know
Dr. Geoffroy-Schwinden explored several web publishing platforms and ultimately settled on Scalar because it fit all of her needs. For more information on the platforms available, see her blog post, Exploring Web Publishing for DH Sound Projects.
Get Started
Below are the web publishing platforms that were considered for hosting Organs of the Soul. Take some time to explore each one and make the decision about which would best fit the needs for your project.
Resources
Inspired by Miriam Posner's famous "How did they make that?" post.