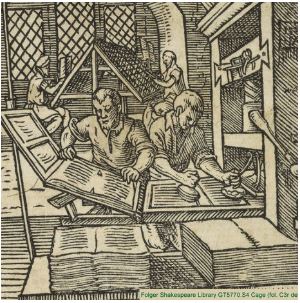 What is it?
3DHOTBED (3D-Printed History of the Book Education) was created to fill a growing need for affordable instructional materials in book history pedagogy. Last summer, Courtney Jacobs started searching for an authentic hand mould that was used to cast moveable metal type in the 15th Century to use for book history instruction in UNT Libraries Special Collections. She quickly found that, financially, such a teaching tool was out of reach. Working with Marcia McIntosh in the Digital Projects Lab, the two formed a plan to 3D scan and print a hand mould that could be used to teach in the classroom.
Kevin O'Sullivan at Texas A&M University loaned Courtney and Marcia a hand mould with a punch, a matrix, and a few type pieces. From these, Marcia built the datasets necessary to 3D print a replica of each. We'll learn more about her process in the following section. You can see the final reproductions in the video below:
While this project started as a way to fill a need for UNT specifically, it has turned into a collaborative and open-ended vision for the future of bibliographic instruction utilizing current digital technologies. The data files used for these replicas will be available on the project website for public use, allowing anyone to print their own sets of tools either through their own institution or through an online 3Dprinting service.
The project team is looking for more partner institutions to grow 3DHOTBED into a resource that can meet more of the community's instructional needs. Future plans include more instructional videos that teachers can use in conjunction with their own models to incorporate the tools into their instruction, a digital library of various styles of hand moulds from different time periods and regions, and a learning module accessible to institutions wishing to expand their book history related instructions.
What you'd need to know
The NextEngine HD 3D Scanner uses a system of lasers and cameras to capture depth, texture, and color information about whatever object is in its view.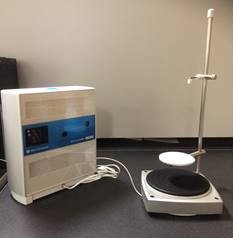 Scan Studio Software comes with the scanner and generates the model while it is being scanned. It gives the operator some freedom to clean, align, and fuse the different scans and can export the scans into various file types.
Meshlab Software is an open source product that can be used to reduce file and model sizes, automate cleaning the models, and align scans.
Meshmixer is another open source product that has automatic settings that detect holes and other issues with a model. It can also be used to adjust or edit models after scanning. If you don't have a 3D scanner, you can generate models using shapes included in the software.
UNT Libraries' Makerspace The Factory: several models were printed here using the ABR printer filament.
3D Hubs is a website where some of the models were sent out to be printed in PLA filament. Users can upload their models and discover the different hubs or printers who can print their project and prices.
Get started
https://www.3dhubs.com/what-is-3d-printing
http://www.meshlab.net/#download
http://www.meshmixer.com/download.html
For questions about getting started, contact Special Collections Librarian Courtney Jacobs (Courtney.Jacobs@unt.edu) and Digital Production Librarian Marcia McIntosh (Marcia.Mcintosh@unt.edu).
Join us April 3 for our Book History Maker Fair where you can see the 3DHOTBED tools in action, and hand-sew your own book.
Inspired by Miriam Posner's famous "How did they make that?" post.