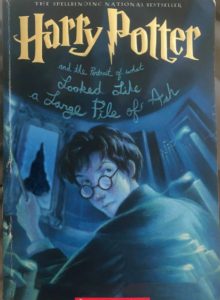 A new chapter of Harry Potter has been making rounds in social media circles lately. However, this is Harry Potter like you've never experienced. This abridged version of the fifth book in the series was written using a predictive text keyboard, and the results are arguably the funniest thing you'll ever read. 
Writers at Botnik studios fed the text of all seven Harry Potter books to the predictive writing bot. Then, the bot used algorithms to suggest words from the dataset into a keyboard that human writers could use to make a new Harry Potter chapter. 
The idea to create new human-bot collaborative pieces came from playing around with poems made with smartphone text prediction. The writers sought to make keyboards with source material from cooking recipes and animal facts to Seineld scripts and holiday history. One of my personal favorite uses of the collaborative pieces is to take the creation to the next level and perform or animate the writing. Botnik studios made a Thanksgiving cooking episode that includes the same structure and imagery that you might expect from a cooking tutorial. However, be prepared to fold the turkey in half and wash your hands with bird juice if you truly want to prepare a delicious holiday feast. 
If any of this predictive writing collaboration appeals to you, take advantage of the free keyboards from Botnik to create your own wacky writings and share with your friends. You can also load your own source material following these instructions. Here's something I wrote about penguins that you may not have learned in school. 
"Penguins are astonishingly nervous. They all look like the emperor of Argentina. Their wings have evolved into small and normal walruses. Several species live in large groups called Gary."