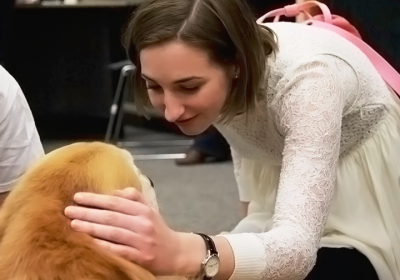 On Monday, May 11, Lulu, Buddy, Maggie, Macie, and Garda from Paws Across Texas visited the Willis Library from 2:00 pm-4:00 pm to welcome students and provide stress relief during Finals Week. The event was well attended with approximately 500 students filling the Willis Library Forum. Comment cards were available for students to fill out during the event. Here are some of the comments we received.
"I enjoyed petting the dogs. Please bring this back again over the fall semester!"
"This made finals worth it."
"The dogs were amazing. It was stress relieving."
Paws Across Texas, Inc. (PAT) is a nonprofit, incorporated, charitable organization founded in 1986 and based in Fort Worth, Texas. Its purpose is to provide diversified therapy programs using trained volunteers (representatives) and their privately owned companion animals (registered therapy dogs).