Written by: Ashra Londa
One lesser-known fact on the University Libraries homepage is that a plethora of databases are tucked under the left sidebar on the Discover site. The University of North Texas is paying for these databases for student and faculty perusal—free of charge! There are over 600 databases in total, all packed to the brim with various types of information. Out of all the databases offered by UNT Libraries, we contain a repository of 30 online video databases.
To access the video databases, a user must click on the Databases sidebar on the Discover page at library.unt.edu and press enter in the blank search bar. From there, the user will locate the "All Database Types" drop-down menu towards the top-left of the database directory page and click on "Online Video" so that only the video databases will be available. There is a wide variety to choose from for the user's browsing perusal. From here, the user can click on the "all subjects" drop-down menu to narrow the pool into a particular topic of interest, or simply skim through the descriptions beside each to locate one that piques their curiosity.
As this selection may still feel overwhelming, here follows a quick tour of just a few delightful offerings from these video resources:

KANOPY
Are subscriptions to streaming services becoming too pricey for your liking? Kanopy hosts a vast array of documentaries, animations, and other films for your perusal. Between many subject options, such as Anthropology, Medicine, and Art, there are also Award-Winning categories to choose from. If there's a specific movie in mind that you can't locate, you can even fill out a request form on Kanopy's website. Find new favorites and expand your learning with Kanopy's streaming platform. 

AMBROSE VIDEO
Ambrose Video 2.0 serves as a hub for multiple historical documentaries on a variety of subjects, but it most notably contains the entire BBC produced collection of Shakespearean plays, broken up by acts and including closed captioning. From the comfort of your own home, you can watch any of these high-quality Shakespearean productions for free with access to this database. Other subjects include classic European musical composers, American author documentaries from 1650, a history of Western artworks, and a series of nature documentaries. All these resources come included with student and/or faculty access to the University Libraries.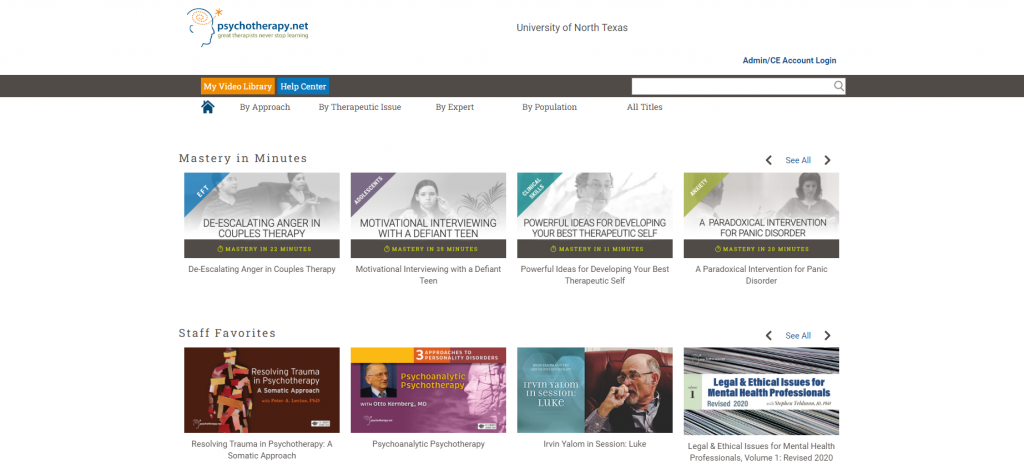 PSYCHOTHERAPY
Psychotherapy.net features a multitude of therapy video resources, such as lecture topics, interviews, and other examples and strategies. One prominent source is the "Mastery in Minutes" section, wherein quick bite-sized videos packed with instructions help ease a viewer into honing some of these therapeutic techniques, backed by interviews with real people. Other instructional videos include trauma deep-dives, suicidal client interventions, and emotional assessments. These topics would be of high interest to students in the counseling field, but they are also available for the curious layperson who may like to pick up a few psychological skills.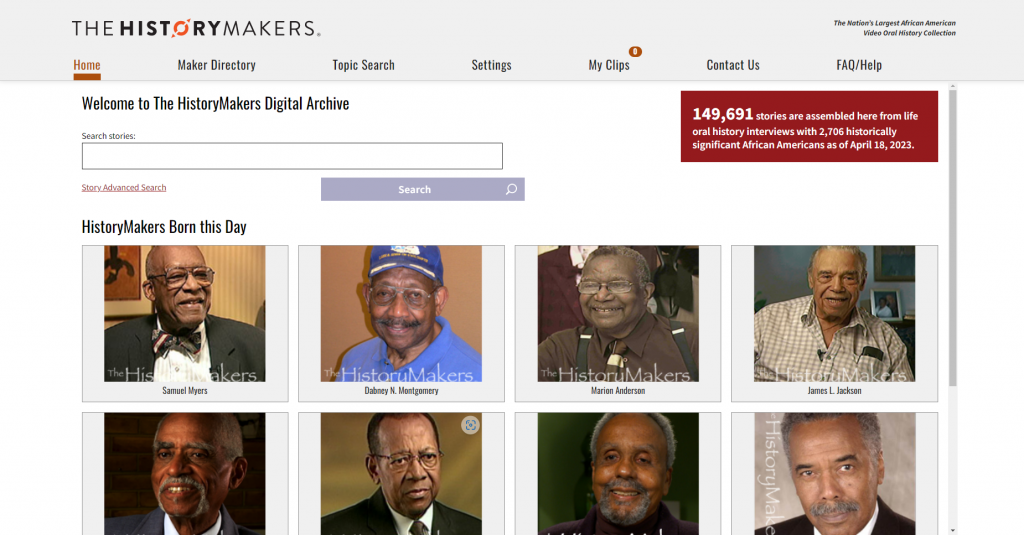 THE HISTORYMAKERS
The HistoryMakers Digital Archive functions as both a cataloged site of interviews and a source of biographic information covering thousands of African Americans from a wide variety of life circumstances. A user can search via category if interested in reading about and listening to interviews with people under a certain topical interest, such as historical values (food, neighborhood), biographical themes (spirituality, hopes and dreams, personal identity), and interview qualities (passion, type of narrative). A user can select any and as many of these filters as they desire in order to curate the best viewing experience for themselves. The interviews are cut into under-five-minute segments, easy to watch in quick bursts. This website stands as a monument to Black history and identity for a people whose voices have historically and systemically been silenced; HistoryMakers is rich with powerful and moving personal experiences. 

60 MINUTES
Access 60 Minutes: 1997-2014 to immerse yourself in a brief historical news section. These saved recording clips are quick and easy to jump in and out of for the aspiring journalist or other curious viewer. For a more in-depth look at a piece of history, whether it is a startling spring storm in Japan from 2011 or a striking interview with an everyday person, 60 Minutes contains troves of fact-backed news segments to learn from. Keep in mind that the specific time period UNT has access to is between 1997 and 2014, so you will not find very recent information here, but it is great for a jump to the relative past.
There's lots more to uncover when you delve through the video databases of UNT Libraries. Search for topics of your own interest and learn to your heart's content with the resources provided by your tuition. If you encounter any further questions while perusing the databases or come up with another query entirely, don't hesitate to Ask Us about it!