In honor of the Memorial Day weekend, here are some related items in the UNT digital collections: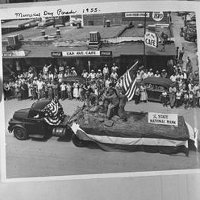 ~ The Library of Congress Congressional Research Service has published this list of commemorative observances from 2004-2006, if you want to know about other national holidays.
~ In Grayson County Reminiscences: The First 150 Years, one author tells about the Memorial Day traditions in Van Alstyne, Texas in which the families gather together to tend the graves in the local cemetery.
~ According to the Texas Almanac, there are special rules governing the Texas state flag on Memorial Day: "On Memorial Day, the state flag should be displayed at half-staff until noon and at that time raised to the peak of the flagpole." — Texas Almanac, 2004-2005 Regulations for displaying the United States flag are published in this CRS report.
~ Here are some newspaper articles about Memorial Day activities in El Paso, Texas, 1900 and Canadian, Texas, 1956. Find more in the Portal.
~ During World War II, 150,000 people gathered in Houston, Texas to remember the sailors killed in action. Read more in 1941: Texas Goes to War.
See more "Memorial Day" items in The Portal to Texas History and the UNT Digital Library.
Here are some additional items about military personnel in the Portal.