Written by Sierra Dahl
The UNT Libraries holds over three million items, however, there is always a chance the book you need is not available. Although the interlibrary loan service or purchase request can be used to obtain a copy of the book you need, there is also another program that can be used to get you access to a copy. The TexShare Program is a statewide library initiative that allows card-holding library patrons the ability to check out materials from more than a thousand other libraries in Texas. All that is needed to be granted access to other libraries' collections is to be issued a TexShare card from a participating library such as the University of North Texas.
Using the TexShare Program can be beneficial for many college students and researchers. For instance, if an academic library close to you, such as Texas Women's University in Denton, Texas, has a collection of books or a specific material you need, it is possible to be issued a library card from that library after showing your TexShare card. By doing this, you typically gain access to most of the library's materials. This program is also beneficial for distance learners since checking out books from a nearby academic library may be preferable to receiving the books through UNT's distance learning delivery service.
TexShare cards can also be especially helpful for finding books to read for recreation or fun programs offered by public libraries. It is worth noting that it is rare for libraries in this program to offer online services and resources such as e-books and streaming videos to TexShare cardholders.
My Experience Using TexShare:
I was issued a TexShare card from the UNT Libraries and have used the card twice to get library cards from public libraries. I was able to get an account with the Austin Public Library and gained access to the millions of items available at over a dozen of their locations. By having a TexShare card, I was able to check out a variety of items and enjoy their many programs. I avoided having to pay Austin Public Library's $120 annual fee for getting a non-resident library card by presenting my TexShare card. Additionally, I received a Georgetown Public Library card and have enjoyed having access to their collections.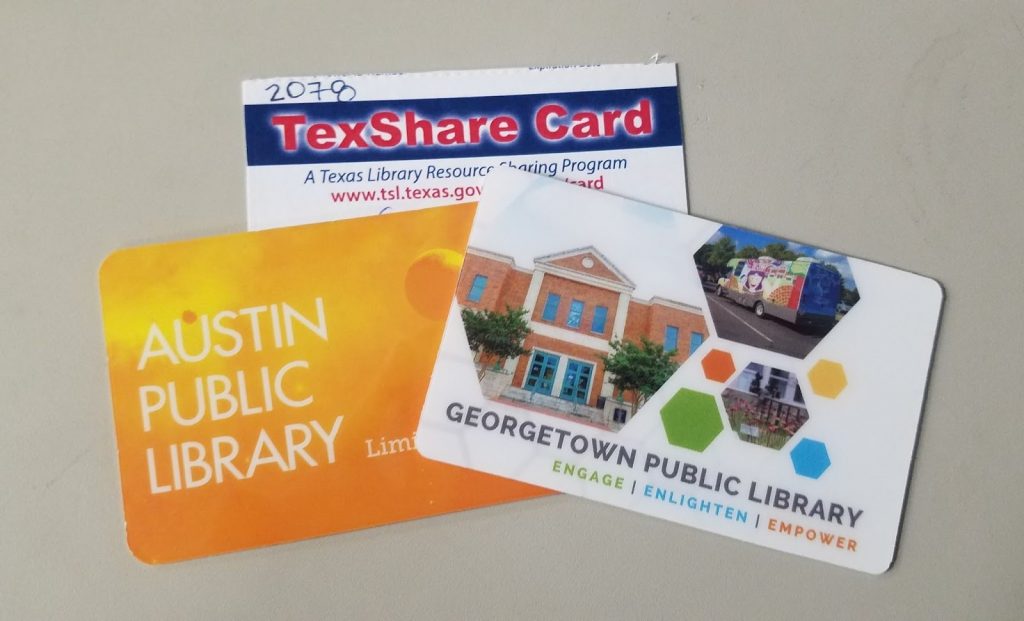 To apply for a TexShare card from the UNT Libraries, you can visit any of the UNT Libraries' service desks excluding the Media Library, and bring your student ID. After filling out a brief form and showing your UNT ID card, you will be issued a TexShare card that will expire at the end of the current semester it was issued in. For instance, a TexShare card issued in January 2022 will expire in May 2022. Additionally, distance learners can apply for a card online by emailing Access Services and receiving the card through the mail. To learn more about the TexShare program and search for a list of the participating libraries, please visit https://www.tsl.texas.gov/texshare/card. If you have questions about TexShare, contact Access Services at circ@unt.edu or (940) 565-2413.

Did this blog help you learn about using TexShare? Let us know your comments! Please contact Ask Us if you have any questions about library services.
References:
UNT Library. (n.d.). University Libraries. Distance learning services. https://library.unt.edu/services/distance-learning/
UNT Library. (n.d.). University Libraries. TexShare cards. https://library.unt.edu/services/texshare-cards/