Written by Valerie Cummins
It is a new semester, and with it comes a new season of events held at the UNT Libraries. This is not an exhaustive list- the libraries add new events to its calendar on a regular basis- but the following are events which may be of particular interest to graduate students here at UNT.
The Eagle Thesis & Dissertation Boot Camp is continuing this semester; these boot camps are intended to be distraction-free and provide uninterrupted writing time for students working on their thesis or dissertation. Later boot camps scheduled for this semester will be held on March 31st from 8:00AM to 6PM and a third one on May 3 from 8:00AM to 6PM. The boot camp is held Willis 250H.
The Libraries are continuing our Family Study Hour events; the Family Study Hour events are intended to provide students who have families the opportunity to have direct research and resource assistance and the ability to focus on their studies their children use our new family kits, kid-sized bean bags, and kid-sized desks. The remaining Family Study Hours for the semester will be held in Willis 250H on March 25 at 9:30AM and then April 26 at 2PM.
The Access Services department GSAs has two Spring semester workshops; the first on March 2nd was Google Like a Scholar, where workshop participants learned how to effectively use Google and Google Scholar for more effective searches for not just research but everyday usage.  If you are interested in the PowerPoint or Zoom recording for Google Like a Scholar, reach out to AskUs@unt.edu to request a copy. The second workshop, Know Your News, will run on March 23rd, from 2:00PM to 3:00PM. This workshop is intended to teach participants how to recognize what information resources are reliable and which ones are suspect and provide strategies on recognizing bias and how to think critically about news and information sources.  
The UNT Libraries will be hosting several events for Campus Pride Week, which runs from March 27 to March 31st. Tabling will be held inside Willis Library's first floor lobby on Monday from 11AM to 1PM. On Tuesday, a Queers and Allies Zine Making workshop will be held from 2PM to 4PM in Willis 250H. On Wednesday, there will be multiple events: "But I'm a Cheerleader" will be screened at the Media Library in Chilton Hall from 12PM to 1:30PM. In Willis Library the Queer it Yourself! Button Making @ the Spark event will be held from 2PM to 4PM on the first floor by the Spark desk. LGBTQ+ Bingo will be held from 6PM to 7PM both in person in Willis 250H and online. On Thursday, Sycamore Library will have Pride Storytime from 4PM to 5PM.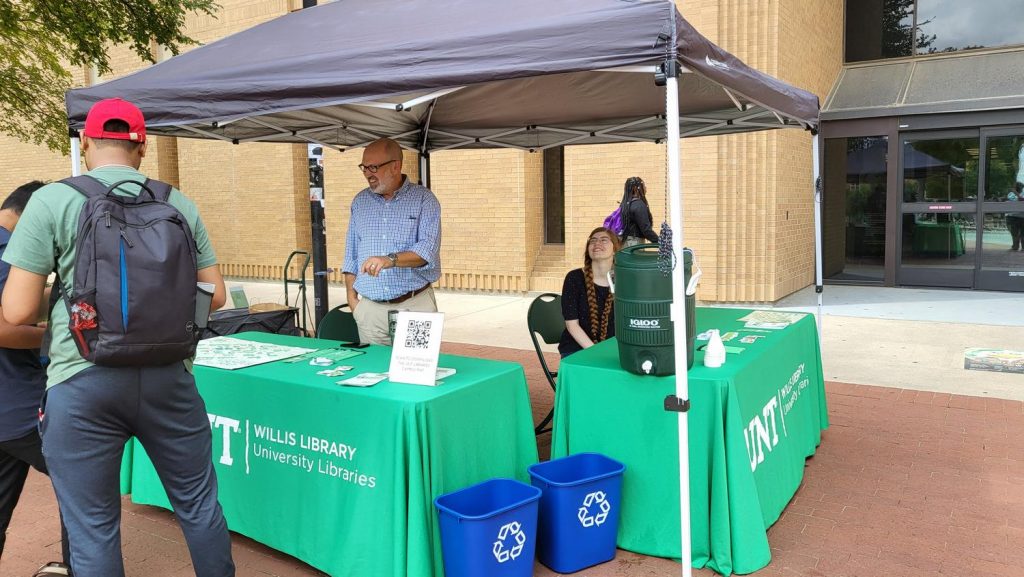 As a different activity that will be held the same week as Campus Pride Week, Willis Library's Access Services is planning to host a Make Your own Bookmark event on March 28th, from 12-2PM on the Library Mall outside of Willis Library, weather permitting. During this event, participants are welcome to create their own bookmarks for personal use and can ask any questions they might have about various library services.
On the 14th of April, the UNT Libraries will be sponsoring the 2023 Open Access Symposium with the Texas State University Libraries. This is an all-day virtual event, from 9AM to 4PM, with a focus on new federal initiatives that support Open Science and public access to research that is federally funded. It will include an afternoon panel of faculty who create and use Open Educational Resources or open textbook in their courses.
On April 18th, the UNT Libraries will be hosting its own student symposium: the Student Snapshots Library Conference. This will be in Willis Library in 250H. The student symposium will feature and showcase services, technologies, projects, and unique resources in different UNT Library departments that student workers have worked on and will present on in a variety of formats. This is not just a unique opportunity for student workers to present in, but for graduate students and students interested in graduate school to attend and explore to learn not just about library resources and what the library does, but also gain experience in how symposiums are ran and what they look like.  
Finally, there are the Spark workshops. The Spark has its own various workshops that cover different technological resources and software available through the Spark, UNT's computer labs as well as free online resources; their main workshop series for Spring 2023 is Creating Comics, and as of the writing of this blog post they have a variety of introductory courses for March scheduled at Discovery Park, Willis Library, and Frisco Landing.
Did this blog help you learn about events and workshops you might be interested in at the library for Spring 2023? Let us know in the comments! Please contact AskUs if you have questions about library services and events.
References
The Spark. (n.d.). The Spark: Spark Events. Guides at University of North Texas. Retrieved February 13, 2023, from https://guides.library.unt.edu/spark/events
UNT Libraries. (n.d.). UNT Libraries Calendar. Calendar. Retrieved February 13, 2023, from https://calendar.library.unt.edu/