The first of our two 2016 finals events was Paws and Relax pet therapy dogs courtesy of Paws Across Texas. The event was sponsored by the Student Library Advisory Boards (SLAB), and volunteers included the advisors and members of the boards. We not only had hundreds of students stop by, but saw UNT faculty and staff enjoying the event as well!
Pics from yesterday's Pet Therapy Dogs in Willis Library SLAB event.Thanks Paws Across Texas (& students who stopped by :) #UNT #FinalsWeek pic.twitter.com/IfsqYB2jDy

— Lilly Ramin (@lillylibrarian) December 13, 2016
One of our Undergraduate SLAB members, Evi, did a Paws and Relax UNT libraries news story for the library website and included several great pictures if you would like to learn more about the event.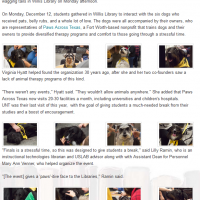 Thanks to all involved!
~ Lilly