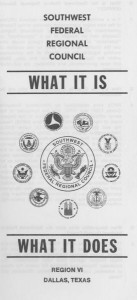 In 1972, President Richard Nixon (1969-1974) established Federal Regional Councils for ten different regions of the United States. The purpose of the Councils was to foster interagency communications and to strengthen relations between federal, state, and local governments. The ultimate goal was to ensure federal laws and plans were implemented under the concept of "New Federalism," a philosophical ideal that transferred power back to local governing bodies. Each Council consisted of an assigned delegate from the Department of Labor, Health, and Education, the Department of Housing and Urban Development, the Department of Transportation, the Office of Economic Opportunity, the Environmental Protection Agency, and the Law Enforcement Assistance Administration.
The Federal Regional Councils Program was amended and expanded under Presidents Gerald Ford (1974-1977) and Jimmy Carter (1977-1981). Each Council was different based on its region's needs. Region VI, or the Southwest Region, consisted of Arkansas, Louisiana, Texas, Oklahoma, and New Mexico. The Southwest Federal Regional Council, which began operation in the mid-1970s, was based in Dallas, Texas. The Southwest Council focused on general federal initiatives such as welfare reform projects and rural development, and its regional-specific programs included the Red Riverway Project in Louisiana, the McGee Creek Reservoir Project in Oklahoma, and the Greater South Texas Cultural Basin Commission.
In 1983, President Ronald Reagan (1981-1989) issued Executive Order 12407 which officially disbanded all ten Federal Councils. Officials stated that they were cancelled because they had fulfilled their purpose, but many argued the Federal Councils trumped state and local governments. Despite the criticisms, many of the projects implemented under the Southwest Federal Regional Council had lasting benefits for the region that are still visible and accessible today. The Southwest Federal Regional Council Collection in UNT's Special Collections Department includes hundreds of documents detailing these projects. The collection includes documents detailing the dozens of urban programs that were initiated across the southwest region. Correspondences between federal, state, and local officials in the collection shine a light on the communication between the different levels of government in the implementation of urban policies with the goal of making the future better for generations to come.
-by Chelsea Stallings