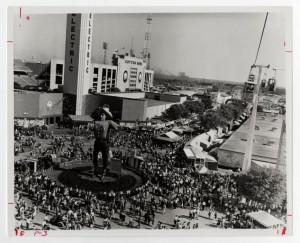 The annual celebration of all things fried, also known as the State Fair of Texas, wrapped up its 2014 season with record breaking numbers last weekend. According to published reports, the nation's largest state fair generated a whopping 42 million dollars this year, smashing the previous record of 37.3 million dollars set in 2010. The event held each year at Dallas's Fair Park attracts Texas-sized crowds from far and wide to ride the rides, chow down on some fried (insert most any edible concoction imaginable here), and, of course, proffer Big Tex a hospitable howdy.
Pulled from the Lester Strother Texas Metro Records Collection, the accompanying photos of the Texas State Fair during the 1960s highlight just how much the Midway has changed-and remained the same-over the years. Standing tall to welcome the crowds to the fair in the above image is the beloved figure of Big Tex.
As the most recognizable symbol of the State Fair, the 55 ft. structure known as Big Tex was heartily welcomed back to the fairgrounds last year after his spectacularly crackling demise in 2012. (For those unfamiliar with the fiery calamity, Big Tex sadly succumbed to injuries sustained when he inadvertently doubled as bonfire kindling and went up in flames during the final week of the 2012 State Fair.)
Big Tex's triumphant return to the fairgrounds last year marked only one of a number of transformations the giant cowboy has undergone since his original manifestation as a 49 ft. Santa Claus built by the city of Kerens, Texas in 1949. After only two years spreading holiday cheer in Kerens, the looming iron and paper-mache Santa decided to trade in his white beard and red suit for a cowboy hat and boots when he was sold to the Texas State Fair. Since his fairground debut in 1952, Big Tex has continuously undergone several outfit, structural, and voice changes. Of course, the biggest transformation to occur to the colossal cowboy since his early conversion from jolly old Santa was in 2013 when he re-emerged from the ashes of 2012 3 feet taller and sporting a nifty fire suppression system should he start to feel a little hot under the collar again. And this year witnessed even further enhancements to the re-incarnation of Big Tex: a brand new outfit and 9 additional movements, including the entertaining (or somewhat terrifying) ability to raise his arm and point down at fair-goers.