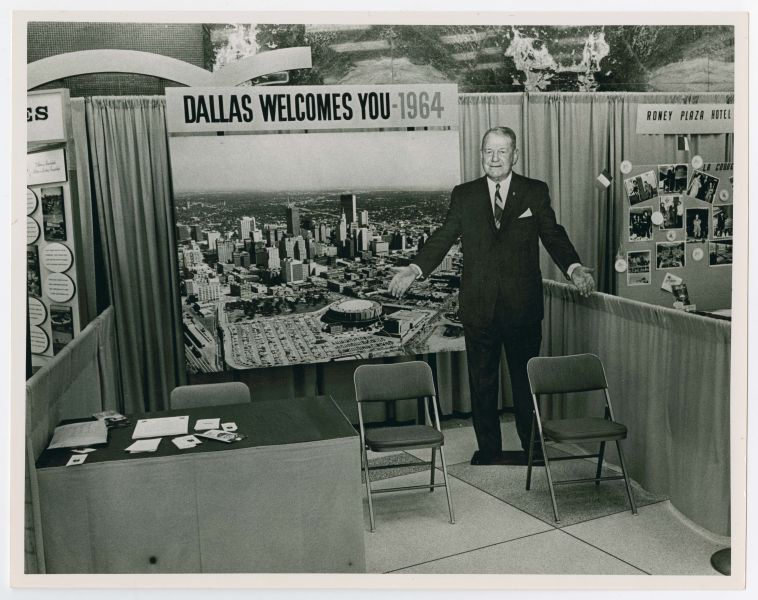 As the number of visitor friendly attractions, venues, and businesses continue to rise in the DFW area, so too does the stature of the city of Dallas as a major player in the convention business game. Now competing with the likes of major convention cities such as Las Vegas, Orlando, and Chicago, Dallas has begun cracking many top ten lists of convention destinations. The number of citywide conventions-those in which 2,500 rooms are booked on the peak night-that Dallas hosts each year has jumped from 8 to 31 over the past 11 years resulting in big business for the metroplex. The Dallas Convention and Visitors Bureau estimated convention business accounted for $1.6 in economic impact for the 2012-2013 fiscal year.
An early proponent of Dallas as a convention destination was prominent Dallasite Alvin Owsley (1888-1967). A former National Commander of the American Legion and United States Ambassador to Romania, Ireland, and Denmark, Owsley was instrumental in bringing the 1964 American Legion National Convention to Dallas. Owsley and other city leaders believed Dallas to be on the verge of becoming a world-class city and wished to attract national attention in order to increase the city's stature. Planning for the 1964 American Legion National Convention commenced in 1963 amidst much excitement. Something that could not be anticipated by Owsley and event organizers, however, was the tragic assassination of President John F. Kennedy in Dallas's own Dealey Plaza in the fall of 1963.
As a result of the assassination, the national profile of Dallas was dealt a major blow with many expressing misgivings, fear, or even hatred of the city in the days, weeks, and months that followed. Due to the highly emotionally charged atmosphere permeating the nation at the time, Owsley hurriedly engaged in a flurry of letter writing to assure Legionnaires and other planners that Dallas was committed to democratic ideas and principles and that the events of November 22, 1963 should not forever taint the city and its residents.
These letters as well as other materials such as programs, signs, parade routes, photos, and clippings related to the 1964 American Legion National Convention comprise part of the Owsley Collection and document the planning and organizing of one of Dallas's earliest large scale conventions. Shown above is a photograph pulled from the collection of a booth advertising the convention featuring a cardboard cutout of Owsley standing before a large photo of the Dallas skyline.