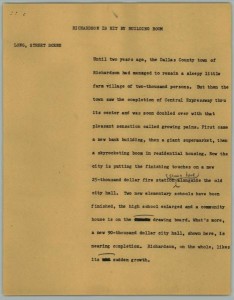 As odd as it may sound today to describe Richardson as a sleepy farm village, this is exactly how it was viewed less than 70 years ago. Boasting a population of just 1,300 in 1950, the town would soon experience rapid growth as Central Expressway-a main Dallas transportation artery-neared completion only a few years later.
This news footage from 1956 digitized from the KXAS/NBC 5 News Collection documents the early stages of Richardson's building boom as a new city hall and post office are built to keep up with the increasing population. Highlights of the video include shots of Richardson's old water tower; the opening of a new post office; the construction of a new City Hall; and the addition of a new fire station next to the old City Hall. The news script used to describe the contents of the footage as it aired on television is also included in the collection.
Acquired by UNT Special Collections earlier this year, the KXAS/NBC 5 News Collection is comprised of thousands of reels of tapes, scripts, log books, and other materials from Texas's first television station, WBAP-TV (later known as KXAS NBC 5). Covering the decades of the 50s, 60s, and 70s, the collection documents the local political, social, and cultural landscapes of DFW during the postwar years and includes footage pertaining to everything from weather-related events to city councils meetings, segregation and racial strife, county fairs and parades, and local crime. A small portion of footage that has already been digitized can be found in the The Portal to Texas History.