The life of a Digital Production Librarian very much depends on the time of year and the project of priority. I work in a lab that digitizes materials you can find in The Portal to Texas History and the UNT Digital Library.  My job includes the intake/output work of inventorying project, hiring and training students, assisting with project documentation/management and quality control. And– as a part of all librarian jobs at UNT–conducting and presenting on original research and providing service to the libraries, university, and librarianship field.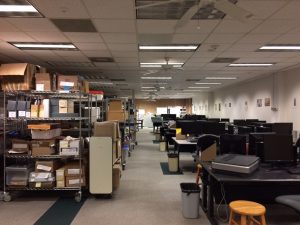 My day generally begins with an hour or so of research work. Today's was a content analysis on the Digital Public Library of America's contributing institution's scrapbooks. Basically finding examples of how other digitizing institutions scan scrapbooks. Around 9:15am I read and answered e-mails—noting absences of student assistants, communicating with prospective student hires, working on event plans and marketing, and handling other administrative tasks like policy or reminder e-mails. Next comes either quality control work or inventorying. Today was an inventory day. Our lab has the policy that projects that come in are checked based on the inventory provided by the lending partner or documented by a lab staff member. We do this so we know what is in the project and to make sure to return all of it once the project is complete. I created the inventory for a run of a serial once called Church and Synagogue Libraries but now called Congregational Libraries.  After creating the list, I created a project page for it in our internal wiki site, added it to our weekly report for this week, made a magnet for it for our project management white board, and found it a place among our projects shelving.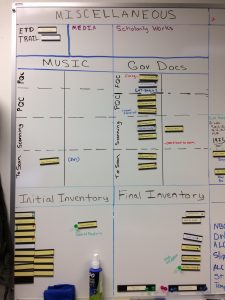 [One section of the Lab's Project Management whiteboard] Next was some quality control on a set of maps from our Eagle Commons Library that houses Government documents. They didn't take very long since I was just to look at some fixes. Its magnet was then moved to from the government documents section to the metadata section on our white-board.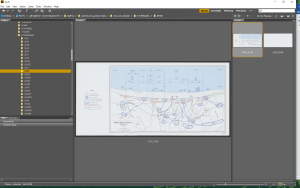 [Views of Quality Contolling in Adobe Bridge] An impromptu discussion on lab student project assignments began around noon with our Lab Manager. At lunch I ate a salad with Caesar dressing and left-over shepherd pie while reading. On the way back to the office, chatted with a couple students who had just got back from spring break. After lunch, I prepped for a training session on Qualtrics, then did the session with a colleague. Afterwards she helped me with marketing materials for a Digital Scholarship event scheduled for early April. The late afternoon involved a cup of tea and another inventory project for The Black Academy of Arts and Letters photographs. I finished the first box of this. I chatted with the lab manager about student staffing again while putting my tea cup away. On the way back to the office, a student let me know she was done with a project. And went to chat with another student about some metadata work she'll be doing in the future. There you have it: A typical day of digital production librarian. Marcia McIntosh Digital Production Librarian