I recently had the opportunity to attend the 2017 Digital Humanities Summer Institute, thanks to the support of a DLF + DHSI Cross-Pollinator Tuition Award and travel funding from the UNT Libraries. This was my first time at DHSI, and my first visit to Victoria, B.C., so I was excited about both. I came into this week-long immersion in the digital humanities with very little practical training in the discipline. Although I have a Ph.D. in English and a Library & Information Science degree, most of my experience has been with traditional humanities scholarship, teaching, and scholarly communication. This is also my first year as a full-time librarian, so I'm still deciding how much involvement I might have in DH work at my own institution. The appeal of DH, for me, is its potential for challenging entrenched boundaries inside and outside of academia: disciplinary, social, economic, and technological.  As a librarian and educator, I see this as part of my role—to be not just an information provider, but also a facilitator of new conversations and knowledge creation.  Whether that means doing DH myself or helping other faculty and students do the work that interests them, I hoped that coming to DHSI would better equip me for the task. I decided to begin with one of the short workshops, "Digital Publishing in the Humanities," led by Sarah Melton and Anandi Salinas, and one of the foundational courses, "Introduction to Computation for Literary Criticism", taught by James O'Sullivan and Randa El Khatib. The first gave me a solid overview of some of the common digital publishing platforms available for both book and journal publishing— services supported by our library, but still relatively new. The conversation inspired me to begin learning the OJS system for e-journal publishing and to start developing a checklist for new journal editors at our institution.  Eventually, I hope to learn some of the other platforms we discussed, so that we can offer more options to our faculty & students. The computation course introduced us to a number of tools currently being used by literary scholars engaged in DH, including Voyant, RStudio, and various text modeling and mapping programs. We also experimented with common methods of analysis such as basic text mining (for word frequencies & usage), stylometry (statistical analysis of literary style), and topic modeling for examining themes and ideas in literary texts. Among the questions we discussed were: Why utilize these methods in the first place? What can they add to our understanding of literature? Are they "evidence" or "exploration"? And how do we interpret the results of such experiments in literary analysis?
"Computers merely parse literature; they cannot 'read' it."
- James O'Sullivan
Even more valuable than the tools, though, were the conversations we had about integrating DH with other forms of literary criticism & theory, the limitations of computational analysis, finding publication opportunities, doing peer review, and engaging more fully with our disciplinary communities. For a librarian, these are the questions that impact my daily work, as well as conversations with others in my professional communities. Whether they approach DH as disciples or skeptics, I want to be able to have informed conversations about the potential and the prospects of this kind of work. Just as I've carried discussions about information literacy, pedagogy, and critical information theory out to literature conferences and other professional gatherings, I hope to bring a more informed view of digital humanities to my future discussions with literature scholars and librarians. I felt like this course gave me a good foundation for those conversations, as well as some useful tools to play with (as well as a large dataset of Poe materials that I can explore on my own!). Outside of class, DHSI offered lots of opportunities for socializing, sharing our work, enjoying food & drink, and even engaging in a little non-DH entertainment and creative activity, including movies and an outdoor poetry reading. The weather was gorgeous (especially for Texans in the summer), the people of Victoria were friendly, and there was no shortage of things to do in this small, but active and artsy city.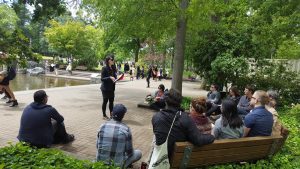 At the end of the week, I was sad to leave, but also flush with new information and ideas to bring back to my work. I feel like I only skimmed the surface of what all there is to learn at an event like this, but I think that's inevitable given the immersion in a single course (or two, if you stay the full two weeks of the Institute). It's definitely designed for repeat visits, and it's clear that many of the attendees and instructors have been there many times. While these "old-timers" form social groups of their own, the event as a whole is very welcoming to newcomers, and there are special events and activities designed especially for those on their first visit.  I would certainly encourage my colleagues to check it out, and to apply for any funding opportunities through DLF or other organizations to help subsidize the trip. Funds set aside specifically for training as well as those for professional development might be used for this kind of trip, since it provides opportunities for both.
For those interested in going, here are a few things to keep in mind:
The Institute takes place over two weeks in June, but you aren't required to attend the full two weeks; you register for individual week-long classes. Tuition includes one course registration and attendance at any of the small workshops, social events, or other sponsored activities. It does not include airfare or lodging.

Register for the free short workshops and some of the newcomer events—mystery lunches, happy hours, etc.—in advance to make sure you get a spot or a voucher, if necessary.

Bring your laptop with any necessary software pre-installed (instructors usually let you know what you need) and any datasets you want to work with either on your computer or on a flash-drive.

There is housing available on campus, including both single room dorms and shared "clusters" of rooms with shared living spaces. These are cozy and cheap, but may not be comfortable for everyone. There's no AC in the dorms, but I didn't find that it was necessary—open a window and enjoy that cool B.C. air! Alternately, there are hotels and Airbnb rooms available in town.

This event does, of course, take place in Canada! So make sure you have a current passport, some Canadian currency (do this at least a few days before your departure), and have notified your bank and credit card companies about your destination.  Also, if you want to use your cellphone, make sure you have an international data plan. There is free wi-fi on campus, though.

It's still cool in B.C. in June, especially at night, so bring a jacket or sweater. A small desk-fan that fits in your luggage is nice if you have a dorm room. An umbrella, a hat, and good walking shoes are also a good idea.

There are several dining options and coffeeshops on campus, as well as a bookstore, movie theater, and a pub. But for heaven's sake, get off campus!  Take the #15 bus from the bus circle on campus to downtown Victoria for $2.50 each way, and check out the Inner Harbor, various pubs & restaurants, bookstores, comic shops, street performers, and the open market along View St. (at least).  If you have extra days, take an Orca tour or a seaplane ride.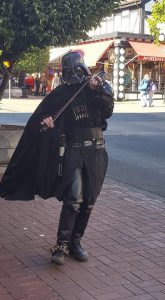 Fiddlin' Vader in downtown Victoria, B.C. 

Feel free to contact me at john.martin@unt.edu if you have any questions or thoughts to share.