After the second World War, people across the nation were staking claims in North Texas. In Fort Worth, the population jumped 57% between 1940 and 1950 (177,662 to 278,778), and the population mushroomed another 28% by 1960 (up to 356,268). And in Dallas, the population rose 47% between 1940 and 1950 (294,734 to 434,462), and another 56% by 1960 (up to 679,684).
Needless to say, land was developed, and it was developed fast. These new Texans needed schools to attend, offices to work in, roads to drive on, hospitals to heal in, places to shop, and homes to live in. They needed gas, water, electricity, and plumbing. And they needed police officers, teachers, firemen, construction workers, and doctors, as well–ensuring that the population in the region continued to grow. So the open land in North Texas began to recede.
Often, cities needed help to complete projects that made their communities better places to live. Section 8 homes may need construction; a police department may need additional resources to fight crime; more neighborhoods and parks may need development to attract new residents. Because it was difficult, and sometimes near impossible, for cities to navigate these projects on their own, the North Central Texas Council of Governments (NCTCOG) was formed.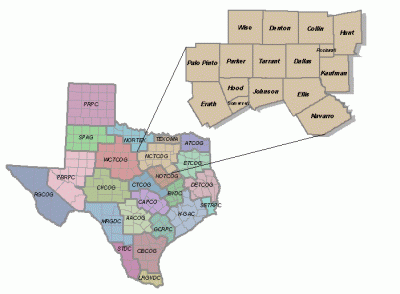 NCTCOG began serving our region in 1966, and today represents sixteen counties: Wise, Denton, Collin, Hunt, Palo Pinto, Parker, Tarrant, Dallas, Rockwall, Kaufman, Erath, Hood, Johnson, Ellis, Somervell, and Navarro. NCTCOG is a voluntary association of, by, and for local governments, and was established to assist cities in their planning for common needs. The organization emphasizes cooperating for mutual benefit and working together for sound regional development. Their purpose is to strengthen both the individual and collective power of local governments and to help them recognize regional opportunities, eliminate unnecessary duplication, and make joint decisions. To help local governments with their endeavors, NCTCOG served as a liaison between the cities and the other state and federal organizations that were helping pay for the project. Federal organizations NCTCOG worked with include: Law Enforcement Assistance Administration (LEAA), Department of Transportation (DOT), Department of Housing and Urban Development (HUD), the Environmental Protection Agency (EPA), Department of Health, Education and Welfare (HEW), and the Department of Labor (DOL).
Grey literature from the organization, including planning documents, handwritten notes, city-submitted project proposals, cassette recordings of several meetings, and more can be found in the North Central Texas Council of Governments Planning Group Records collection, which spans 1967 through 1980. To learn more details about the collection's offerings, view the finding aid here.
-by Alexandra Traxinger Schütz