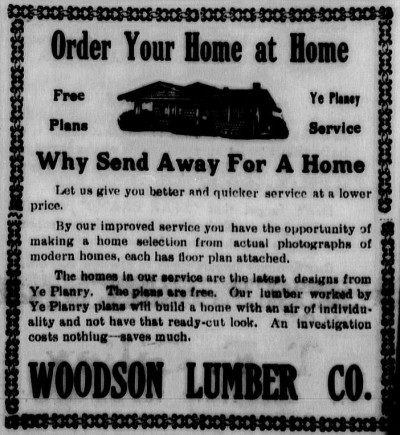 This week, we have an invited guest blogger, Tim Gieringer. Here on the Digital Newspaper Team, Tim creates all the metadata for the newspapers we upload.  He's been doing a lot of research for this guest post, so I hope you enjoy! Thank you for inviting me to do this post! I've always had an interest in history, research, and architecture. Since moving to Denton, I have been involved in providing research for historical markers for the county's Historic Iron Bridges project and researching dozens of homes for City of Denton Historic Landmark designation applications (including my own). This research often involves using historic newspapers on The Portal to Texas History. Some of the more fascinating and popular items found in historic newspaper collections are the advertisements. Whether for unfamiliar products of the past or for early versions of products that remain household names today, the ads seem to still catch your eye. Of course, that's what they were designed to do. I have long had an interest in historic homes, so my eyes are naturally drawn to advertisements for houses. When looking through these old house advertisements, some of you may be surprised to learn that buying a house in the early part of the 20th-century often meant first picking up a newspaper. From there, you may have been swayed to send off for a mail-order house catalog or visit a local business to see their house plan catalogs and displays. Indeed, unless you were wealthy enough to hire an architect to design your home, chances are you were building your new home entirely through mail-order or hiring someone to build it based off a set of plans you had purchased.
Mail-Order Homes
| | |
| --- | --- |
| | At one point in time, you could pick a house out of a catalog and literally have it shipped in its entirety to you with instructions on how to build it. By "entirety," I mean from the wood, right down to the sinks and door hinges on the inside. The houses usually came by railroad and could be constructed by a contractor or sometimes even by a handy homeowner. Sears is by far the most famous company to widely offer these mail-order homes. (It's a fun trivia fact that people like to throw around, and there are a lot of people devoted to identifying Sears homes.) However, Sears had several competitors, one of the largest being a Michigan-based company called Aladdin. As you can see from this 1919 San Antonio Express Aladdin ad, two of their main selling points were the many designs available and monetary savings from cutting lumber and labor cost, with the idea being that the lumber came to you already cut to specifications and thus requiring less time to prepare. |
Plan Book Homes
| | |
| --- | --- |
| Another popular method for new home owners was picking out a house plan from a catalog and hiring a local company or contractor to build your home based on those plans.  These plans could be ordered through the mail, or you could visit a local company, usually a lumber company, that would also sell you the materials and help you consult their catalogs and displays. | |
As with mail-order homes, there were several companies of varying sizes offering plans. Perhaps the best-known of these plan book companies was Ye Planry which was founded in California but eventually moved to Dallas, and was a company known for its bungalow plans. This 1920 Brownwood Bulletin ad shows a typical ad from a lumber company.

As I was putting images together for this article, I was surprised to find that there may have been some contempt between the mail-order and plan book home companies. The 1919 ad from the Burleson County Ledger, the title image for this post, states, "Our lumber worked by Ye Planry plans will build a home with an air of individuality and not have that ready-cut look." I am still watching my mailbox for a reply from the mail-order companies. This is just a quick look at a couple ways many of the older homes in our communities may have been built. I hope this encourages you to look closer next time you see an old home and try to figure out if it was mail-order, plan book based, or custom built. The fascinating thing about old homes is they all have a story to tell. There's a chance that you might walk past a Ye Planry Home every day without even knowing it!  For the next time Ana asks me to be a guest blogger, we'll take some Google Map trips and tour the past as it exists in the present!