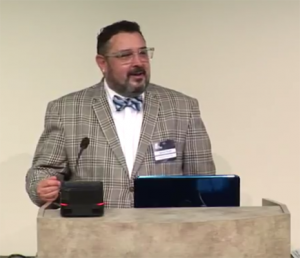 Dr. Spencer Keralis, Head for Digital Humanities and Collaborative Programs at the University of North Texas Libraries, is the recipient of the 2017 Innovative Outreach Award from the Texas Digital Library for his work on Digital Frontiers. From the TDL announcement:

As founding director and ongoing chair of Digital Frontiers, Dr. Keralis has created and continues to foster a space that blurs the often rigid line between the makers and users of digital resources utilized in humanities, research, teaching, and learning. Currently in its 6th year, Digital Frontiers is a project of the UNT Libraries that explores advances and research in humanities and cultural memory through the lenses of digital scholarship, technology, and multidisciplinary discourse. … Under Dr. Keralis' leadership and vision, the project's impact has moved beyond reflection and placed itself at the forefront of the field's future

Dr. Keralis will accept the award on behalf of the Digital Frontiers community at the Texas Conference on Digital Libraries, May 23-25 in Austin, Texas.