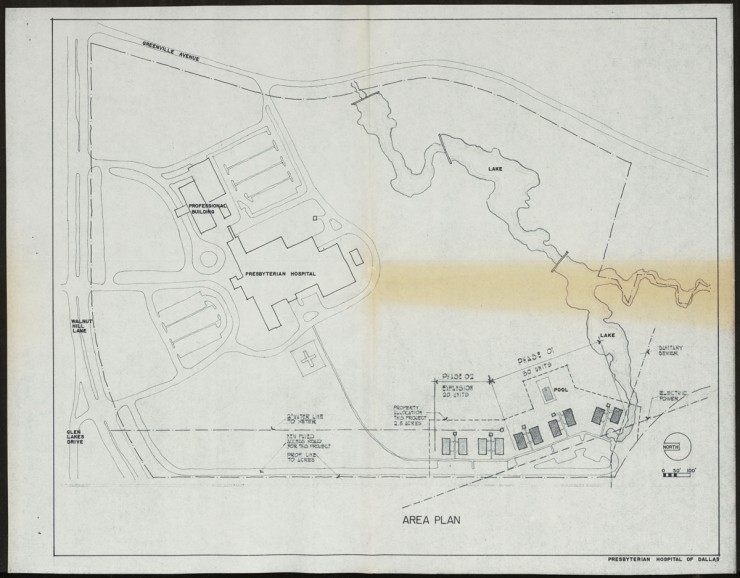 In 1966, the Presbyterian Hospital of Dallas opened its doors to patients in the Southwest Metroplex. As a teaching hospital, it also welcomed medical students with open arms. It had especially close ties with the University of Texas Southwestern Medical Center, located about ten miles away.
By 1971, Dallas Presbyterian offered several educational programs for residents, including psychiatry, ophthalmology, general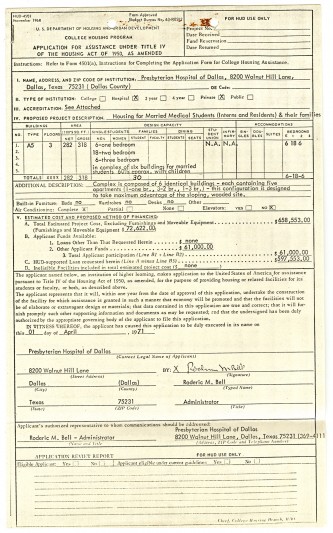 surgery, urology, plastic surgery, and neurology. However, they weren't receiving the number of residents that they hoped due to the high cost of living in the area. To remedy this, they applied for a HUD grant through the North Central Texas Council of Governments (NCTCOG) to construct housing for married residents and interns. Page one of the application for assistance is pictured.
The plan was to construct five apartment buildings, each of which would have six units. There would be six one-bedroom homes, eighteen two-bedroom homes, and six three-bedroom homes (which would accommodate the estimated 60% of residents with children). The total cost was estimated to be nearly $659,000.  An area plan, as well as designs for the first floor, are pictured here. Architects on the project were James Patterson, David L. Alexander, and J. Bailey Brooks.
The NCTCOG collection contains correspondence between Mr. Rod Bell, Administrator of the Presbyterian Hospital, and Charles Sprague, M. D. and Dean of the University of Texas Southwestern Medical School. As the correspondence shows, UT Southwestern planned on increasing its incoming class size to 200 students by 1975, and the school desired an educational partnership with the hospital. In the views of both parties, construction of housing was vital to a successful partnership. Other hospitals UT Southwestern planned on working with included Parkland Memorial and the Veterans Administration Hospital.
The North Central Texas Council of Governments Planning Group Records collection spans the years 1967 to 1980. The collection includes grey literature from the organization, which served as a liaison between cities requiring aid and the state and federal organizations that were offering it. Items included in the collection are planning documents, handwritten notes, city-submitted project proposals, and cassette recordings of several meetings. To learn more details about the collection's offerings, view the finding aid here.
-by Alexandra Traxinger Schütz