Our State Fair is a Great State Fair…Dont' Miss It…Don't Even Be Late!
In 1962 Hollywood brought one of our most enduring traditions to audiences around the world. Shot partly on location in Fair Park and featuring many Texas extras (or Textras), the 20th Century Fox musical State Fair now offers contemporary viwers a look at Fair Park and this historic institution more than 50 years ago.
But you don't need to turn to Hollywood musicals for a reenactment when you can watch home movies and other local productions for a more authentic depiction of how generations of Texas have enjoyed this event.  
[News Clip: Fair Fun] on The Portal to Texas History.
1930s
Our earliest footage, this 1936 home movie from the Orris Brown Collection  is preserved by the Texas Archive of the Moving Image and captures scenes from the Texas Centennial Exposition.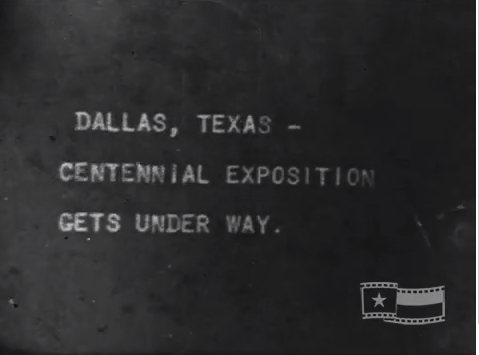 1940s
In this 1941 promotional film preserved by TAMI, two Dallas Little Theater actors–including future Miss Texas Charmayne Smith–play teenagers on a blind date at the fair. Watch it for the plot twist, but stay for the footage of fair exhibits, performers, and livestock competitions.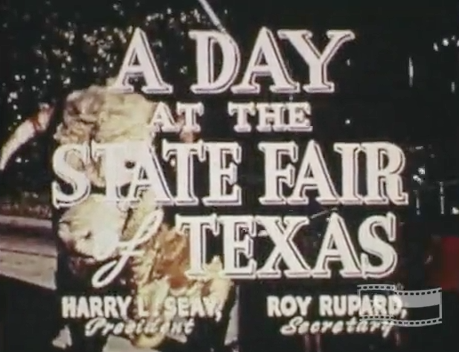 1950s – 1960s
This montage of State Fair Footage from the Peter Stewart family (1953 – 1964)  is heavy on Ford tractors because the family operated a farm equipment company in Dallas, Stewart Co. The earliest footage in this reel is from 1953, just a year after Big Tex's debut.
State Fair Montage from Spotlight on North Texas on Vimeo.
1980s
This 1982 promotional film for the State Fair of Texas highlights the benefits of being an exhibitor and marketing your products, but the real draw is the actual footage of fair visitors and performers. As they say in the film, "The mighty State Fair of Texas…you just can't ignore it."

1990s
This news story from 1990 includes footage of Jack Bridges, who created Big Tex in 1952, helping get the cowboy ready for the fair.
[News Clip: Untitled] on The Portal to Texas History.
In 1997, Big Tex learned to wave and also became bilingual. This news story shows how Big Tex is assembled and includes an interview with Jim Lowe, the voice of Big Tex since 1953!
[News Clip: State Fair] on The Portal to Texas History.
2000s
Our most recent footage comes from our project partner, Afsheen Nomai, Technical Director at the Texas Archive of the Moving Image.
[Nomai Family Video No. 1 – The 2014 State Fair of Texas] on The Portal to Texas History.
[Nomai Family Video No. 4 – The 2015 State Fair of Texas] on The Portal to Texas History.
Do you have home movies of the State Fair or other events at Fair Park? Bring them to Top Ten Records on Saturday May 19th for free digitization and join Big Tex in Dallas Film History!
Learn More About the Program and follow us on Facebook and Twitter!