Today we shine a spotlight on a filmmaker who is notable not only for his filmography but also for his unwavering commitment to film preservation and education and his support of libraries and archives. I'm not sure when or how I first met Mr. Dunlap, but I do remember him stopping by my office at the UNT Media Library one afternoon sometime in 2015 or 2016 to talk film and libraries. When I told Blaine about "Spotlight on North Texas" and our mission to preserve North Texas film history, he was the very first to sign up as a program participant.  The films he contributed, some of which are featured below, were digitized by our partners the Texas Archive of the Moving Image and are available online through the Portal to Texas History. 
Make sure to come down to our event at Top Ten Records on Saturday May 19th for a screening of Blaine's classic Dallas films, "Sometimes I Run" and "Big D." We'll be showing these movies, on loan from Mr. Dunlap himself, from 1 – 2 p.m. along with films from the Dallas City Municipal Archives from 2-3 p.m.
The Oak Cliff Years
Shot from "Sunset on Film," featuring students at Sunset High School and The Vogue theatre in the distance.
Blaine Dunlap grew up in Dallas, Texas in the 1960s where his mother was a public librarian. He began shooting movies on Super8 while he was still in grade school. One of these Super8 projects, an unfinished film titled "Sunset on Film" (ca. 1970), is a perfect timecapsule of daily life for students at Sunset High School in Oak Cliff including a pep rally, some fancy slow-motion photography, and a parade.
[Sunset on Film, 1 of 3] on The Portal to Texas History.
[Sunset on Film, 2 of 3] on The Portal to Texas History.
[Sunset on Film, 3 of 3] on The Portal to Texas History.
Blaine generously contributed 3 reels of raw footage for "Sunset," as well as footage for another unfinished project to the 2016 Spotlight on North Texas project. The second film, "Oak Cliff Street Scenes" (1971), documents the residents and local businesses of West Jefferson Boulevard, including the Charco Broiler Restaurant and Ward Drugs, and concludes with the bizarre imagery of a boy wrestling with a dinner tray on his bicycle.
The SMU Years
SOMETIMES I RUN from MOVING HISTORY RESOURCE on Vimeo.
After high school, Blaine attended SMU's Meadows School of the Arts. Reportedly, Blaine's friends told film editor and SMU professor Stephen Schmidt about Blaine's films and on the basis of screening these reels, Schmidt arranged for him to enroll in the program. A year into his training at SMU, Blaine embarked on his first major film project, Sometimes I Run (1973). He told Robert Wilonsky in a 2011 interview, that he was inspired by his bus rides from Oak Cliff to downtown Dallas to visit his mom at the public library and "the way the streets looked at night." A student of cinema verite, Blaine went looking for a subject and found Stanley Maupin, a "sidewalk flusher" for the City of Dallas Department of Public Works. The film features a score by Ken Watson and audio recordings  of Maupin paired with images of downtown Dallas nightlife and Maupin cleaning streets.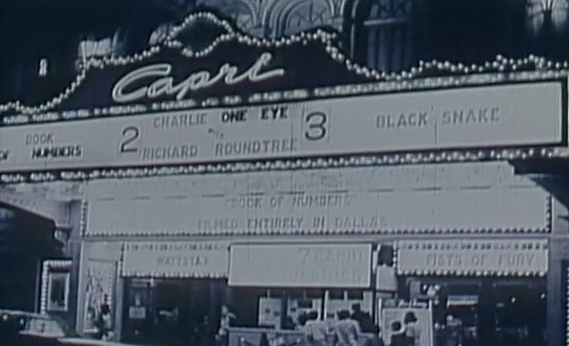 Among other iconic Dallas locations, Blaine captures (02:51) the now demolished Capri Theatre (which opened as The Hope Theatre in 1921 before becoming the Lowe's Melba Theatre and the Capri in 1960). The theatre closed two years later in 1976 and was demolished in 1981.  
In the early 1970s, Blaine began working in public television and continued making films about Dallas with Ron Judkins and Pat Korman. With filmmaking grants from the Action Center City of Dallas, in 1974 the trio made  Big D  and East Dallas Summer 1974.
In the short and entertaining film Big D, a city trash collecter finds a magical hat in a trash can that transforms him into a drum major. The trash collector leads the Sunset High School Bison Band through the neighborhoods and streets of Dallas and is at the center of a joyous celebration atop the Southland Life building. Is that "Big D" they're playing? Interestingly, "Sunset on Film"(1970) also features sequences of trash collecting and a marching band performance. In East Dallas, Florence Mayfield (narrated by Blaine's mother) recalls her life in East Dallas the many changes she's seen. Beginning at Munger Boulevard and Swiss Avenue, the film also includes the Lakewood Branch Library and Woodrow Wilson Highschool.
That summer he also began collaborating with filmmaker Ken Harrison, with whom he made Prince Albert Hunt in 1974. Shot on Super8, this short film concerns Prince Albert Hunt, a blues singer and fiddler from Terrell, Texas, who was murdered outside of a Dallas nightclub 1931. Blaine continues to work with Harrison and is in the process of preserving and restoring Harris' documentary and narrative works. Some of these important films, including 20/20 Blues and Jackelope, are available to view online as part of the Moving History Resource Collection.
Public Broadcasting
Blaine left Dallas to work in Tennessee where he collaborated with documentary filmmaker Sol Korine on films about folk culture and folk musicians. The works created during this time are examples of their pioneering work in the use of portable video equipment and independent filmmaking. Many of these films from the 1970s and 1980s, including Shoedown at the Hoedown (1976), Hamper McBee (1978), Uncle Dave Macon  (1980), Mouth Music (1981)  Sometimes It's Gonna Hurt (1983), and Gimble Swing (1981) are available online through Folk Streams.
GIMBLE'S SWING from MOVING HISTORY RESOURCE on Vimeo.
Media Preservation
Blaine moved down South to New Orleans, where he began a new phase in his career — preserving historic film and videotape through the Southeast Media Preservation Lab. Projects included his work in the transfer of home movies for the documentary film, "Our Nixon" (2013). Now back in North Texas, Blaine continues to work on media preservation and restoration projects. "Spotlight on North Texas," was honored to preserve and provide access to some of Blaine's earliest films and we look forward to future collaborations during our 2018 Dallas program.
Join Blaine Dunlap in Dallas Film History
If you or someone you know made home movies, student films, or documentaries in Dallas join "Spotlight on North Texas: The City of Dallas" at Top Ten Records on Saturday May 19th from 10 a.m. – 5 p.m. Archivists from the UNT Libraries and Texas Archive of the Moving Image will provide free digitization services for your movies and make sure that they are available for future generations to view.  
Follow us on Facebook and Twitter for updates and other tributes to Dallas filmmaking.
Resources:
Wilonsky, Robert. "Two-Time Oscar-Winner Once Made Nutty Short Film About Dallas Sanitation Worker" The Dallas Observe 22 December 2010
Wilonsky, Robert. "Sometimes I Direct: A Talk With Blaine Dunlap, Who Once Captured Dallas Better than Anyone" The Dallas Observer 23 July 2011
Clinchy, Don. "TAMI Flashback: Blaine Dunlap Does Dallas." Slackerwood 26 October 2011
Bosse, Paula. "'Sometimes I Run': Dallas Noir – 1973" Flashback: Dallas 13 August 2017