In a span of 3 years, director Oliver Stone shot three major motion pictures in Dallas, Texas. Two of those films, "Talk Radio," and "Born on the Fourth of July" were both made in 1988. Although "Born on the Fourth of July," used false storefronts and existing buildings to recreate distant locations like suburban Massapequa, New York, Syracuse University, and Miami, viewers of the film will recognize their city behind these illusions.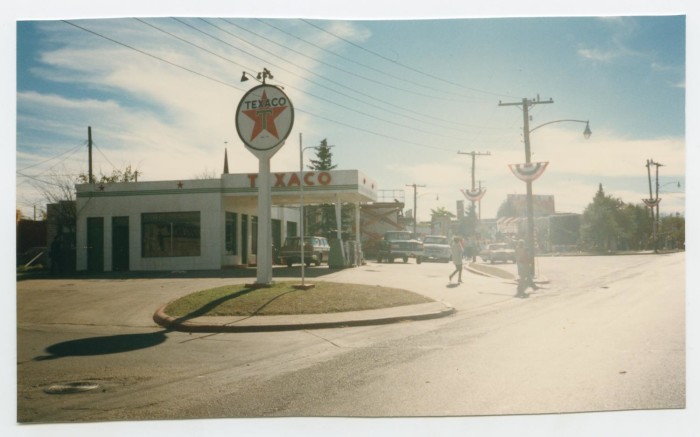 Dallas Production
"Born on the Fourth of July," is based on Ron Kovic's 1976 biography and traces his experiences in suburban Massapequa, New York, to his service in Vietnam where he is paralyzed, and his subsequent anti-war activism. Oliver Stone began production in North Texas in October 1988. Several key scenes were shot in Dallas with local actors, students, and industry members playing an important role. Margaret B. Henderson Elementary School (2200 South Edgefield Avenue) stood in for Kovic's High School. "Arthur's Bar," where Tom Cruise gets in a fistfight, was actually shot at Milo Butterfingers near SMU. SMU also made an appearance as Syracuse University during scenes of student protests. The Dallas Convention Center was even used  for action taking place at the Republican National Convention in Miami, Florida. 
One of the most memorable of these Dallas scenes, is when Kovic (played by Tom Cruise) returns home from Vietnam and rides in an Independence Day parade. Here and elsewhere in the film, the 2000 block of South Edgefield in Elmwood was given the Hollywood treatment and made to appear like an idyllic suburban town in Long Island. James Clarke, a member of Dallas' motion picture industry, was an extra in the film and managed to take some beautiful photographs of the film's production in Elmwood.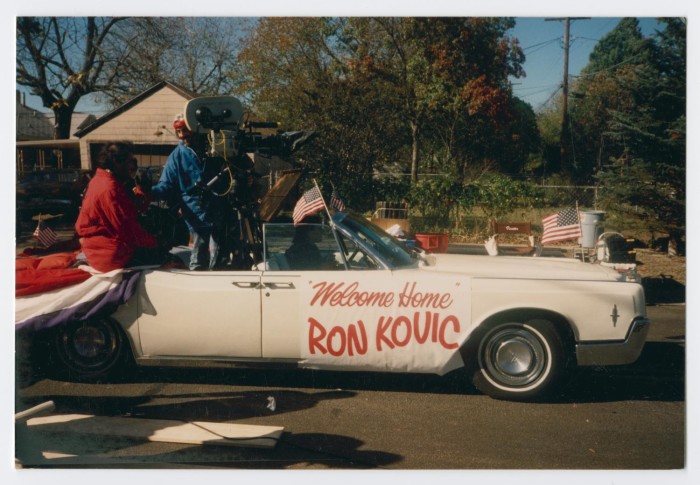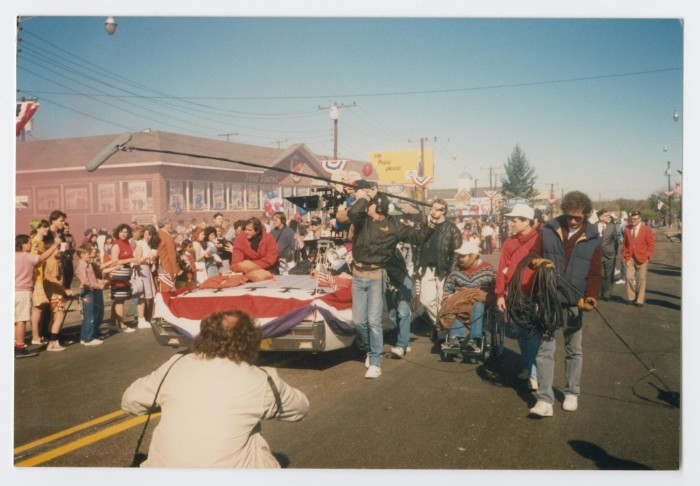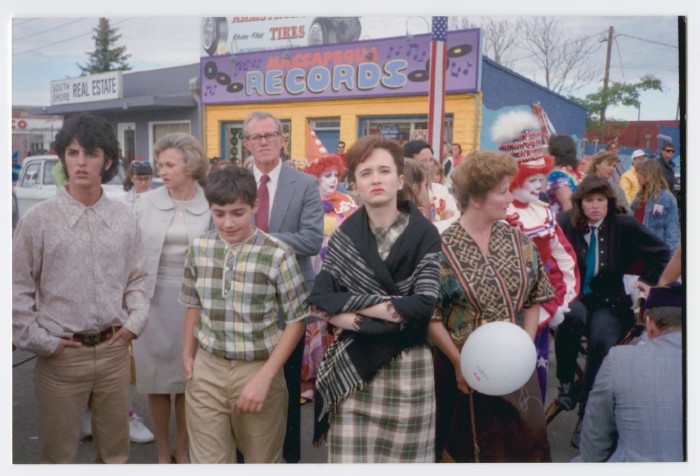 Local Reactions
The film left a big impression on its viewers. Oliver Stone won an Academy Award for "Best Director" and Tom Cruise received a nomination for Best Actor. The film production also left an impression (both positive and negative) on community members and businesses in Oak Cliff. In this story from the KXAS-NBC Television News Collection, local business owners talk about the production.
[News Clip: OC movie Pkg] on The Portal to Texas History.
Their time in Dallas also apparently left an impression on both star and actor. Tom Cruise took out an ad in the Oak Cliff Tribune, thanking Oak Cliff or their hospitality and Oliver Stone was back in Dallas in April 1991 to film "JFK."
"Spotlight on North Texas"
James Clarke generously donated these photographs to "Spotlight on North Texas," a project that preserves and provides access to North Texas motion picture histories. The rest of Clarke's photographs and other historic North Texas photographs and movies are available through the "Spotlight on North Texas Collection" on The Portal to Texas History. If you recognize any events or locations, please email the project coordinator, Laura Treat. 
"Born on the Fourth of July" (DVD 4034 v.4) is available for check-out from the UNT Media Library.
"Spotlight on North Texas" is a community history and regional media preservation project conducted by the University of North Texas Media Library and the Texas Archive of the Moving Image. The project began in 2015 in Denton County and was repeated in Dallas, Texas in 2018. Community members were invited to participate in the preservation of North Texas' motion picture histories by bringing their materials in for free digitization services. The digitized materials contained in this collection include home movies, television news footage, and photographs that document activities in the state of Texas and beyond. This project was funded by the National Endowment for the Humanities Common Heritage grant program.
Follow us on Facebook and Twitter to see more posts about Dallas film history.
Resources:
A film debut for downtown Elmwood. (2016, November 21). Retrieved from http://elmwoodna.org/blog/2016/11/21/historical-photos-downtown-elmwood 
Born on the Fourth of July. Retrieved from https://catalog.afi.com/Catalog/MovieDetails/57927 
North Texas films: 'Born on the Fourth of July.' (2016, February 22). Retrieved from https://www.wfaa.com/video/entertainment/north-texas-films-born-on-the-fourth-of-july/287-1893974 
Dallas Fort Worth Region Film/Television Tourism – Locations. Retrieved from https://www.dallasfilmcommission.com/film-tourism/ 
KXAS-NBC 5 News Collection. https://texashistory.unt.edu/explore/collections/KXAS/ 
Spotlight on North Texas Collection. https://texashistory.unt.edu/explore/collections/SPOTNT/