"No person in the United States shall, on the basis of sex, be excluded from participation in, be denied the benefits of, or be subjected to discrimination under any education program or activity receiving federal financial assistance."
Those words are Title IX, part of the Education Amendments Act, which was signed into law by Richard Nixon on June 23, 1972. The bill prohibited gender discrimination in educational institutions receiving federal funds. It recognized gender equity in education as a civil right.  Among its numerous effects, the bill opened athletic participation to women and girls.
The process of implementation of Title IX took years. The guidelines that governed fulfillment of the terms of the law were not available until 1975. Schools were given until 1978 to provide evidence that they were following the law. The implementation of the law involved scholarships, recruitment, equipment, travel, publicity, and the number and type of sports played.
Institutions face severe penalties for refusal to comply with Title IX. Complaints can result in formal warnings. Investigations can be opened by after series of objections or complaints concerning the implementation of the law. A negative finding can result in a "death" sentence enforced by the Department of Education. The sentence can involve the Department withholding federal funds from the school's university funds.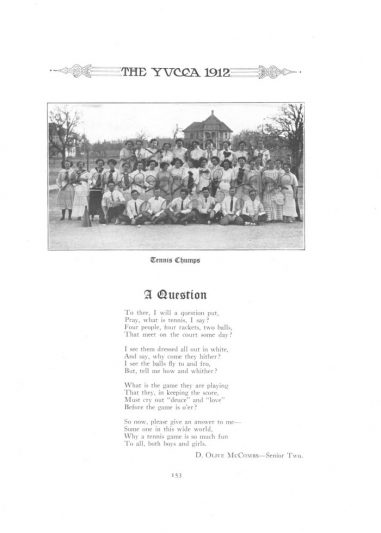 The Yucca, Yearbook of North Texas State Normal School, 1912 Page: 153 https://texashistory.unt.edu/ark:/67531/metapth60980/m1/155/
"The NCAA has set up the Gender Equity task force to ensure compliance to Title IX. The task force has as a goal to increase women's participation in college sports, not a reduction in men's participation." [NTD, 1992-10-06]
The task force looks at three areas to determine if the institution has gender equity: the athletic opportunities should be proportionate to enrollment; there should be a history of increasing opportunities for gender equity in athletics; and the school needs to show that they are doing the work to bring gender equity to athletics in their institution.  They look to see that the opportunities are equivalent but not necessarily identical.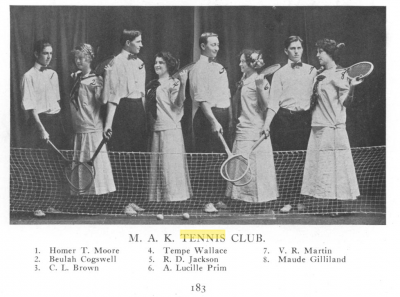 The Yucca, Yearbook of North Texas State Normal College, 1913 Page: 183 https://digital.library.unt.edu/ark:/67531/metapth60981/m1/186/
There were no organized sports when UNT was founded in 1890. Interest in sports built as the school grew and students looked for social and athletic outlets. During this period of development, both men and women participated in team athletics. In 1902, the same year the men organized a football team, women formed three basketball teams. The teams were named the Cardinals, the Haulein Twelve, and the F.R.O.G.S. Playing as one team, the North Texas women became state champions in 1902. The college built a tennis court in 1905. The first women's tennis team was formed in 1906. In 1914, Beulah Harriss was hired as the first female coach. She trained both men and women. By 1916, Texas officially entered intercollegiate sports. The women's basketball team went on to be state champions for three straight seasons, 1918-1920.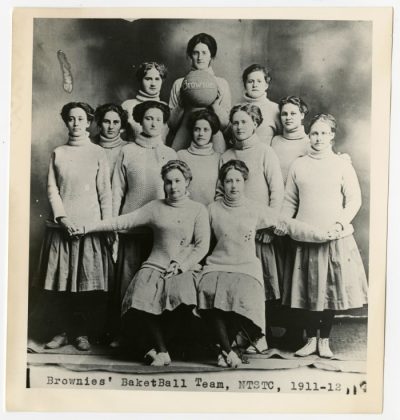 The Brownies Basketball Team, 1912.
In 1925, the Texas Teacher's College Board of Regents voted to abolish all intercollegiate athletics for women. Women at UNT formed intramural teams under the organization of the Women's Athletic Association. Over the years, women were involved in basketball, volleyball, softball, tennis, track and field, and golf. Title IX returned inter-collegiate sports for women at UNT.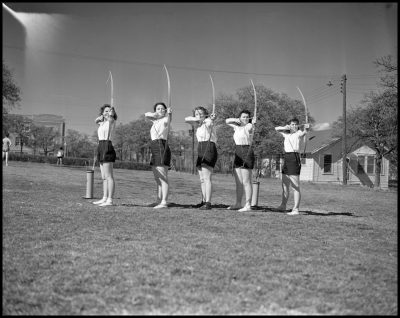 Members of the Women's Athletic Association practice archery.
The implementation of equity in sports at UNT was a slow process. UNT started official varsity athletics for women in 1976.  
Funding needs had to be addressed. Athletics has been financed by student fees, funds from ticket sales, and donations.  Seven women athletes were awarded the first athletic scholarships for women in 1978-1979. By 1979, the men's athletic program received $62 million, and the women worked with a budget of $157,000. Of the 200 male athletes 150 received scholarships. There were 50 female athletes with 28 receiving scholarships.
Funding influenced which sports were supported and why teams were cut. In 1976, women were able to compete on the basketball, soccer, golf, tennis, volleyball, and track and field teams.  In each case, the university had existing facilities that could be used for the new women's teams. Between 1988 and 1997 UNT dropped men's baseball, soccer, and men's tennis to keep up the financial support of football. In the year 1998, UNT added women's swimming and diving.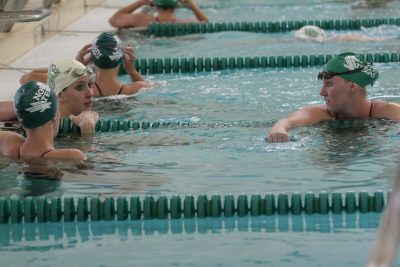 Members of the Women's Swimming and Diving Team in the pool, 2007.
By 2005, under athletic director Rick Villarreal, UNT started to close the equity gap between men's and women's athletics. Facilities for women's teams had been built or were planned for softball, soccer, tennis, volleyball, and basketball and an indoor golf facility. The complex is located at Eagle Point, on the former Liberty Christian School Campus, which UNT acquired in 2002.
"In 2007, UNT ranked first in the nation and received a grade of 'A' on Gender Equity Scorecard, a Penn State at York study measuring a university's commitment to women's athletics with criteria such as participation, scholarships, coaches' salaries, recruitment budget and operating expenses."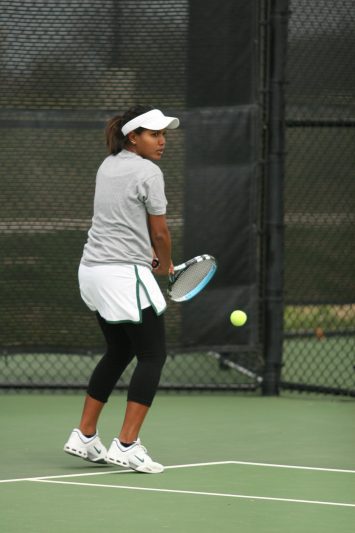 Idalina Franca was a member of the Women's Tennis Team in 2008.
UNT was one of only 11 schools in the country, and the only program in the South, to receive an 'A.'" [North Texan, Fall 2008] Villarreal referred to UNT being Title IX compliant in 2009.