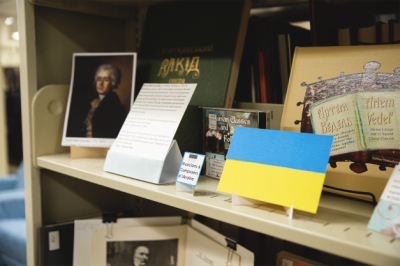 Music Reference Librarian Donna Arnold prepared information about Ukrainian composers for a display in the Featured Music Items section at the UNT Music Library. Below is the online adaptation of this display.
Dmitri Bortniansky, b. Hlukhiv, Ukraine, 1751, d. St. Petersburg, Russia, 1825, is the earliest Ukrainian/Russian composer of international renown. Due to his exceptional talent, he was sent to Russia to sing and study when very young, and he eventually became master of the Russian Imperial Court Chapel. This was remarkable, because the court favored Italian musicians at the time. He is most famous for his liturgical works and choral concertos for Orthodox worship. 
 
His Cherubim Hymn no. 7 is a particularly beloved staple of the Orthodox repertoire today. 
M 2072 .B696 K54 no.7 1926  
 
He also composed in many other genres. For example, his opera Alcide (1778) is in Italian style, reflecting his study with Italian masters who served the Russian court. The libretto is by Pietro Metastasio. 
M 1500 .B748 A52 1985
---
 
Mykola Lysenko, b. Hrynky, Ukraine, 1842, d. Kyiv, 1912, was the seminal Ukrainian nationalist composer of the 19th century. He spent his life and career in Ukraine and ardently championed Ukrainian music. He composed in many genres. During his life he was little known outside Ukraine, but this is now changing, and many of his works are being performed in the West. 
These include two major operas: 
Natalka Poltavka (1889), a love story with a happy ending  
M 1503 .L98 N27 1969 
Taras Bulba (1891), set in Kyiv in the 17th century, telling a tragic story of Cossack warfare 
LPZ 64081- 64083   
 
Lysenko composed sacred choral music for Eastern Orthodox worship. This score contains nine of his choral works, set to texts in Ukrainian.  
M 2082 .L97 V5 1993 
Do 50 rokovyn smerti T. Shevchenka: kantata    a secular cantata with texts by Ukrainian poet Taras Shevchenko, 1814-1861 
M 1530 .l97 D6 1994 
Ukrainian suite, op. 2, for piano 
M 24 .L97 op. 2 2006 
---

 
Atem Vedel, b. Kyiv 1767, d. there, 1808 
 
This pioneer of Ukrainian/Russian Orthodox choral music studied and was musically active in Kyiv and Moscow. Later he conducted a choir in Kharkiv and wrote most of his choral works there. A change in policy forbidding choral concertos in worship ruined his career and he died tragically. He is now considered one of the greatest masters of Ukrainian Orthodox choral music, and several of his works are staples in Orthodox worship today.  
 
A collection of his works for the Divine Liturgy and his sacred choral concertos was published in Kyiv in 2000. Words are translated to Ukrainian from Church Slavonic.  
M 2100 .V42 C56 2000 
 
[There are no known images of Vedel.] 
---
Mykola Leontovych, 1877-1921 
 
Born in the Podolia province of Ukraine, he was strongly influenced by the Ukrainian musical nationalism of Mykola Lysenko and by Ukrainian folk melodies. His choral arrangement of the folk song "Shchedryk" was introduced in the West in 1919 by a touring Ukrainian chorus. In English translation, it became the Christmas standard, "Carol of the Bells." Tragically, Leontovych was assassinated by a Soviet agent in 1921. 
M 2085 .L46 C37 1936 
 
---

Valentin Sylvestrov, 1937- 
 
Currently Ukraine's most famous classical composer, he was born in Soviet-controlled Kyiv and was educated at the Kyiv Conservatory. His modernist compositions met with disfavor from Soviet authorities, so he later explored a more conservative style. After the fall of the Soviet Union, he began to compose religious music. 
 
He made the news recently when it was reported that he and his family were attempting to escape from their home in Kiev. They are now safe in Berlin. He later made the news when police in Moscow tried to break up a concert because one of his pieces was on the program.  
 
Understandably, his Prayer for Ukraine (2014), for chorus and orchestra, is now attracting considerable attention. 
M2092.S527 G4 2017 

Please feel free to share with everyone in the comments below more information about Ukrainian composers or arrangers who were not discussed in this list.