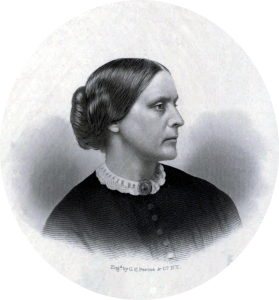 ---
Saturday, February 15 marks what would have been Susan B. Anthony's 200th birthday. 2020 also marks the 100th anniversary of the ratification of the 19th Amendment, which granted women the right to vote. Although she may be best known for her work on woman's suffrage, during her life Ms. Anthony worked as an activist for a number of social issues, including temperance, anti-slavery, labor, women's rights, African-American rights, and universal suffrage.
In 1869, Ms. Anthony and her long-time friend and collaborator Elizabeth Cady Stanton co-founded the National Woman Suffrage Association (NWSA), which worked for women's suffrage, divorce reform, and equal pay for women. Despite Anthony's support of universal suffrage, she opposed the 15th amendment, which prohibited denial of suffrage based on race. Ms. Anthony's opposition to the 15th amendment was the result of the law's failure to recognize women as citizens with voting rights. In 1872, after ratification of the 15th amendment, Anthony was arrested for voting illegally. She fought the charges unsuccessfully and was fined $100—a debt she never paid.
From 1892 to 1900, Susan B. Anthony served as president of the National American Woman Suffrage Association (created by a merger of the NWSA with the competing American Woman Suffrage Association). In this role she canvassed the county giving speeches, gathering petition signatures, and lobbying Congress in support of women's suffrage.
In August 1920, fourteen years after her death, the Susan B. Anthony Act was ratified as the 19th Amendment to the United States Constitution. Though she did not live to see the results of her life's work, she played a crucial role in securing female suffrage at the national level. In 1979, the U.S. Treasury minted the Susan B. Anthony dollar, making her the first female to be represented on U.S. currency.
To help celebrate Susan B. Anthony Day and the 100th anniversary of the 19th Amendment, we invite you to visit the Eagle Commons Library at Sycamore Hall and take a selfie with Ms. Anthony.
Article by Robbie Sittel.