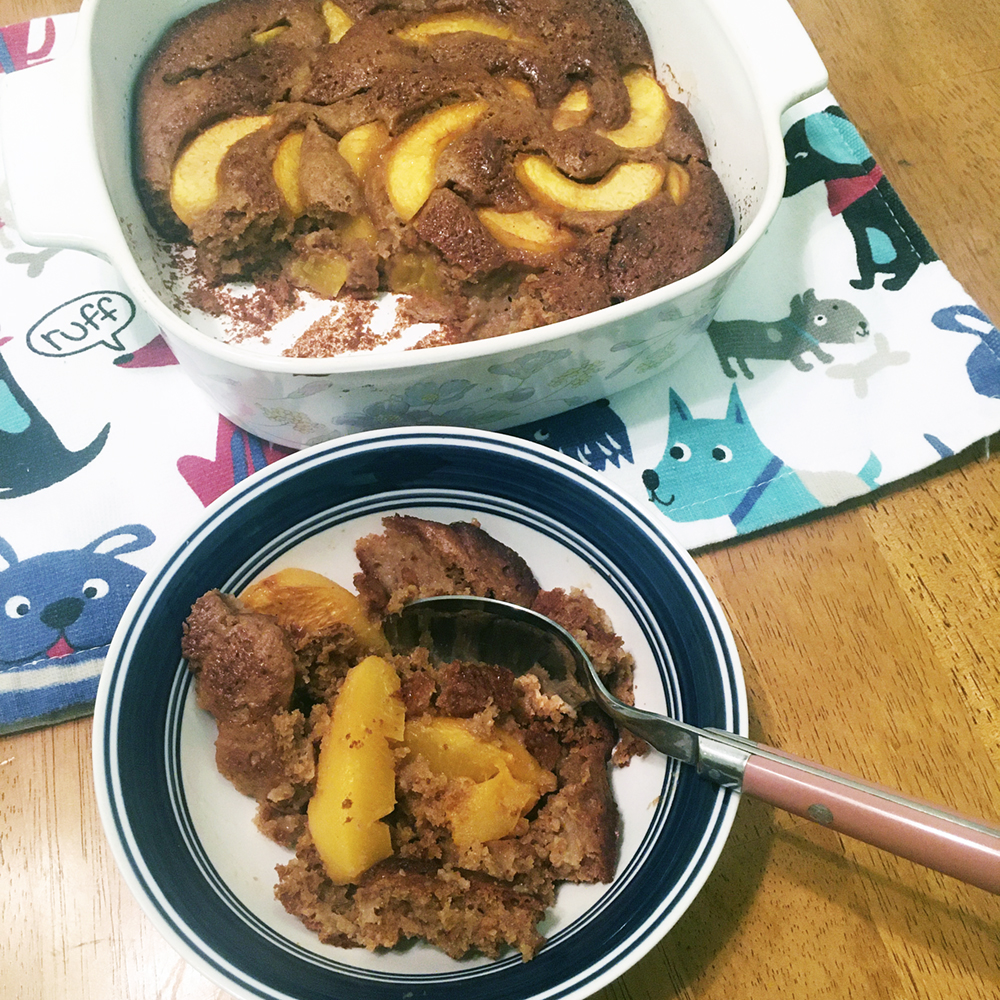 ---
It's National Peach Cobbler Day
It's not quite peach season yet, but get out the canned or frozen peaches and you'll be ready to celebrate National Peach Cobbler Day. Apparently it was invented by the Georgia Peach Council in the 1950s as a way to encourage consumers to buy canned peaches.
According to John Mariani's Dictionary of American Food and Drink, a cobbler is "a western deep-dish fruit pie with a thick crust and fruit filling . . . It is served with a custard but no topping in Connecticut, with maple sugar in Massachusetts, and with a sour sauce in Vermont." Texans frequently enjoy it topped off with a scoop of vanilla ice cream, and it is so popular in this state that in 2013 the Texas Legislature designated peach cobbler the official state cobbler of Texas.
Today we're featuring a peach cobbler recipe published by the Texas Department of Agriculture in an intriguing collection of recipes that feature Texas olive oil as an ingredient. The cookbook GO TEXAN Olive Oil Recipes: Savor the Flavors of Texas, which is available for checkout in the Eagle Commons Library, but is not published online, was released several years ago as part of the GO TEXAN campaign to promote Texas agricultural products. Did you know that Texas makes olive oil, or that olive oil can be used to make a peach cobbler? If not, here's your chance to make something special! We'll take you step by step through the process of preparing this unique dish. Here's the recipe: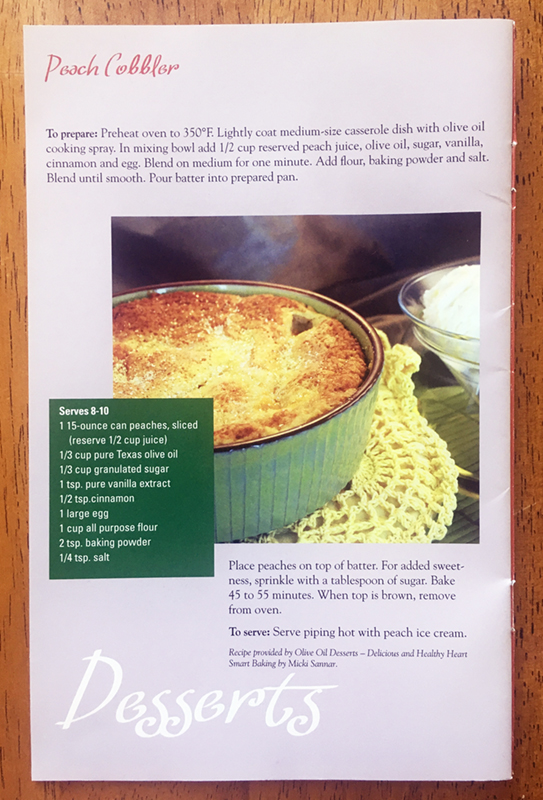 Let's Build a Cobbler
First, be sure you have all the ingredients you need for the recipe. In these trying times, you want to minimize your trips to the grocery store, and you don't want to start cooking and realize there is an ingredient you don't have. I made a couple of departures from the exact instructions: instead of using all-purpose flour, I used half all-purpose and half whole wheat to give it more fiber. I also used Italian instead of Texan olive oil because that's what they had in the store. Texas olive oil is difficult to find in many stores, even in Texas. In any case, this recipe is taken from another cookbook, and the original recipe does not specify Texas olive oil. That informal variation on the normal recipe is clearly an advertising gimmick and not an essential component of the dish. Here are my ingredients all laid out: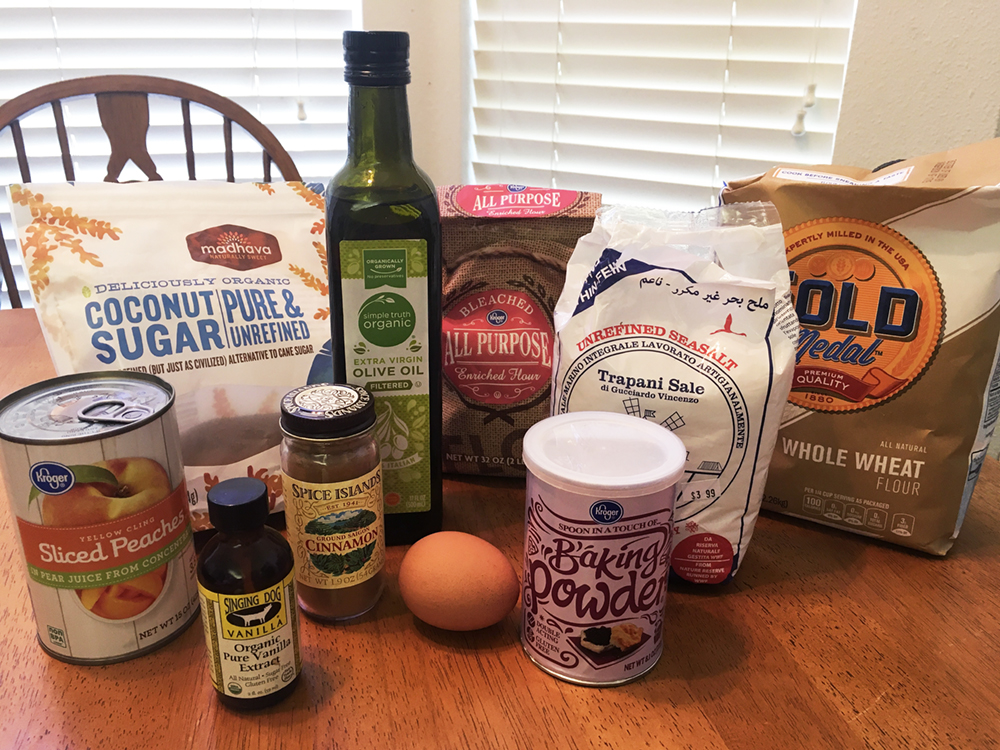 Preheat your oven to 350 degrees Fahrenheit, and lightly spray a medium-size casserole dish with olive oil cooking spray. I used an 8″ x 8″ pan.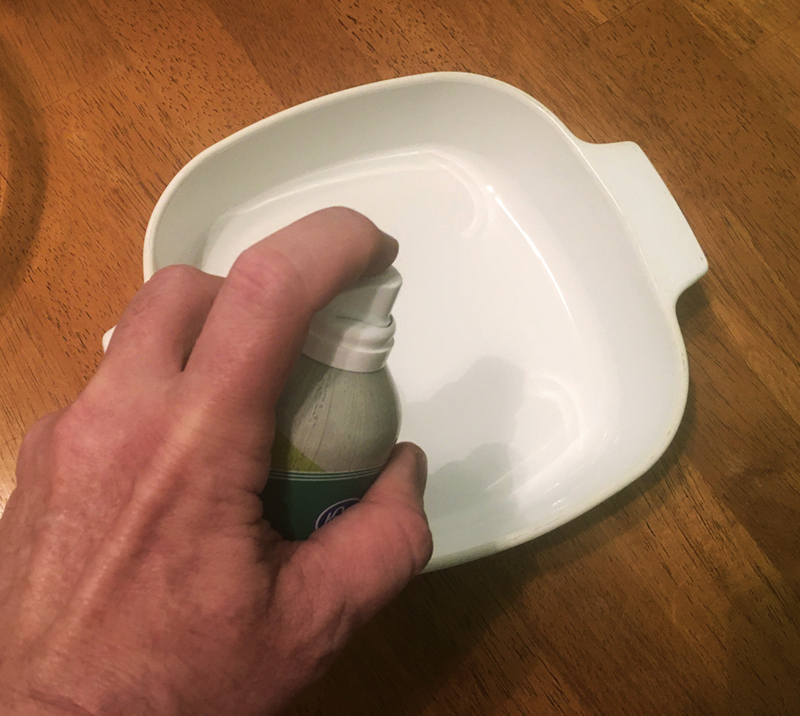 In a medium-sized mixing bowl, add 1/2 cup of liquid from your canned peaches, 1/3 cup of olive oil, 1/3 cup of granulated sugar (I used raw coconut sugar), 1 teaspoon of pure vanilla extract, 1/2 teaspoon of cinnamon (I used Saigon cinnamon, which has a sweeter, more intense flavor than Mexican cinnamon), and one large egg. The recipe says to "blend on medium" for one minute. I don't know if it's supposed to be put into a blender, but I just whisked it vigorously until everything was smoothly blended together.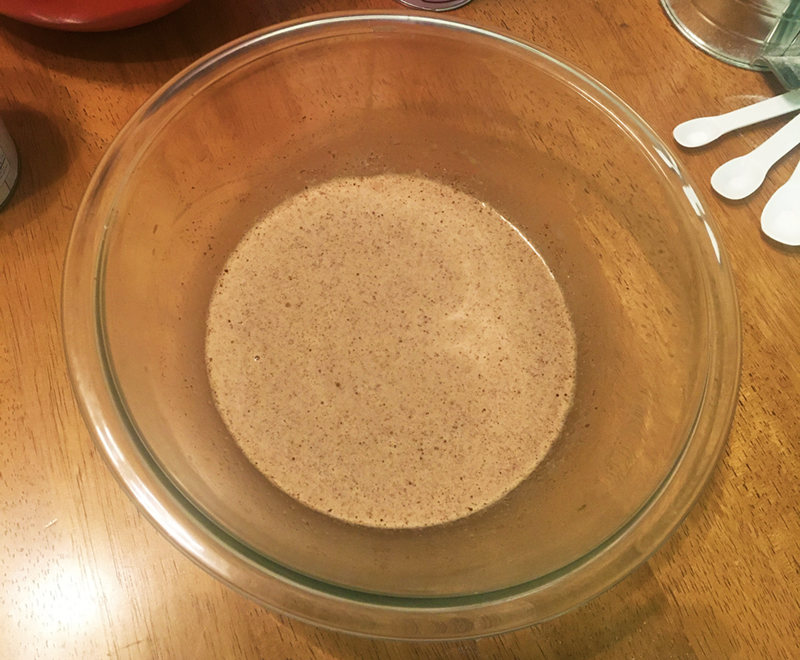 In the same bowl, sift in one cup of flour (as mentioned earlier, I used 1/2 cup of whole wheat and 1/2 cup of all-purpose flour), 2 teaspoons of baking soda, and 1/4 teaspoon of salt. Whisk everything together to make a smooth batter, then pour the batter into your oiled casserole dish.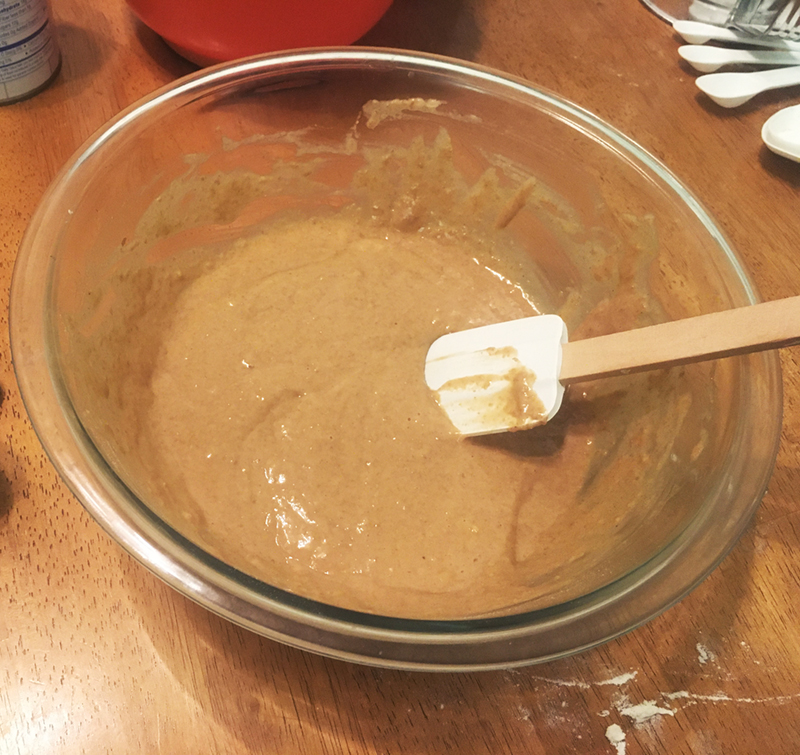 Distribute your peach slices uniformly over the top of the batter. If you want a fruitier cobbler, you might even consider adding a few peach slices from a second can. Sprinkle a tablespoon of sugar evenly over the top of the mixture for a little extra sweetness. Doesn't this already look good enough to eat? (Don't eat it yet, though, raw flour and eggs can make you sick!)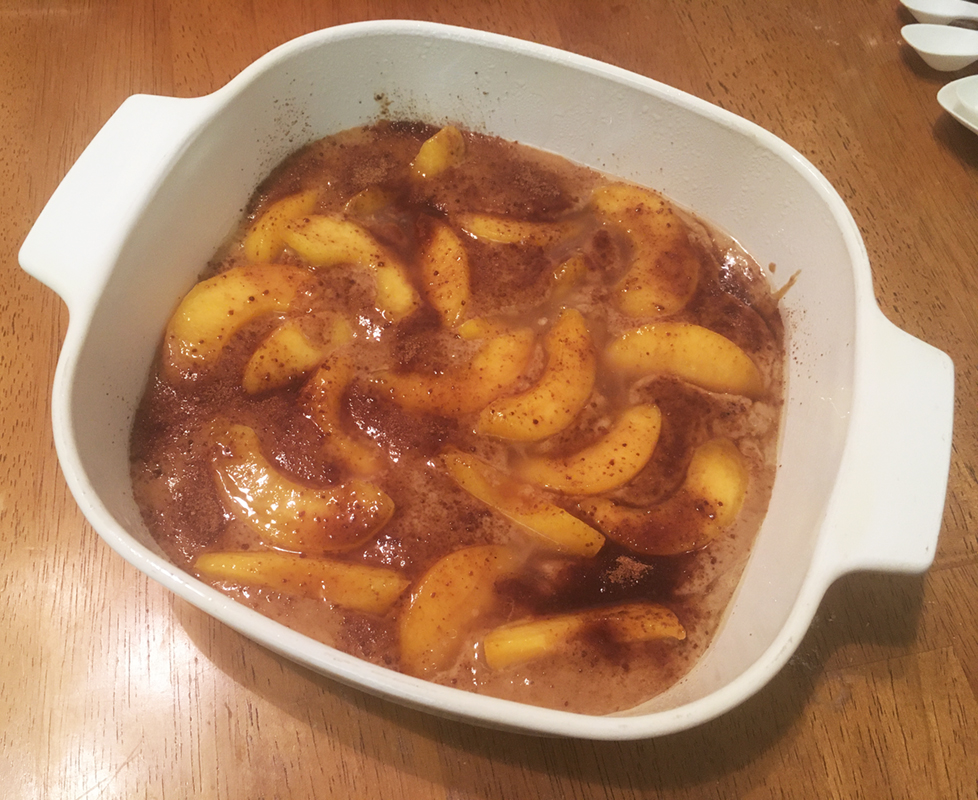 Your oven should be warmed up now, so put the dish in and bake it for 45 minutes, then check on it and keep baking until the top is brown. It shouldn't take more than 55 minutes. My dish was ready (and even a little burnt on the edge) after exactly 45 minutes. While it cooks, the batter rises up and forms a delectable crust around the peaches. Mine turned out a very rich, dark brown, but if you use white flour and white sugar it will be a lighter brown than this.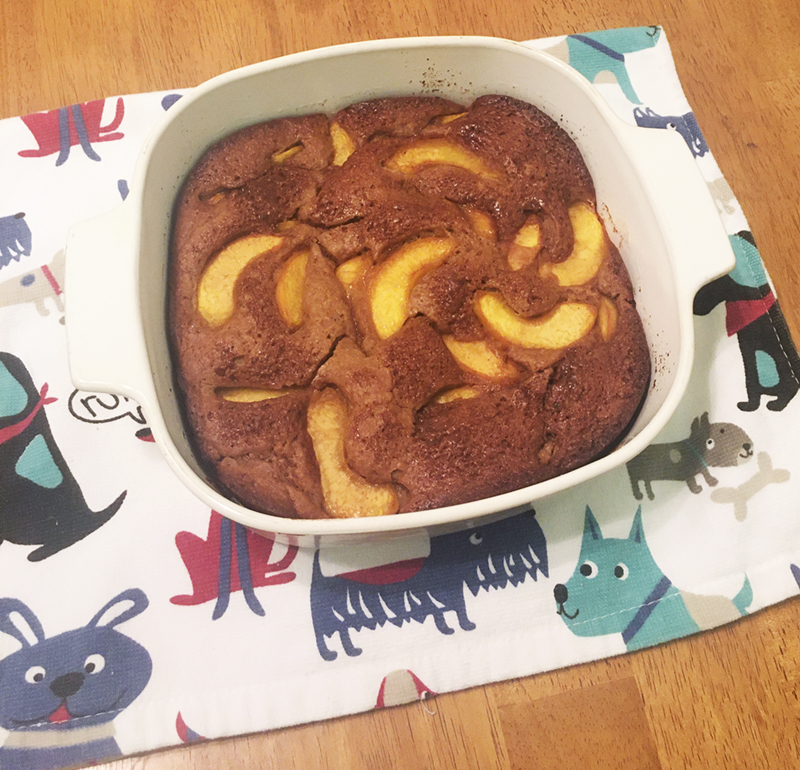 You should serve the cobbler right out of the oven if possible, while it is still piping hot, but you can also put leftovers in the refrigerator and warm it up in the microwave the next day. A scoop of ice cream on top of each serving creates just the right frisson of creamy cold against the warm fruit and pastry. Sadly, I had no ice cream in the house, but it is also delicious just by itself.
Would You Like to Know More?
This is only one of many government recipes for peach cobbler. Here are a few more:
Texas Peaches: This tiny recipe card is available in the Texas Documents collection in Eagle Commons Library under call number TxD A900.7 P313 80-5. The card also has recipes for "Fresh Peach Cocktail" (really more of a smoothie) and "Peachy Pecan Bread."
Dutch Oven Peach Cobbler: This is in a collection of Dutch oven recipes on the Texas Highways Web site. Baked in a portable Dutch oven with live coals on the lid, this is probably as close as you are going to get to preparing your cobbler in the way it was made by the early pioneers who invented this dish. Well, except for the part that calls for a 6-lb., 10-oz. can of peaches in light syrup. Still, how many recipes have you come across where the "baking time varies according to the amount of wind"? This is also one of those recipes with a recipe-within-the-recipe. In this case, it's a recipe for a "Vinegar Pie Crust," and you can use the crust for your peach cobbler as well as for making pies.
Peach Cobbler: USDA Recipe for Schools: If you have a crowd on your hands, this USDA recipe for school cafeterias makes 50 or 100 servings.
Article by Bobby Griffith.
Process photos taken by Bobby Griffith.