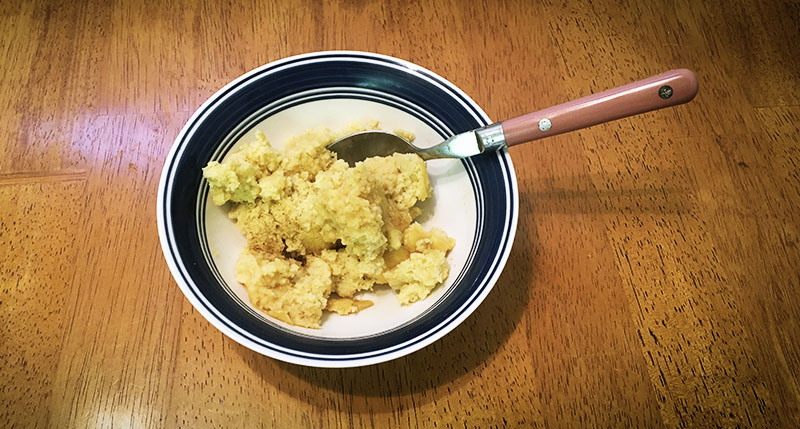 ---
Lady Bird Johnson was known for the delicious dinners she served, typically prepared by their family cook, Zephyr Wright, who came with them from Texas when they moved to Washington, and continued to serve in the White House as the First Family's personal chef while LBJ was president.
Spoon bread was a family favorite of the Johnsons, and one of Ms. Wright's specialties. This versatile Southern side dish has a texture somewhat like a savory corn pudding or polenta. The history of spoon bread is obscure, but it may date back to the era of the American Revolution, and possibly has an origin in Native American cuisine. The first spoon bread recipe to appear in print was in the 1847 cookbook The Carolina Housewife, or House and Home, by "a Lady of Charleston." (The Lady is now known to be Sarah Rutledge, daughter of Edward Rutledge, a signer of the Declaration of Independence and singer of the showstopper "Molasses to Rum" in the musical 1776. But we digress.) Here is that early recipe:
The Johnson family's spoon bread recipe had been shared with Lady Bird by LBJ's mother. The First Lady enjoyed having it for breakfast with Ms. Wright's home-made deer meat sausage. Later it became one of several of Lady Bird Johnson's recipes that were printed on recipe cards and mailed out in response to requests. Here is the Johnson family recipe: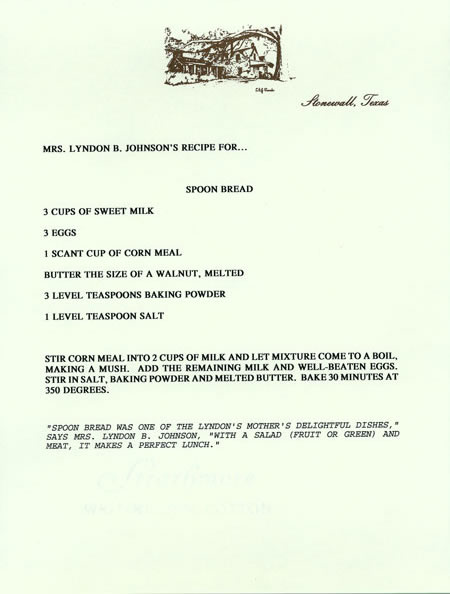 This is a very simple, easy-to-make dish that requires very few ingredients. You may even already have them in your kitchen. (The reference to "sweet milk" might be confusing if you are younger or not from the South. It simply means milk that is not sour milk or buttermilk; it does not have sweetener added to it. In this case, I used almond milk.)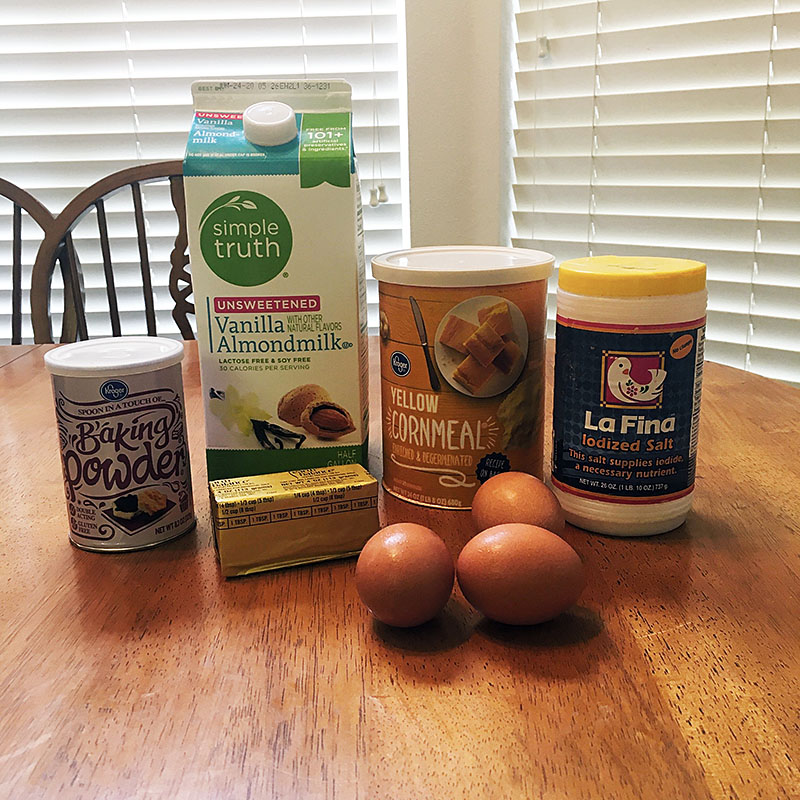 The first step in preparing this dish is to bring two cups of sweet milk to a boil over medium heat in a medium-size saucepan, then stir in a cup of corn meal and keep stirring until it turns into a mush. Take it off the heat as soon as it gets fairly thick, but don't let it get too solid. Pour the mush into a large bowl when it is ready and let it cool while you prepare the other ingredients.
Now you can turn on the oven and start pre-heating it to 350°F. Beat three eggs in a medium-sized bowl with a whisk until they are thoroughly blended together, and melt the butter for about one minute in the microwave. (The recipe calls for "butter the size of a walnut." I used about three ounces. The recipe doesn't say whether the butter should be salted or not. The vegan butter I used had salt in it, and the end result was very salty, so I would suggest using unsalted butter if you have it, but salted is okay, too.) Pour the melted butter into the eggs, add another cup of milk, three level teaspoons of baking powder, and one teaspoon of salt, then stir everything together.
The next step is to dump the egg mixture into the corn meal mush and stir everything thoroughly together with a whisk or a wooden spoon. The mixture will be very thick, and I never did get all the lumps out, but that didn't seem to make any difference in the final product. It's really very difficult to mess this dish up! Spoon bread is delicious plain, but you might want to experiment by adding some ingredients such as onions, jalapeños, cheese, or corn kernels. Once everything is mixed, pour it into a greased baking pan. A 9″ x 6″ pan is just the right size, but an 8″ x 8″ pan would probably work also.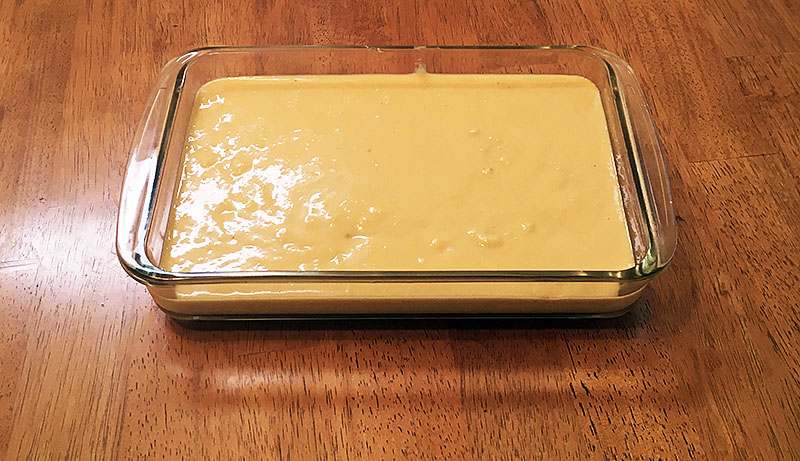 The oven should be heated up by now, so put the pan in and relax for about half an hour. When you take it out, it will smell so good that you'll probably want to eat it right away, but let it cool for a few minutes. It seems very liquid when you take it out of the oven, almost as if it were not done, but when it cools it will congeal to just the right texture.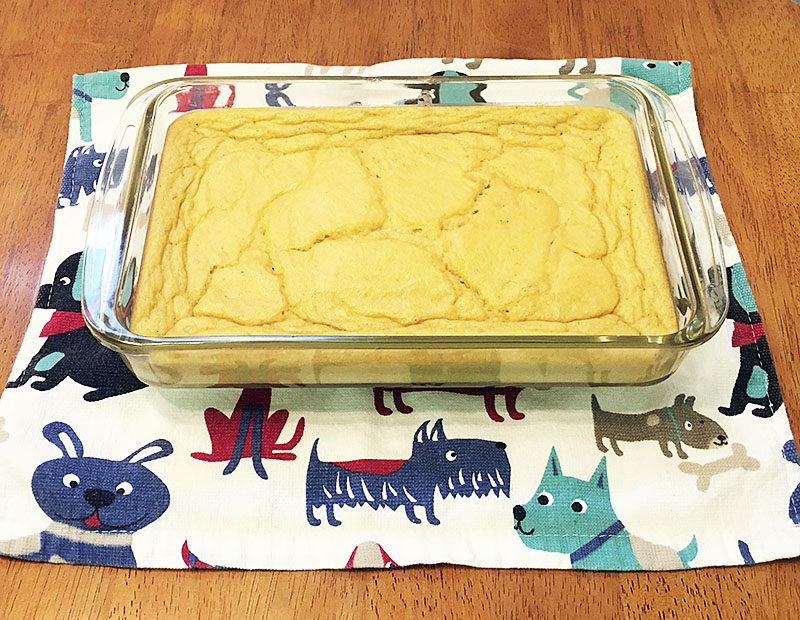 When you're ready to serve your spoon bread, get out a big serving spoon and scoop it into a bowl or onto a plate. According to Mrs. Johnson's comments, "with a salad (fruit or green) and meat, it makes a perfect lunch." (Beans make a good substitute for the meat for vegans and vegetarians.) This dish is delicious as is, but adding a drizzle of real maple syrup or some locally-made Texas honey brings it to a whole new level of deliciousness.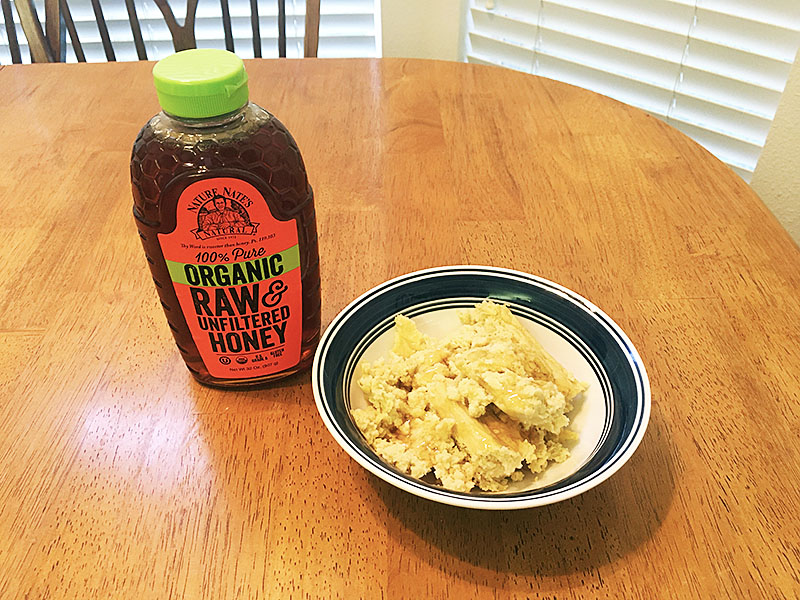 Spoon bread is best served warm out of the oven, but it is also good the next day, whether served cold or reheated. Either way, scoop it out, stick a spoon in it, and enjoy!
---
Article by Bobby Griffith.