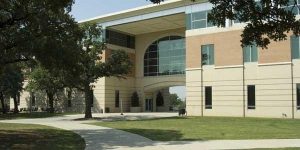 The official Election Day is Tuesday, November 3 this year, but UNT students, faculty, and staff who live in Denton County will have an opportunity to beat the crowds and vote early in the 2020 General Election without even leaving the Denton campus. Other voters from the community who are registered in Denton County will also be allowed to vote early on the UNT Denton campus.
Time and Place
From Tuesday, October 13 to Friday, October 30, the University of North Texas, in cooperation with the Denton County Elections Administration, will host an early voting location at the UNT Gateway Center, located at 801 North Texas Blvd. in Denton, rooms 43/47. Visitors can park on campus for a fee.
The Gateway Center voting area will be open at the following times:
| | | |
| --- | --- | --- |
| Tuesday–Saturday | October 13-17 | 7 a.m.-7 p.m. |
| Sunday | October 18 | 11 a.m.-4 p.m. |
| Monday-Saturday | October 19-24 | 7 a.m.-7 p.m. |
| Sunday | October 25 | 11 a.m.-4 p.m. |
| Monday-Friday | October 26-30 | 7 a.m.-7 p.m. |
All days, times, and locations for early voting in Denton County can be seen in a printable Denton County Early Voting guide. (Note that registered Denton County residents may vote at any of these locations during the early voting period, but on November 3 you can only vote at the location designated for your precinct.)
Candidates and Issues
A Voter's Guide from the League of Women Voters of Denton is available to help you become a more responsible voter by learning about the candidates and issues being voted on.
You can get a sample ballot by entering your identifying information in the Denton County Voter Lookup database.
Are You Registered to Vote?
To find out if you are registered in Denton County, go to the Denton County Voter Lookup database.
To find out if you are registered in Texas, go to the Secretary of State's Vote Texas site.
If you are registered in another Texas county you cannot vote in Denton County, but you can request a mail-in ballot from your home county election administration if you are not going to be in the area during the voting period.
If you think you should be registered, but don't know for sure or have questions, contact the Texas Secretary of State at 1-800-252-VOTE.
Don't Forget Your ID
In 2011 the Texas Legislature passed a Texas Voter ID Law that required certain specific forms of identification in order to vote in a Texas election.
On August 10, 2016, a federal district court entered an order that partially ruled against the constitutionality of this law. The court order relaxed the voter identification requirements for all elections held in Texas after August 10, 2016 until further notice.
These are the acceptable forms of photo ID:
With the exception of the U.S. citizenship certificate, the photo ID must be current or have expired no more than four years ago.
If you don't have one of these forms of ID, you may fill out a Reasonable Impediment Declaration at the polling place and present it with one of the following forms of ID:
Certified birth certificate (must be an original)
Current utility bill
Bank statement
Government check
Paycheck
Any government document with your name and an address (original required if it contains a photograph)
Do You Want to Know More?
Visit the UNT Libraries' Voting and Civic Engagement guide for a variety of useful resources.
Information about voter registration, voting rights, special needs, and other issues related to voting in Texas is available at the Texas Secretary of State's VoteTexas.gov page.
Learn more about the upcoming elections at the Denton County Elections Administration Web site and the Texas Elections Division website.
Email govinfo@unt.edu if you have any questions.
original post by Bobby Griffith, updated by Jennifer Rowe
Photo of UNT Gateway Center by UNT/URCM Photography.