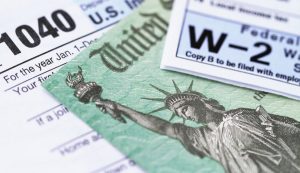 The 2021 Tax Season officially starts on February 12, 2020, meaning this is the first day the IRS will begin accepting tax returns (sorry to those that might have anxiously filed already). Here we will highlight a few things to know about this year's tax season, how to get forms, help for filing, and a few other things of possible help or interest.
IRS.gov
If you haven't visited the IRS website in awhile, you should! IRS.gov has always been a one-stop-shop for all things tax related, although it hasn't always been intuitive or easy to navigate. However, the site has undergone quite a facelift and is much easier to use. The most frequently accessed and timely tax-related activities of tax payers and businesses are now front and center. These include accessing tax forms, tracking your return, filing for your Economic Impact Payment, or requesting Coronavirus Tax Relief. If, in the past, you feared visiting IRS.gov, fear no more. 
Tax Forms
Tax forms and instructions can be accessed at IRS.gov. The IRS has taken the care to put the most requested forms and instructions front and center. Tax filers needing forms beyond the most requested can search by form number or keyword. 
For those needing printed forms, many public libraries offer forms and instructions. Typically the most common or frequently requested forms are available at local public libraries.
If you're in the city of Denton, Texas and would like paper forms, the Denton Public Library is here to help. At the time of drafting this post, the DPL is only offering curbside service. As a result of this service modification, the 1040 and 1040-SR Forms Booklet can be picked up at the front entrances of South Branch Library and Emily Fowler or at North Branch Library's drive-through window from 10 a.m. to 5 p.m. Monday through Saturday. This booklet contains Forms 1040 and 1040-SR, Schedules 1 through 3 and Schedule LEP. If you need other forms or instructions, call at least 30 minutes ahead. Staff will print them and have them ready before you arrive. (Call 940-349-8752 and choose the General Questions option.)
Free File and Tax Prep Assistance
Free File
Though tax season hasn't officially started, Free File is OPEN! As a reminder, Free File is a partnership between the IRS and many tax preparation filing websites. Free File is available to anyone though those earning over $72,000 per year have fewer free options. Here's a breakdown of what's available for those earning under and over $72,000.
Income $72,000 and below
Income above $72,000

Free federal tax filing on an IRS partner site
State tax filing (free with some offers)
Guided preparation – simply answer questions
Online service does all the math

Free electronic forms you fill out and file yourself
No state tax filing
You should know how to prepare paper forms 
Basic calculations with limited guidance

Free File Fillable Forms: Opens February 12, 2021
Free Tax Prep Assistance
The Denton County United Way is back this year with their VITA Tax Preparation service, which provides tax prep assistance to those that earned up to $58,000. The service kicks off on February 8, 2021 and will be completely virtual. 
For information about other free tax preparation services as well as services for specific populations, visit my colleague Bobby Griffith's tax services post from March 2020.
Economic Impact Payments: what to know
If you haven't received any or all of your COVID-related economic stimulus payments, you can check your payment status at IRS.gov. If you find that you have not received your payment, or if you do not normally file taxes, you  may qualify for the credit. See Recovery Rebate Credit for more information.
Taxes can be confusing and stressful, but they don't have to be. If you find yourself in need of help, reach out to UNT's Government Information Connection for help. If we don't have the answer, we can connect you to someone that does.