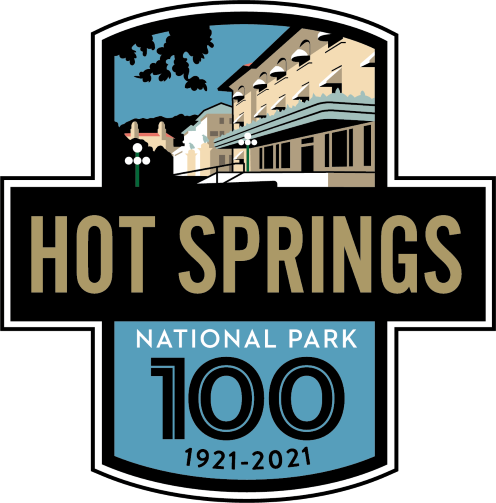 Our national parks have partially reopened after being temporarily closed to the public due to COVID-19 restrictions. This reopening comes just in time to celebrate the 100th birthday of Hot Springs National Park in Arkansas. Hot Springs was officially designated a national park on March 4, but its history goes back thousands of years.
Over 10,000 years ago, native inhabitants of the area came to the Ouachita Mountains to quarry novaculite for their stone tools and weapons. In 1771 French explorer Jean Bernard Bossu encountered Native Americans who partook of the allegedly healing waters on the lower east slope of Hot Springs Mountain.
In 1804 President Thomas Jefferson commissioned the Hunter-Dunbar Expedition to explore the to explore the "Washita" River and "the hot springs" in the southern reaches of the Louisiana Purchase, and in 1818 a treaty with the Quapaw Nation conveyed territory containing the hot springs to the United States. In 1832 the area was designated by Congress as Hot Springs Reservation, making it the oldest federally protected site in the country. Before long, the springs' reputation spread, and a bustling spa city blossomed as visitors journeyed from across the United States to bathe in the or to "quaff the elixir." On March 4, 1921, the name was officially changed to Hot Springs National Park.
During its heyday, the springs attracted such illustrious visitors as Babe Ruth, Helen Keller and the gangster Al Capone. Whether you're a nature lover, history buff, or just into family fun, you too will something to enjoy at Hot Springs National Park.
Centennial Activities
If you happen to be in the park today or Saturday, you can participate in a number of celebratory activities:
For everyone's safety, facemasks are required on federal lands and visitors are reminded to maintain social distancing wherever possible.
If you can't be at the park in person, don't fret! Whip up a batch of cupcakes and celebrate at home by watching a special anniversary video on social media that will be released by the Park on March 4 in conjunction with the event at the Fordyce. Interact with Hot Springs National Park on the following social media sites:
A centennial celebration such as this only occurs once every 100 years! Mark your calendars and make plans to join in on the celebrations all year long, either in person or online. For questions or additional information about the centennial, please contact Hot Springs National Park at (501) 620-6715 or visit the park online at www.nps.gov/hosp.
Selected Online Resources
Keep Up-to-Date on Events: Centennial events will be occuring throughout this entire year! Stay up to date on all the happenings in Hot Springs. From art and music to natural wonders, if you're looking for something fun to do in Hot Springs, you'll find it here
Request a Free Vacation Guide: Planning on taking an Hot Springs vacation this year? This free vacation-planning guide provides valuable information about Hot Springs National Park as well as lodging and places to stay attractions and fun things to do, an events calendar, and free discount coupons for Hot Springs hotels, restaurants, events, attractions and shops.
Get the Newsletter: Sign up for the Destination Hot Springs weekly newsletter for all the insider information on Hot Springs.
Follow the Blog: Read all sorts of interesting facts and stories about Hot Springs by following their official blog.
Explore the Media Room: Journalists and the general public can find press releases, free photos, logos, reports, and even downloadable Zoom backgrounds in the Hot Springs Media Room.
Visit the official Hot Springs National Park website at https://www.hotsprings.org/ for many more online resources.
Selected Resources at the Eagle Commons Library
Check the UNT Libraries Catalog for our many resources related to Hot Springs National Park. These are only a few of the publications available at the Eagle Commons Library:
Hot Springs National Park [brochure]
I 29.21:H 79 
Hot Springs National Park, Arkansas [map]
I 29.6:H 79/9/ 2020 
The Golden Age of Bathing at the Fordyce Bathhouse Visitor Center, Hot Springs National Park
I 29.2:B 32/4
Junior Ranger Archeology Program
I 29.171:AR 2 
Also online at https://purl.fdlp.gov/GPO/gpo83556
Out of the Vapors: A Social and Architectural History of Bathhouse Row: Hot Springs National Park, Arkansas
I 29.2:B 32/3 
The Waters of Hot Springs National Park, Arkansas—Their Nature and Origin
I 19.16:1044-C 
Also online at http://purl.fdlp.gov/GPO/gpo90737
Article by Bobby Griffith.