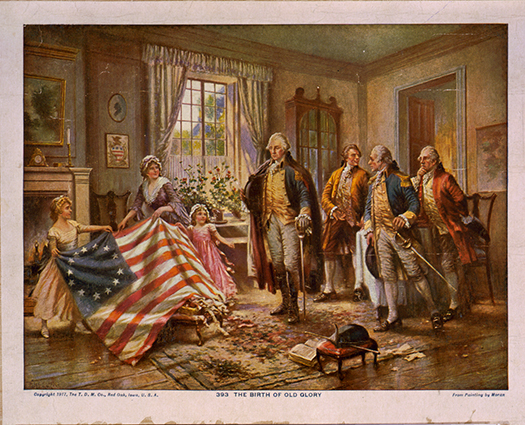 The Birth of Old Glory, from Painting by Moran. Percy Moran, artist;
photomechanical print, [Red Oak, Iowa]: Thomas D. Murphy, Co., c1917.
Prints & Photograph Division, Library of Congress.
On this day in 1777, the Continental Congress passed a resolution adopting a new flag to represent our new nation, the United States of America: 


Journals of the Continental Congress, June 14, 1777.
On June 14, 1885, a schoolteacher named Bernard Cigrand led his school in a celebration of the adoption of the first U.S. flag and suggested a new holiday that would be celebrated across the country. In 1916 Cigrand's dream became a reality when President Woodrow Wilson issued a proclamation calling for the nationwide observance of Flag Day.
On August 3, 1949, Congress passed House Joint Resolution 170 (81st Congress), designating June 14 of every year as Flag Day and requesting that the president issue an annual proclamation calling for its observance. 

Public Law 81-203, U.S. Statutes at Large 63 (1949): 492.
2022 Presidential Proclamation
On June 10, President Biden gave a speech and issued A Proclamation on Flag Day and National Flag Week, 2022. You  can read the official proclamation on the White House webpage.
Our Flag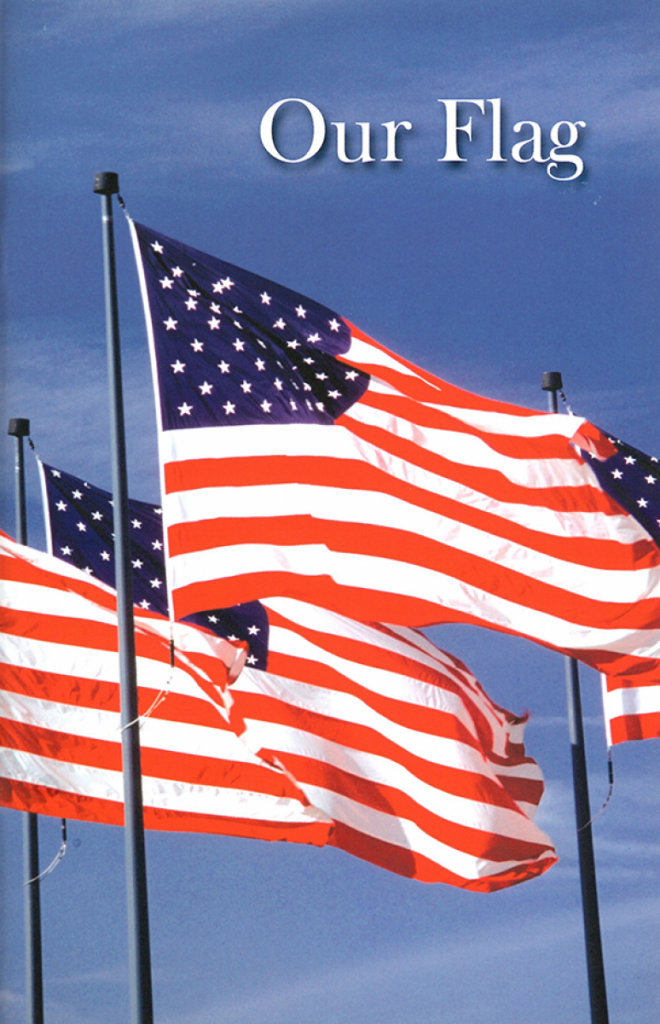 Succinct and authoritative, this slim pamphlet published by the U.S. Congress is the classic statement on the U.S. flag, its history, and how to display it properly. You can check out a paper copy of Our Flag at Sycamore Library or read it online. If you would like to own a copy, or purchase multiple copies at a discount for your classroom or organization, you can purchase Our Flag from the U.S. Government Bookstore.
Betsy Ross and the Five-Pointed Star
According to a charming though apocryphal anecdote, Betsy Ross was working in her upholstery shop one day when General George Washington and three members of a committee from the Continental Congress approached her and asked if she could sew them a United States flag according to the new design they had just come up with. She said she would try, and asked to see the design. Everything about it pleased her except for the fact that the stars had six points. When she proposed a design using five-pointed stars instead, the committee objected that cutting out five-pointed stars would be too difficult. To counter this objection, she picked up a sheet of paper, folded it quickly, and with a single snip of the scissors cut out a perfectly symmetrical five-pointed star. The committee was so impressed they immediately acceded to her request, and that is why the United States flag has five-pointed stars today.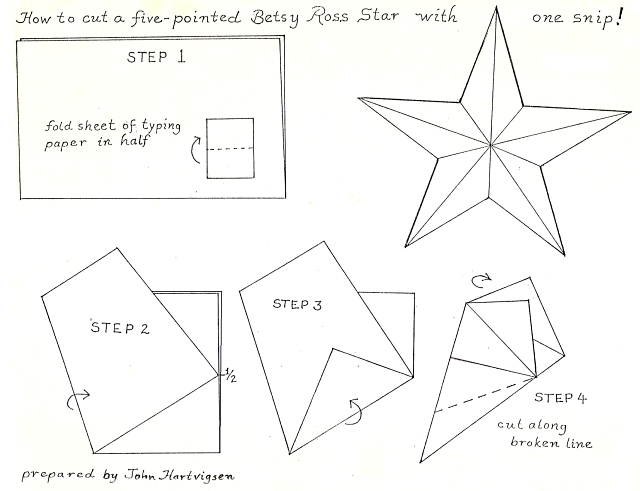 Visit John Hartvigsen's flag-post.com website to find out
How to cut a 5-pointed Betsy Ross star in one snip.
Would You Like to Know More?
If you would like to find out more about Flag Day, other special days, or anything government-related, stop by Sycamore Library, give us a call at (940) 565-2194, or send us a message at govinfo@unt.edu.
And remember, if you missed flying the flag on Flag Day, you still have the rest of Flag Week to celebrate!
Article by Bobby Griffith.