A collage of completed NASA coloring pages.
It's National Coloring Book Day, and you might be surprised to know that the Sycamore Library has over 175 coloring books and coloring sheets produced by U.S. federal and Texas state government agencies for educational and promotional purposes and covering virtually every topic under the sun. Some are available online for you to download and print out, and others are available in paper format at Sycamore Library. (But please don't color in our paper documents—photocopy the pages you need so that everyone will have a chance to color!)
How to Find Government Coloring Books
To search for our coloring books, go to the library catalog on the UNT Libraries homepage, select "Books & More" to search the catalog, then select "Advanced Search."
Once on the Advanced Search screen, enter "coloring books" in the Genre field and select "Government Documents" from the drop-down menu under "Collection." 
You can also search "activity books" in the genre field to find books that usually contain coloring pages, but also include games, puzzles, and other pastimes such as word searches, crossword puzzles, connect-the-dots, quizzes, and other interactive activities that require writing or drawing directly in the book.
Not all government coloring books are available in a physical format. To find hundreds of digital format coloring books go to a government agency website and search for the phrase "coloring book" or "coloring pages." Many agencies have a "kid's page" that includes links to coloring books, games, and other educational activities. You can google the name of the agency to find their website. Most—but  not all—federal agency websites can be guessed at by entering the agency's acronym followed by .gov (e.g., nasa.gov).
You can also go to the website usa.gov and search several federal and state government websites simultaneously, using the same phrases listed above. 
A Few Samples of Government Coloring Books
These samples can only give a taste of the infinite variety of government coloring books available. Explore the UNT Libraries catalog and individual government websites for more examples. 
Friends Don't Use Friends as Bear Bait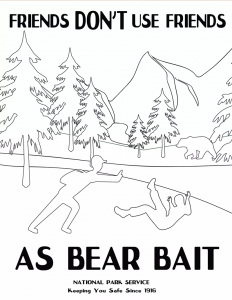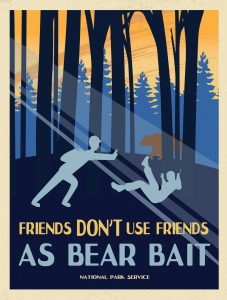 The Friends Don't Use Friends as Bear Bait coloring activity from the National Park Service takes a humorous approach to a deadly serious situation. You can use the full-color NPS poster as a model, or be creative and use whatever colors you want.
Little Leon the Lizard (Toy Safety Curriculum)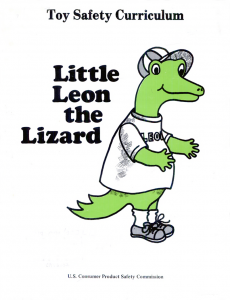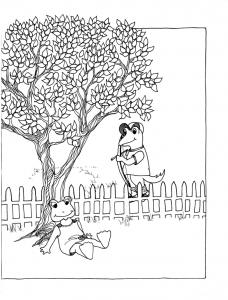 Little Leon the Lizard is a coloring book from the U.S. Consumer Product Safety Commission. A little wordy for a coloring book, this is more of a short chapter book with full page illustrations suitable for coloring. It tells the story of an anthropomorphic lizard who is constantly giving or receiving injuries because of his carelessness while playing with his toys.
What's My Job in Court?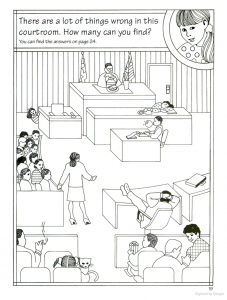 What's My Job In Court is a coloring and activity book produced by the U.S. Attorney's Office and the DC Children's Advocacy Center to help prepare children who will be serving as witnesses in court cases. It explains how the courtroom is set up, the roles various persons play in the trial, and what is expected of a child witness. 
Discover Aeronautics and Space: A Coloring Book for Elementary Students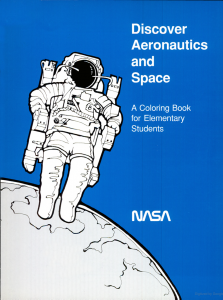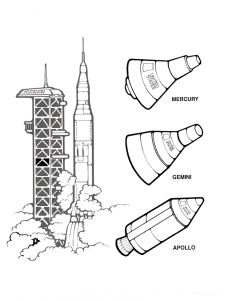 Discover Aeronautics and Space is a coloring book produced by NASA to introduce elementary school children to the various spacecraft used since the Mercury program until 1990, when the book was published, and to depict how astronauts go through everyday activities such as eating, sleeping, and grooming while in space. Children are fascinated by outer space and space travel, so it should be no surprise that NASA has perhaps the largest collection of online coloring books and coloring pages of any government agency. Many of these are also available in print. 
The Indian Years Coloring Book


The Indian Years Coloring Book, produced by the Cultural Resources Program of the Texas Parks and Wildlife Department, was adapted from The Indian Years (Living with the Texas Past series, no. 1), published by the Office of the State Archeologist, Texas Historical Commission. It is one of many educational coloring books produced by Texas state agencies. 
#ColorOurCollections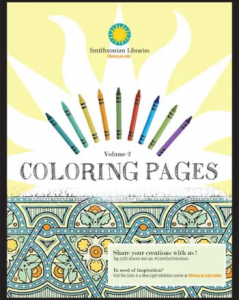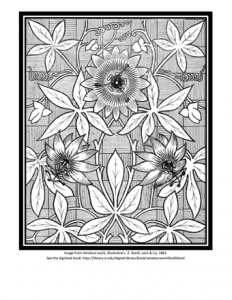 #ColorOurCollections is an annual social media event launched in 2016 by the New York Academy of Medicine Library in order to encourage libraries, museums, archives, and other cultural institutions throughout the world to create free coloring books and coloring pages based on the unique content in their local collections. The event usually takes place during the first full week of February each year, and the coloring books are archived on the New York Academy of Medicine Library's website, which also links to the websites of the participating institutions.
Pictured above is the second coloring book contributed by the Smithsonian Libraries, featuring images based on items in their collection. 
You can even find a couple of University of North Texas Libraries Coloring Books in the #ColorOurCollections archive.
Show Us Your Colors
We hope this article has inspired you to create some of your own art out of some of the many government agency coloring books and coloring pages they have made available. Please share any coloring projects you have done, and we will put them on display!
Would You Like to Know More?
We invite you to explore the many coloring books and other government publications at the Sycamore Library, or you may give us a call at (940) 565-2194 or send us a message at govinfo@unt.edu to ask us any questions. 
Article by Bobby Griffith.