It's Dead Week at UNT.
Normally at this time of year, the Eagle Commons Library staff is busily gathering supplies and making plans for our traditional Coffee & Cookies event, during which we invite patrons to take a study break and enjoy free coffee and cookies in the library.
But this semester, the coronavirus pandemic threw a wrench in our plans. Library events are cancelled, and most students will spend Dead Week away from campus.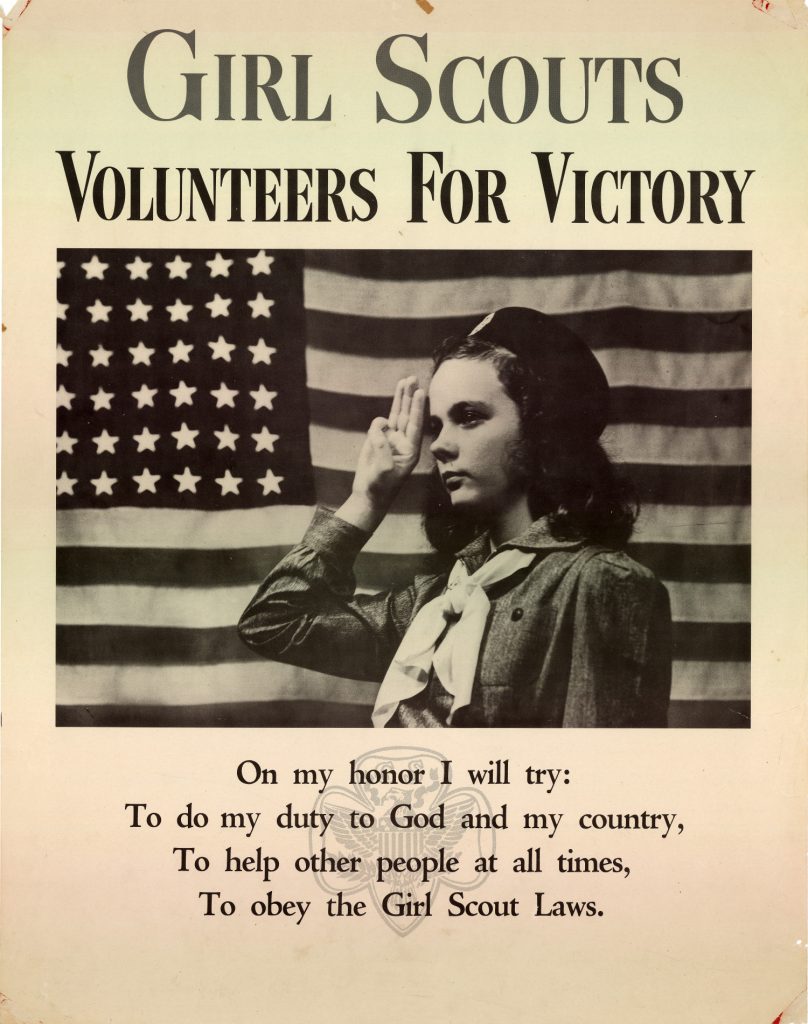 In April of 1942, the Girl Scouts in Washington, D.C. hosted a "Volunteers for Victory" pageant.


Reminiscing about cookies reminded us of a truly momentous event in cookie history: The 1942-1945 shortage of Girl Scout cookies. Due to wartime rationing of cookie ingredients, the Girl Scouts ran out of cookies and had to sell calendars instead. At the same time, thousands of Girl Scouts throughout the United States participated in volunteer initiatives to support the war effort. They sold war bonds, collected salvage materials, and worked as hospital aides.
This spring of 2020, the Girl Scouts once again had to curtail their in-person cookie sales (though they were still sold online). If you missed out, here's a recipe for a home-baked version of Thin Mints, tested by our own staff member Matina Newsom. This recipe was taken from Sally's Baking Addiction.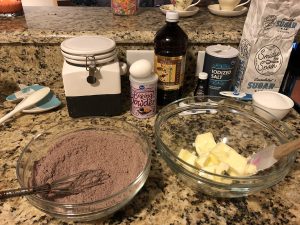 Ingredients
3/4 cup (172g) unsalted butter, softened to room temperature
1 cup (200g) granulated sugar
1 large egg, at room temperature
1 teaspoon pure vanilla extract
1/4 teaspoon peppermint extract
1 and 1/2 cups (188g) all-purpose flour (spoon & leveled)>
3/4 cup (63g) unsweetened natural cocoa powder (or dutch process)
1 teaspoon baking powder
1/8 teaspoon salt

Topping
14 ounces (395g) quality semi-sweet chocolate, coarsely chopped
1/2 teaspoon canola or vegetable oil
1/4 teaspoon peppermint extract

Directions
In a large bowl using a hand-held mixer or stand mixer fitted with a paddle attachment, beat the butter for 1 minute on medium speed until completely smooth and creamy. Add the granulated sugar and beat on medium high speed until fluffy and light in color. Beat in the egg, vanilla extract, and peppermint extract on high speed. Scrape down the sides and bottom of the bowl as needed.
Sift the flour and cocoa powder together in a medium bowl. Whisk in the baking powder and salt until combined. On low speed, slowly mix into the wet ingredients until combined.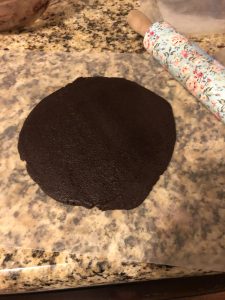 Divide the dough into 2 equal parts. Roll each portion out onto a piece of parchment to about 1/4″ thickness. Stack the pieces (with parchment paper between) onto a baking sheet and refrigerate for at least 1 hour. Chilling is mandatory. If chilling for more than a couple hours, cover the top dough piece with a single piece of parchment paper. You can chill up to 2 days.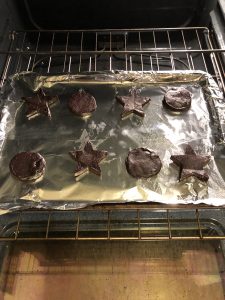 Once chilled, preheat oven to 350°F (177°C). Line 2-3 large baking sheets with parchment paper or silicone baking mats. Remove one of the dough pieces from the refrigerator and using a 2-inch round cookie cutter (I used an assortment of cutters for fun), cut in circles. Transfer the cut cookie dough to the prepared baking sheet. Re-roll the remaining dough and continue cutting until all is used.
Bake for 8-10 minutes or until the edges appear set. The cookies will seem very soft in the centers. Make sure you rotate the baking sheet halfway through bake time. Cool on baking sheet for 5 minutes, then transfer to a wire rack to cool completely before dipping in chocolate.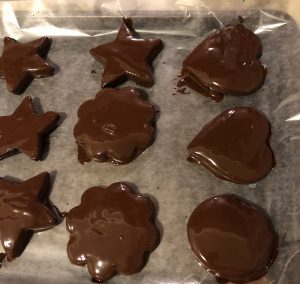 Once the cookies are cool, begin the topping: Melt the chopped chocolate and oil together in a double boiler or (carefully!) use the microwave. For the microwave, place the chocolate and oil in a medium heat-proof bowl. Melt in 15 second increments, stirring after each increment until completely melted and smooth. Once melted, stir in the peppermint extract. Dip each cooled cookie completely into the chocolate and use a fork to lift out. Tap the fork gently on the side of the bowl to allow excess chocolate to drip off. Place cookie onto a parchment or silicone baking mat-lined baking sheet. Place the baking sheet into the refrigerator to help the chocolate set. Once set, enjoy!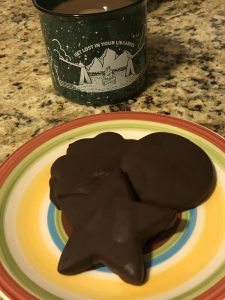 In the tradition of Eagle Commons Library's Coffee and Cookies, we invite you to find a cozy nook in your home (preferably adjacent to bookshelves). Gather some tasty cookies and a cup of coffee and take a study break.
Good luck on your finals!

More Fun Links to Explore
The original Girl Scout cookie recipe, published in 1922
More recipes from the Internet:
"The Cookie Song," from the opera Daisy. The opera is based on the life of Girl Scouts founder Juliette Gordon Low and composed by UNT alumna Julia Smith (who also composed the UNT alma mater). These sites are restricted to the UNT community and may require an EUID login.
Audio recording (The Cookie Song is no. 18 on the list. If you get a redirect message, select the link to the old version of the page.)