Saturday was National Doughnut Day, and while the day has passed it's never too late to break out the baking gear, knead some dough, and make some tasty homemade treats. I've been craving doughnuts for a while now, and having a day set aside for them was just the excuse I needed to dig up a recipe and try my hand at something a little more involved than biscuit doughnuts.
National Doughnut day comes from the Salvation Army. In 1938 they invented the day as a way to raise money to help those in need during the Great Depression and to honor the "Doughnut Lassies". These women fried doughnuts in the helmets of soldiers during WWI while they were there helping the men fighting. This earned them the nickname "Doughnut Lassies" as well as helped popularize doughnuts in the US. It is celebrated on the first Friday in June, and has become quite the tradition across the US, with doughnut shops participating in all kinds of ways.
You can participate yourself this year by making your own doughnuts! I tried the recipe for Yeast-raised doughnuts as provided by King Arthur Flour, who have not only frying instructions, but baking as well in case you want to somehow make these doughnuts a little healthier (but let's be honest, frying is the way to go). They didn't include a recipe for icing, but don't worry, we'll add one for a sugar glaze and chocolate as well.
Ingredients
3 cups (361g) All-Purpose Flour
1/4 cup (50g) sugar
1/2 teaspoon salt
2 teaspoons instant yeast or active dry yeast
1/4 teaspoon nutmeg
1 large egg
1 cup (227g) milk
2 tablespoons (28g) melted butter
1/2 teaspoon vanilla extract
6 cups (907g) peanut oil or shortening for frying (I used vegetable oil)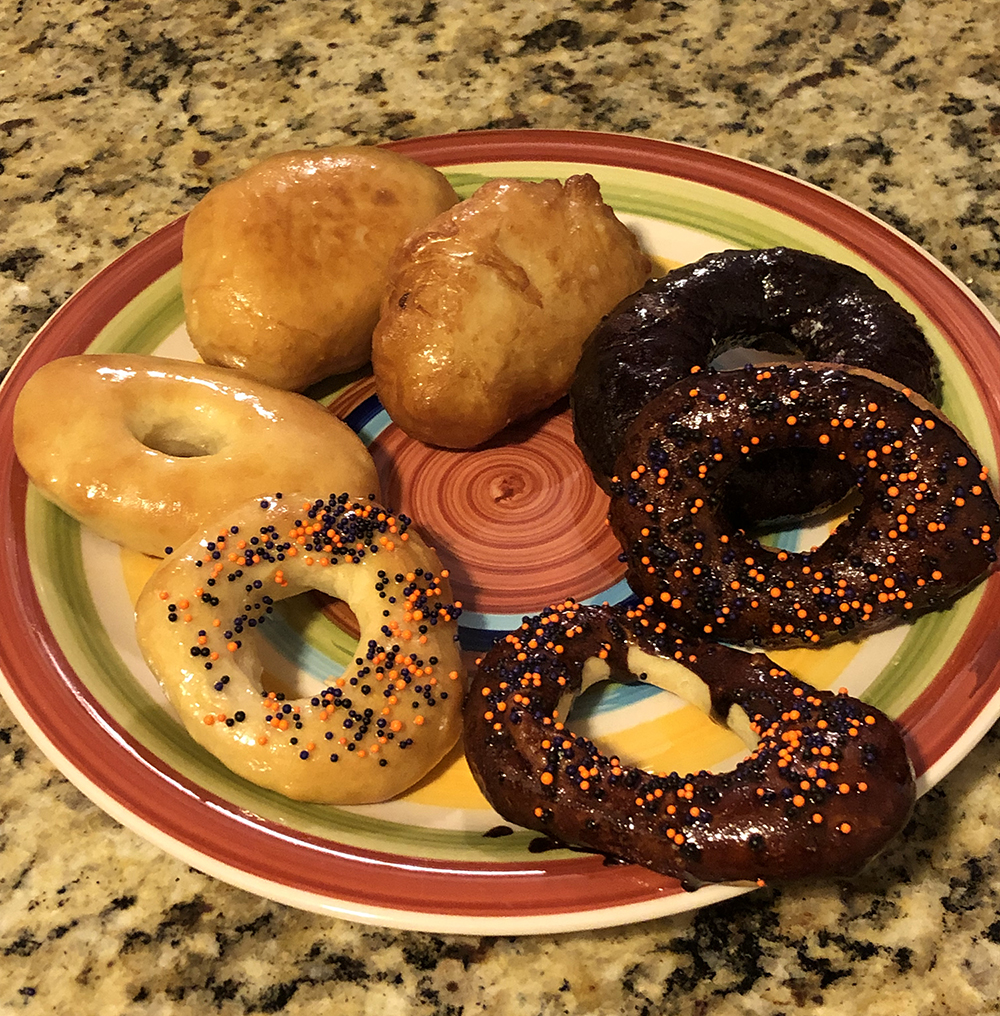 The doughnuts on the left were fried, while the doughnuts on the right were baked
Instructions:
To make the dough: In a large bowl or the bucket of your bread machine set on the dough cycle, whisk together the dry ingredients. In a small bowl, whisk together the egg, milk, melted butter, and vanilla. Add all at once to the dry ingredients. If you're using a bread machine, press Start. If you're preparing by hand or mixer, mix and knead to make a soft dough. Cover and let rest for 5 minutes.
If preparing by hand or mixer, knead the dough after its rest for 6 to 8 minutes, until it's smooth and soft. Place the dough in a greased bowl, turn it over to coat the top, cover, and let it rise for 1 1/2 to 2 hours, until doubled in bulk.
To shape the doughnuts: Deflate the dough and turn it out onto a lightly floured surface. Gently roll it 1/4″ thick, and cut out doughnuts with a 2 1/2″ to 3″ round cutter. Cover loosely with greased plastic wrap and let the doughnuts rise for 30 minutes to an hour, until doubled.
To fry: Heat the oil or shortening in a heavy frying pan or skillet to 350°F. Carefully place the doughnuts in the oil, 2 or 3 at a time, and fry until golden brown. Turn over and cook the second side; each side should take no more than a minute. Remove from the oil with a slotted spoon and drain on absorbent paper. Fill or frost doughnuts as desired, using your choice of sugar topping or glaze.
To bake: Follow the recipe through step 3, letting the doughnuts rise for 45 to 60 minutes. Bake them in a preheated 350°F oven for about 14 minutes, or until they're a light golden brown. Remove a doughnut from the oven, make a small knife cut, and peek inside: if it's baked all the way through, with no raw dough at the center, they're done. If not, give the doughnuts a few more minutes. Cool, fill, and top as desired.
Sugar Glaze:
Ingredients:
1/4 cup whole milk
1 teaspoon vanilla extract
2 cups confectioners' sugar

Instructions:
Combine milk and vanilla in a medium saucepan and heat over low heat until warm. Sift confectioners' sugar into milk mixture. Whisk slowly, until well combined. Remove the glaze from the heat and set over a bowl of warm water. Dip doughnuts into the glaze, 1 at a time, and set on a draining rack placed in a half sheet pan for 5 minutes before serving.
Chocolate Glaze:
Ingredients:
1 1/2 cups (150 grams) confectioners' sugar
4 tablespoons (27 grams) cocoa powder
2 tablespoons milk or water
2 teaspoons vanilla

Instructions:
Sift together the sugar and cocoa powder in a medium bowl. Slowly stir in the milk and vanilla, a little at a time, to make a smooth, pourable glaze.
Tips and Tricks I learned:
If you don't have a cutter for your doughnuts, just use the rim of a glass. Flour it before you slice into the dough, and then go to town.
The top from a bottle of water is the perfect size to cut nice little round doughnut holes.
Much like with pancakes, your first doughnut will probably be a flop, don't give up and try again!
When glazing try setting them on a cookie rack with some foil/wax paper underneath it, the glaze will drip down as they dry and then you can toss the foil/paper for easy clean up.
When making the glaze it's okay to add more powdered sugar to thicken the glaze depending on what you prefer. Play with the measurements and taste until you get something you like.

I hope you all have fun trying out this recipe yourselves, and enjoy some doughnuts!