The Statler Hilton Dallas Hotel, located at 1914 Commerce Street, was considered an iconic example of modernist design when it opened in 1956. It was the first hotel built in Dallas in over 30 years, and the largest conference facility in the South. When it opened the hotel had 1,001 guest rooms and a ball room which could accommodate 2,200 people. This historic hotel had many "firsts" in the hotel industry. It was the first hotel to feature elevator music and the first to include a television in each guest room. Celebrities, dignitaries and other VIPs visiting the hotel could also easily be accommodated by a heliport on the roof of the hotel which served as a shuttle to local airports.
The once opulent hotel entered a period of neglect in later years, and was closed permanently in 2001. In 2008 the building was recognized by the National Trust for Historic Preservation as one of the most endangered structures in the country. Inclusion on America's Most Endangered Historic Places List indicates the significant status of the building, and in general "highlights important examples of the nation's architectural, cultural and natural heritage that are at risk for destruction or irreparable damage."
This clip from the NBC5/KXAS Television News Archive features exterior and interior shots of the Statler from the first year of its operation in 1956. The short segment, which aired August 12, 1956, covers an address by Vice-President Richard Nixon to an annual meeting of the Veteran's of Foreign Wars Association. Although the images of the Statler are tantalizing brief, they do provide a great example of this historic building in action during its heyday.
Main entrance to the hotel (still image from film):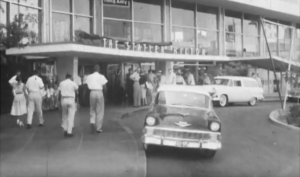 Conference attendees near the entrance to the Embassy Room inside the hotel (still image from film):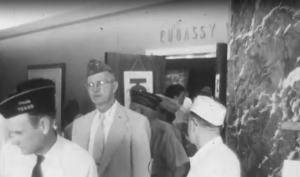 Bellman carrying luggage into the hotel (still image from film):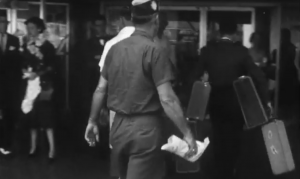 Original broadcast script from the August 12, 1956 news segment:
Full digitized news segment:
As one of the premier hotels in Dallas for several decades, the Statler Hilton is featured in many news segments which have yet to be digitized. In fact, coverage of the hotel began in 1953 during the groundbreaking of the hotel and continued for decades as celebrities visited and major events took place at the hotel. News footage like this can support historic preservation efforts in many ways– both by documenting the history of a structure and its importance to the community it served. However, unlike other types of historical sources of information, only film footage like this can show you the ways in the ways in which everyday people moved, interacted and enjoyed these structures, and it provides a whole different perspective than a newspaper report or even a still image.
This footage was digitized from the original 16mm news film and is made accessible to the public through the Portal to Texas History.