Before the widespread adoption of TV in America many people had become accustomed to tuning into their radios for news in addition to the more traditional formats such as newspapers and magazines.In fact, the rise of broadcast television news in the 1940's was a natural extension of the capabilities built during the war years by the major radio broadcast networks. Surveys conducted at the end of World War II revealed that radio had surpassed print journalism to become the main source of news for many Americans, and radio journalists such as Edward R. Murrow were well respected by the public. Of the four major networks at the time, NBC (National Broadcasting Company) and CBS (Columbia Broadcasting System) were the best situated to aggressively seek out local radio stations around the country who were moving into the new field of television to join them as affiliates. In 1946 publisher Amon G. Carter filed permits with the Federal Communications Commission for construction of a television station in Fort Worth, Texas. Carter, already a legend in the publishing world, had been successfully operating the Fort-Worth Star Telegram newspaper since 1909 and a major NBC affiliated radio station, WBAP, since 1922. His new television station, WBAP-TV, also NBC affiliated, aired its first broadcast on September 27, 1948. WBAP was the first television station in Texas and the only television station in the entire southwest region of the country at that time.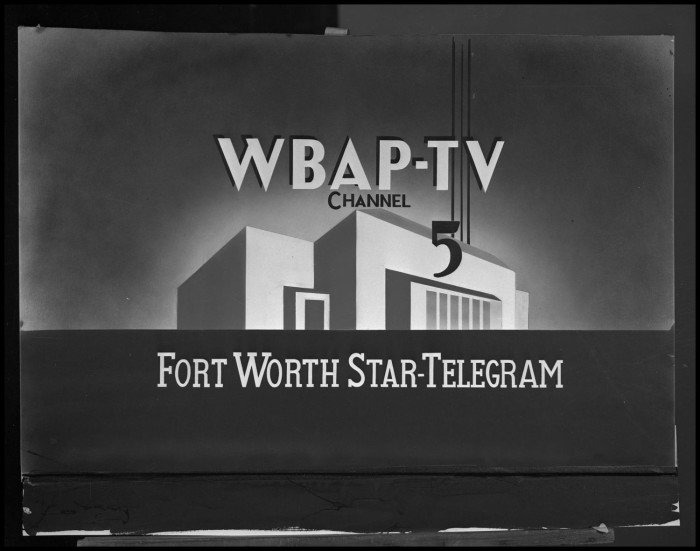 For over 65 years the station, which was was renamed NBC 5/KXAS in 1974 following its sale to LIN broadcasting, continued to broadcast programming from their original location in Fort Worth, Texas. In 2012 the station began construction of a new $16 million facility centrally located in the Dallas/Fort Worth metroplex and in early 2014 the station began broadcasting from their new location. News programming at NBC 5/KXAS has grown over the years from a daily 15 minute news reel in the 1950's to multiple daily news broadcasts by the 1970's. The station continued to be a leader in local television news by becoming the first station in Texas to feature all-color news film in 1966, and was the first station in the country to produce a monthly "news magazine" featuring in-depth, documentary style reporting.
The real innovation of WBAP and later NBC 5/KXAS was in the high quality content of their news reporting. During the 1950's and 1960's most local affiliate stations focused on live entertainment programming featuring dancers or musical performers which did not require the expense of investment in costly film technology. Furthermore many local affiliates believed that they would only be duplicating the efforts of radio and newspaper journalists in creating news programming, so they simply replied on summaries of wire reports to provide viewers with the news. In contrast, WBAP featured news reporting from across the Dallas/Fort Worth metro area ranging from crime, politics and current events to public interest even novelty reporting. News film from WBAP was broadcast nightly as early as 1951 (and perhaps earlier, although no footage from the years 1948-1950 was retained) in a 15 minute program called, "The Texas News." This early news format featured five to eight short news segments with live in-studio narration read from a prepared script. Most of the footage itself was silent, with sound on film occurring only for brief interviews.
By 1952 it is estimated that 32% of homes had a television set, which means that in a metroplex of over 1,100,000 people at that time, as many as 350,000 people could have been tuning in to watch the nightly local news. There is evidence which also suggests that new film produced by KXAS was selectively compiled and distributed as newsreels throughout the state. An example of a KXAS news reel located in the Library of Congress features several stories from November 1954 with narration and music added to the film which does not appear in the regular news broadcast.  
A typical 15 minute news reel from the earliest extant footage in the WBAP archive contains coverage reminiscent of what today might be called "hyperlocal" news. College and high school sports, meetings of fraternal and service organizations and city council meetings were events commonly included in news coverage. Public interest stories were covered as well– one memorable segment from 1951 included dramatic footage of a horse being lifted from an abandoned well. (The horse, named Major, was returned to pasture unharmed.) Although news coverage may have focused on local news events, it would be a mistake to assume that this coverage has no larger significance. In the decade following World War II the Dallas/Fort Worth metroplex experienced tremendous population growth fueled by the thousands of jobs available in the area. This growth however, also placed strain on many of the communities in the Dallas/Fort Worth area who suddenly felt the approach of "big city problems" into their small town lives. Secondly, as one of the largest metropolitan areas in the county, the experiences of people here are a microcosm of the issues which faced the nation at large including civil rights struggles of the 1950's.This news segment from 1956, which features a story on the integration of an all-white Fort Worth neighborhood, is an example of the significant footage included in the collection.
[News Clip: Ft. Woth City Council ; No Negroes Enroll at Wichita Falls] on The Portal to Texas History.