Welcome to the UNT Music Library Blog! We're so excited to share information on important musicians and composers, keep you up to date with new and notable materials at the library, share some of our favorite playlists, and much more. Today's post is all about opera!
What is opera?
This art form combines elements of dance, music, drama, and art. It's a dramatic story told completely through song. All of the music is performed live by the vocalists and an orchestra, and no mics or additional amplification is needed. Some of the most well-known stories have been turned into opera, like Romeo and Juliet, Sleeping Beauty, and Cinderella. Opera can trace its roots back to ancient Greece, where plays would incorporate song and dance. The first operas were composed in Florence, Italy and quickly gained popularity across Europe. They are often based on a pre-existing work that serves as the basis for plot and libretto (the words/text).
New to opera? Here are four classic works for you to enjoy:
The Marriage of Figaro by W.A. Mozart
La Bohème by Giacomo Puccini
Aida by Giuseppe Verdi
Carmen by Georges Bizet
These operas and more can be streamed online through the following UNT Libraries music databases:
Music Online: Classical Performance in Video
OPERA FACT: Opera singers can project over a full orchestra because they sing at a different frequency.
UNT Opera
Live opera faces a unique challenge under current social distancing protocols and UNT's Opera Department is using this opportunity to be innovative, putting a twist on Gaetano Donizetti's classic Lucia di Lammermoor. The story follows Lucia and Edgardo, secret lovers who belong to two opposing houses in Scotland. Lucia's brother Enrico forces her to marry another nobleman, claiming Edgardo has married another woman, and Lucia slowly loses her sanity. She eventually goes mad, kills her husband Arturo in their bed, and dies. Edgardo, learning of her death, kills himself in order to reunite with her in heaven.
Under the direction of Jonathan Eaton and Willem Van Schalkwyk, musical director, UNT Opera shares:
"Donizetti's beloved bel canto masterpiece is interpreted in a whole new Covid-compliant concept: Lucia finds herself at the beginning of the opera in an isolation ward, surrounded by plastic curtaining; she relives the events that led up to her madness, and try as she might to make meaningful contact with others, no-one will come within nine feet of her… the time is the present. This production will be performed live in front of an invited, masked audience only, who will be seated according to social distance guidelines" (UNT Opera).
We reached out to Nini Marchese (soprano), one of the vocalists performing in the title role, to comment on the unusual circumstances this production is facing and what she hopes the audience will take away from the performance:
"The social distancing practices, definitely unusual for any of us, have inspired some incredible creativity for this show. You won't find another like it! Unique to this production, Lucia will be performed by two sopranos and is dually set in a mental hospital and within her mind. The audience will not only see Lucia, a young woman, in an impossible situation driven to madness – but also how she perceives the traumatic memories playing out before her eyes. I think this take is so refreshing and touches on a hugely relatable theme during this era of COVID and quarantine – the human need for connection. I am so thankful that we are able to work together within the recommended guidelines, and create opera."
Lucia di Lammermoor performances are November 4, 5, and 6 at 7:30pm, November 8 at 3:00pm. If you're interested in attending live, email the opera department (opera@unt.edu) for permission and ticketing information. Streamed performances can be viewed on November 21st at 7:30pm and on November 22nd at 3:00pm on the UNT Opera page.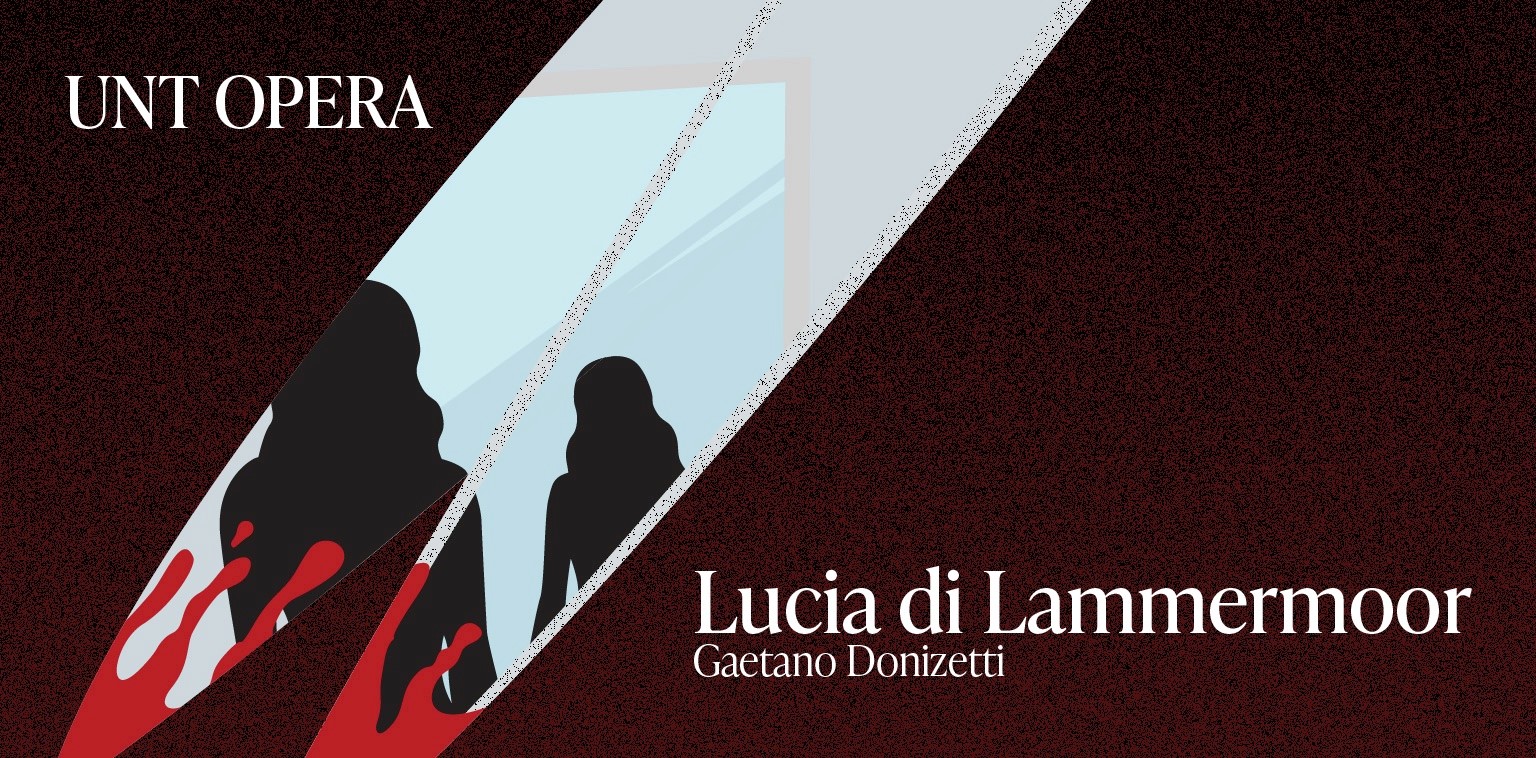 Bibliography
English National Opera. "The Beginner's Guide to Opera." https://eno.org/discover-opera/the-beginners-guide-to-opera/
University of North Texas Opera. "Introducing the 2020-2021 Season." https://opera.music.unt.edu/introducing-2020-2021-season
Stage Agent. "Luccia di Lammermore: Characters." https://stageagent.com/shows/opera/1478/lucia-di-lammermoor/characters