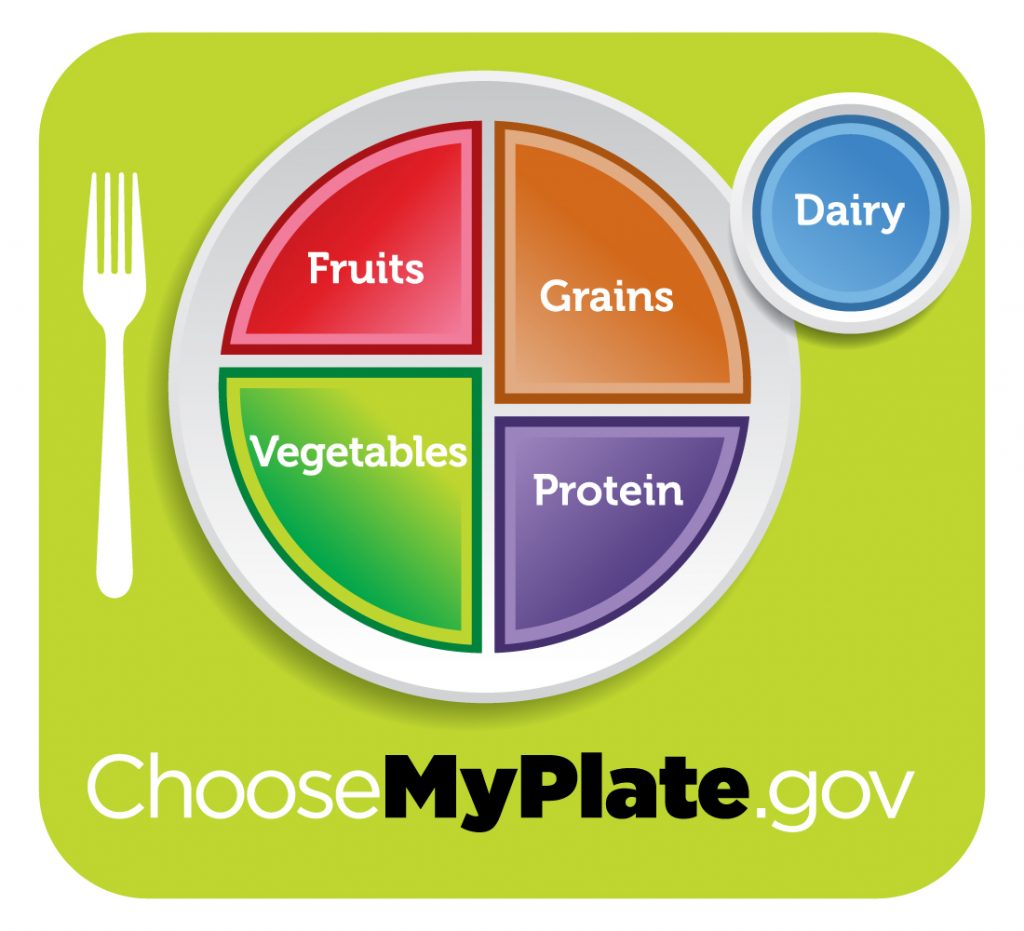 ---
100 Years of Nutrition Guidelines
For over a century the U.S. Department of Agriculture (USDA) has been trying numerous strategies, charts, and diagrams to teach Americans how to maintain a healthy diet. In response to scientific discoveries about human nutrition, changing patterns in food consumption and physical activity, and political pressure from food industry lobbyists, adults and schoolchildren may have seen, depending on which generation they belong to, such guides as the Basic Seven food groups, the Four Food Groups, the Food Wheel, or the Food Guide Pyramid.
Since 2011, the reigning food guide icon has been MyPlate. It is a device to help visualize the correct proportions of servings in a balanced diet. Explanations of MyPlate are also available in other languages, and if you avoid animal products, MyVeganPlate adapts the MyPlate guidelines for vegans.
A Brief History of USDA Food Guides provides a quick overview of this historical development; for a more detailed account of how the USDA dietary guidelines have evolved, see Dietary Recommendations and How They Have Changed Over Time. The National Agricultural Libraries' Historical Dietary Guidance Digital Collection provides access to over 1200 historical documents that have been created to educate the public about nutrition over the years.
Recipes
Step into the MyPlate Kitchen and you'll find a cornucopia filled with hundreds of recipes, USDA cookbooks, webinars and cooking videos, and other recipe resources to make healthy eating easy and delicious. You can even build your own cookbook!
Staying Healthy on a Budget
You don't have to spend a lot of money to create nutritious meals. Healthy Eating on a Budget provides tips for getting the most for your dollar when you shop for groceries. Here you can find menus, recipes, budgeting advice, and more.

If you rely on the Supplemental Nutrition Assistance Program (SNAP) to help pay for your food, you can find SNAP Recipes specifically tailored to your culinary requirements.
Think Globally, Buy Locally
Are you a locavore? Purchasing locally-grown foods is good for the environment and the economy, and it keeps you in touch with your community. Foods that don't spend a lot of time traveling to your door also taste better. MyPlate, My State shows you what foods your state or territory is known for. Celebrate your home town and local traditions while eating the freshest, most nutritious food available.
Don't Be Fooled
The Internet and other media are filled with hucksters and self-appointed experts spreading misinformation to lead you astray. Check out USDA's Fraud and Misinformation page to learn how to spot suspicious health claims and investigate food and nutrition myths. This page includes resources specific to weight loss diets and products.
Nutrition Around the World
Americans aren't the only ones concerned about their nutrition. The article "A Global Review of Food-Based Dietary Guidelines," published in the international journal Advances in Nutrition, assesses the similarities and differences in dietary guidelines promulgated by the governments of various countries around the world.
Article by Bobby Griffith.
MyPlate icon courtesy of USDA.