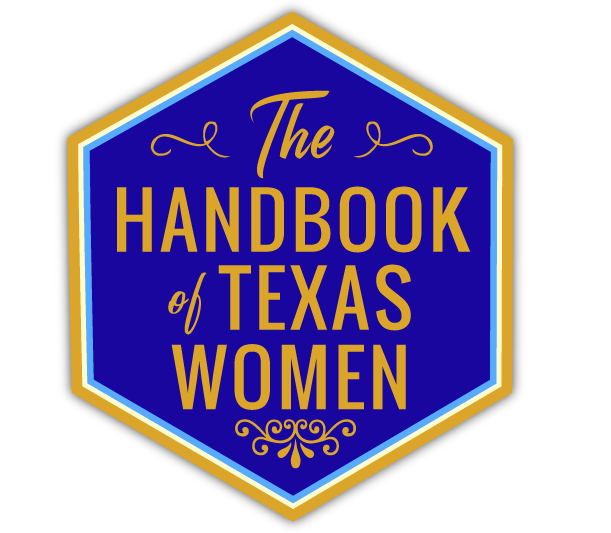 For decades, the Handbook of Texas—produced by the Texas State Historical Association in partnership with the University of Texas at Austin—has been one of the most popular sources of information about Texas history, geography, and culture. Its online incarnation has grown into the largest digital state encyclopedia in the country.
As with many popular historical and cultural resources, however, the contributions of women have too often been ignored or underrepresented. The Handbook of Texas Women takes a step toward correcting that imbalance by expanding and diversifying the contents of the Handbook of Texas with articles focusing on the historical and cultural achievements of Texas women. Today, International Women's Day, provides the perfect moment to explore the rich resources of this unique reference work.
Entries in the Handbook of Texas Women, like all those in the Handbook of Texas, are researched and written by volunteer historians and professionals, reviewed by TSHA staff, vetted by scholars, and approved by TSHA's Chief Historian before appearing online. New articles are developed as needed in response to current events, suggestions from users, and internal identification of topics that lack entries. These are all reviewed by the TSHA Chief Historian for consideration.
Authors make use of both primary and secondary sources—including materials such as books, census records, newspapers, military service records, obituaries, diaries, and letters—to create historically accurate entries.
The sources are compiled into a bibliography and updated regularly to provide readers with the most current scholarship. The editors on staff fact-check, copyedit, and format each submitted entry to for content, style, and accuracy, making sure that the language is appropriate for users at a middle school to college reading level.
eBook Series
Download these free Handbook of Texas Women eBooks to learn more about the contributions of Texas women:
Texas Women and the Vote: This eBook was released in 2020 to commemorate the passage of the Nineteenth Amendment, which was the federal amendment that recognized women's right to vote. Read it to learn about the women who played a crucial role in woman suffrage and the longer voting rights movement.
Women Across Texas History, Vol. 1: Nineteenth Century and Before: This first volume in the Women Across Texas History series includes biographies of prominent women of early Texas, as well as numerous articles on the diverse ways women have contributed throughout the history of Texas. Pilots, activists, oil magnates, storytellers, scientists, ranchers, daughters, mothers — the number of women who have affected or influenced the history of our state is as vast as the Texas landscape itself.
Women Across Texas History, Vol. 2: Early Twentieth Century: This second volume continues the Women Across Texas History series, sharing the stories of women who fought for gender equality, shattered glass ceilings, and in myriad other ways have influenced the politics, economy, and culture of Texas. Texas women make Texas history, and their invaluable contributions in the past make it possible to build a stronger foundation for the future.
Content Bundles
These bundles feature curated content suitable to the needs and interests of several specific audiences.
Texas Educators Content Bundle: Teachers are in a unique position to tell the many stories from Texas women's history to our state's youth. Here you will find lesson plans, teacher workshops, webinars, reading lists, articles from Texas Almanac and Southwestern Historical Quarterly, and eBooks relating to Texas women's history.
Texas Enthusiast Content Bundle: Texas enthusiasts are the TSHA's most loyal constituency and are critical to helping spread and build on this content. Here you will find webinars, reading lists, articles from the Texas Almanac and Southwestern Historical Quarterly, and eBooks relating to Texas women's history.
Texas Students Content Bundle: This bundle includes plenty of information to help you in your study of history both in and out of school. Here you will find webinars, eBooks related to women's history, articles from the Texas Almanac, and student-written articles from the Texas Historian and Touchstone. 
Do You Want to Know More?
You can find many more resources related to women's studies at the Eagle Commons Library. Our building is currently closed to the public because of the ongoing pandemic, but many of our physical publications can be requested at Willis Library, and electronic publications are available through the library catalog. Contact us directly at govinfo@unt.edu for answers to your questions or for help with your research needs. 
Article by Bobby Griffith.