There is no doubt that 2020 has been a bumpy year. Current conditions, including the ongoing pandemic and an election looming on the horizon, ensure the year will go out with a bang. It is an opportune moment to pause and observe August 25th as National Kiss and Make Up Day.
When relationships hit a rough patch, it can be difficult to know how to work past our differences. Even famous advice columnists and sisters Dear Abby and Ann Landers struggled to along. Yet today seems as good a day as any to put fourth the effort to mend a relationship worth having. Send flowers, make a phone call, write a text, agree to disagree, or whatever feels appropriate to make amends. 2020 needs all the help it can get, and hopefully we all escape with healthier and stronger relationships despite our social or physical distances.
However, don't feel bad if all your relationships aren't perfect. There are endless examples in history of people who really needed to kiss and make up. Here is just one example:
Andrew Jackson and John Quincy Adams
Like many new relationships, Andrew Jackson and John Quincy Adams initially held good opinions of one another. However, that all changed after a tight presidential election in 1824. Jackson and his crowd determined that President Adams must have made an underhand deal with Henry Clay that allowed Adams to win the presidency. Many felt that Adams had made a "corrupt bargain" and ill-will leaked into the 1828 presidential race between Adams and Jackson, which played out fully in the court of public opinion.
Both sides were not above slinging mud onto the other candidate. Coffin Handbills were circulated to illustrate alleged misdeeds of Jackson and included allegations of being a murdering adulterous cannibal.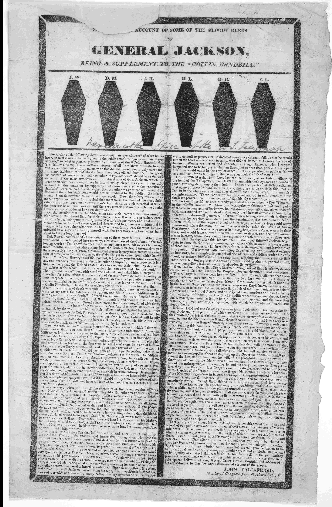 http://hdl.loc.gov/loc.rbc/rbpe.18601400
Supplemental account of some of the bloody deeds of General Jackson, being a supplement to the "Coffin handbill."
Library of Congress. Rare Book and Special Collections Division, Printed and Ephemera Collection.
 Jacksonian newspapers continued to support the idea of a "corrupt bargain' between Adams and Clay and alleged that President Adams was a pimp for the Czar of Russia while serving as a diplomat there.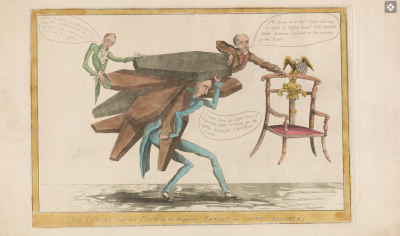 https://www.loc.gov/resource/ds.00847/
Akin, J. (1828) The pedlar and his pack or the Desperate effort, an over balance, United States, 1828. [Photograph] Retrieved from the Library of Congress.
Bad relations between Adams and Jackson continued after the elections. Jackson believed the treatment of his wife during the elections played a part in her death prior to Jackson taking office and thus did not make the traditional visit to outgoing President Adams. In return, President Adams did not attend President Jackson's inauguration.
Despite efforts from friends on both sides, the two presidents never kissed and made up. Each man continued to carry a poor opinion of the other for the rest of their days. President Adams was a diplomat, fluent in several languages, and a sometimes poet, but despite his skill he never found the way or the words to make amends with President Jackson.
Hopefully on this day your quarrels a little easier and you can find the words to smooth out hurt feelings or clear up a misunderstanding. If you need inspiration, the Library of Congress has the sheet music for "Kiss and make it up" and we hope it helps!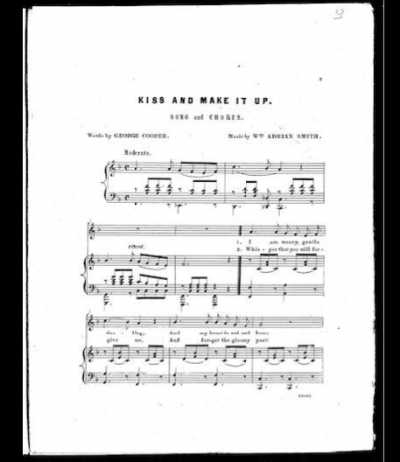 https://www.loc.gov/resource/sm1872.02208.0/?sp=2
Kiss and make it up
Sheet Music. print | 1 score | From: Music Copyright Deposits, 1870-1885 (Microfilm M 3500) Also available through the Library of Congress Web Site as facsimile page images.