Hey there! My name is JP. I'm a Lead technician at the makerspace and a Bachelor of Arts and Applied Science major here at UNT. Working at the makerspace over the last three years has really been a rewarding experience for me. I have access to several types of creative tools, resources, and equipment that I just can't find or have access to anywhere else on campus. A lot of my work at the makerspace revolves around 3D printing, CNC routing, 3D modeling, 3D scanning, project planning, and team development. What's more, is I'm constantly surrounded by creative coworkers and students that are usually working on something I can learn.
Over the past year, I got to work on several projects for the makerspace, and I'll highlight one of the interesting ones below. This project was to help an MFA candidate create one of the sculptures for her art exhibition at the Union Art Gallery. Her installation combined traditional Chinese ceramic making and digital fabrication processes. I was able to use the vacuum forming machine to create the object. The photo on the left is the vacuum form we created, and the one on the right is her final installation titled Balance of Power, 2019.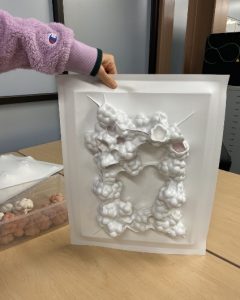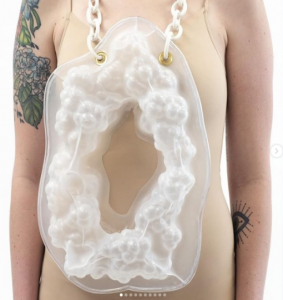 I also got to create an infinity mirror for our Magic of Making event. Creating this mirror took a little more time than it should, but it was worth the wait. I mostly used a thin metal rod, scrap wood, spray paint, LEDs, and mirrors. Although it wasn't finished in time for the event, it makes for a good display piece at the makerspace.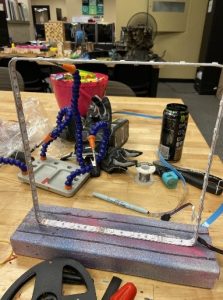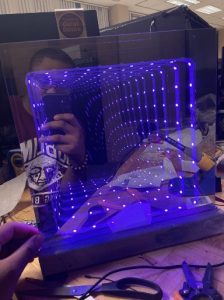 Right now, one of my main projects is hosting the makerspaces' debut podcast. We're done with recording our first episode and are now laying down the groundwork for future episodes. In the first episode, I spoke with our manager Judy Hunter on Makerspaces. Our conversation expanded on topics like the maker movement, the importance of makerspaces in our educational system, and how to get kids and young adults interested in their potential to create. Steven did an amazing job with editing and producing, so tune in for more information on the podcast.
The makerspace is a wonderful resource for students looking to create and learn new things or simply come to enjoy the things other people have made. Until next time, this is JP signing off.
Written By: J. Abah