Hi! My name is Arthur Sliter and I'm a knowledge specialist here at the UNT Makerspace. I'm currently a freshman majoring in mechanical engineering and have a passion for all things technical. I especially love 3D printing since it enables me to create crazy and custom parts I need for my projects. I got my first 3D printer in 2013 and have been addicted ever since. As my major would imply, most of the projects I do are mechanical in nature but almost all have a dash of electrical engineering or computer science. I've always been fascinated with how things work, as a kid I would always take toys and old appliances apart to understand the designs and mechanisms that made them tick. Since then not much has changed, I've just gotten better at putting things back together.
For 3 years I ran the maker space club for my high school, teaching peers and even staff how to design projects, weld, use power tools, woodwork, and 3D print. I love guiding others through the engineering design process and watch as their ideas come to life. When I found out there was a position open at the UNT maker space I knew I had to apply.
After teaching myself circuit design and coding in Arduino I was able to bring out the full potential of my projects and started working with more mechatronics and robotics. Some notable projects I've worked on over the years are: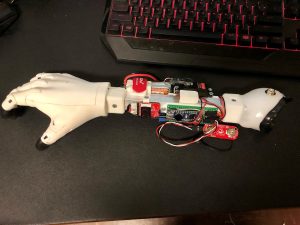 A bionic prosthesis I created for my capstone project as a senior in high school. The goal of this project was to fill the need for affordable prosthetics. The bionic arm uses an electromyograph to convert residual nerve signals into a command that opens and closes the 3D printed hand.
These are some science exhibits I created for the University of Texas at Dallas' Science and Engineering Education Center during my employment. I love teaching and passing on knowledge so these were a blast to make. From left to right, demonstrating the buoyancy of pumice, the magnetic properties of magnetite, and the concept of herd immunity.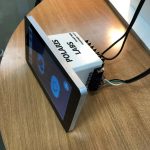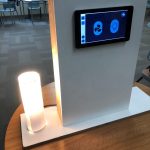 This is a home smart hub powered by IBM Watson AI for another school project in my junior year. This was designed to work with wireless and wired home devices and used Watson to improve energy efficiency and comfort by learning your routines.
| | |
| --- | --- |
| My love for tech doesn't stop at gadgets and robotics, this is a custom gaming PC I made with a hardline water loop, Ryzen 9 3900x, 32 GB of DDR4 ram, GeForce RTX 2070 Super for any PC nerds out there | This is another school project for my sophomore year sustainability project. This robot prototype was designed to skim the surface of oceans and lakes picking up trash and other floating debris. GPS telemetry allowed the robot to clean a determined area and dock at a specialized barge when it was full. Only one was made but they were meant to work as a swarm configuration. |
Written By: A. Sliter