My name is Nishan, a graduate student at UNT, pursuing Interdisciplinary studies in Applied Data Science, Finance, and Economics. I've always been passionate about visualizing data into real-world scenarios to make decisions. The world today we are living to tend to follow, making the more accurate decision based on a massive number of data.
Also, I am a graphic designer who is capable of handling various designing software. The Spark Makerspace has given me valuable opportunities to let me share my knowledge with other fellow students. It has been an excellent opportunity for me to explore new experiences and techniques in Adobe graphic designing software. I find myself in a stable position to share my knowledge, including tips and tricks in each graphical software such as Adobe Photoshop, Illustrator, and InDesign. Not only those but also, my skill area in this place includes LittleBits, Project Planning, 3D modeling, and Printing, Lasercutting, Video Editing, Photography, Power Tool training, Soldering, and CNC training. These are exciting and captivating roles for me to perform as a member of the UNT student community.
The Spark Makerspace is a fantastic resource available for the UNT student community who want to follow their passion and creativity in their personal and professional lives. This place is full of resources and experts in different domains and skills. You are always warmly welcomed to our Spark Family. Come and use our resources to be successful in your dreams.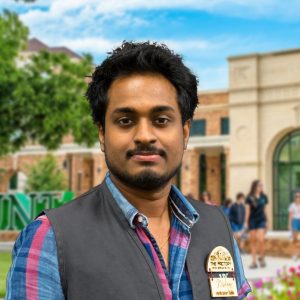 Written By: N. Dangalla