Smokey Bear will be turning 70 this August, but birthday celebrations are already underway. Smokey's Cascade Campout, an annual national convention sponsored by the Smokey Bear Association and the Des Chutes Historical Museum, took place in Bend, Oregon on April 23 through 25.
Although the UNT Government Documents Department members did not attend the 2014 Smokey Bear Association conference, the Department does boast a unique collection of Smokey realia, some of which was photographed by Betty Monterroso and curated by Dr. Cathy Sassen. The Department followed the Conference events via Facebook postings from Tami Hert, a former UNT Texas Documents librarian who currently heads the Emmett D. Chisum Special Collections at the University of Wyoming Libraries. It is alleged that members of the Department even sang the song "Smokey the Bear" in support of the conference.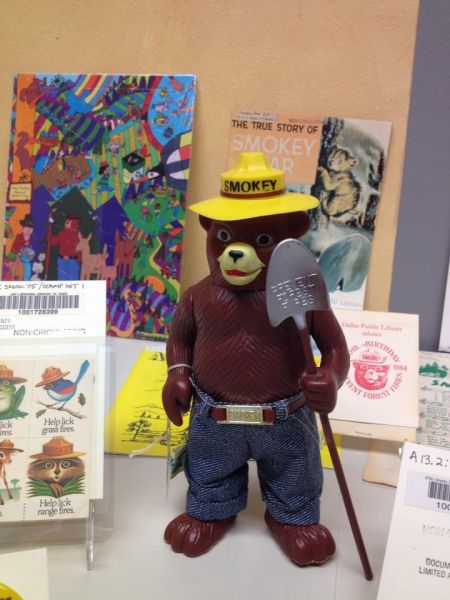 The star of our Smokey Bear collection is this 8 1/2" articulated plastic action figure with fabric jeans, a hat, and a shovel, manufactured in Hong Kong and sold by the popular toy company R. Dakin & Co. (now merged with Applause Inc.).
Also visible here are a vintage jigsaw puzzle still in its cellophane wrapper; The True Story of Smokey Bear, a comic book relating Smokey's origin; a 40th birthday card from the Dallas Public Library; and several stamps.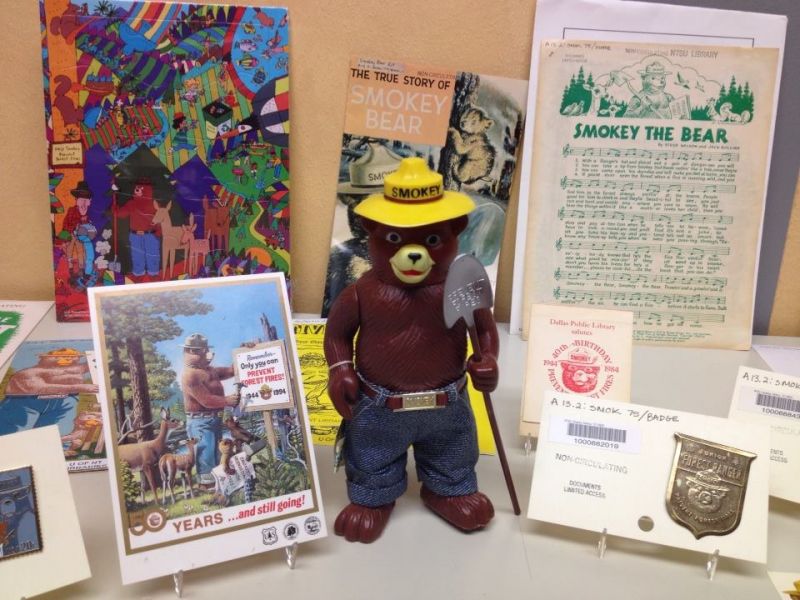 This photo includes the 1952 song "Smokey the Bear" by Steve Nelson and Walter E. "Jack" Rollins (who also wrote "Here Comes Peter Cottontail" and "Frosty the Snowman"); a stamped-metal  Junior Forest Ranger Badge; and a poster advertising Smokey's 50th birthday.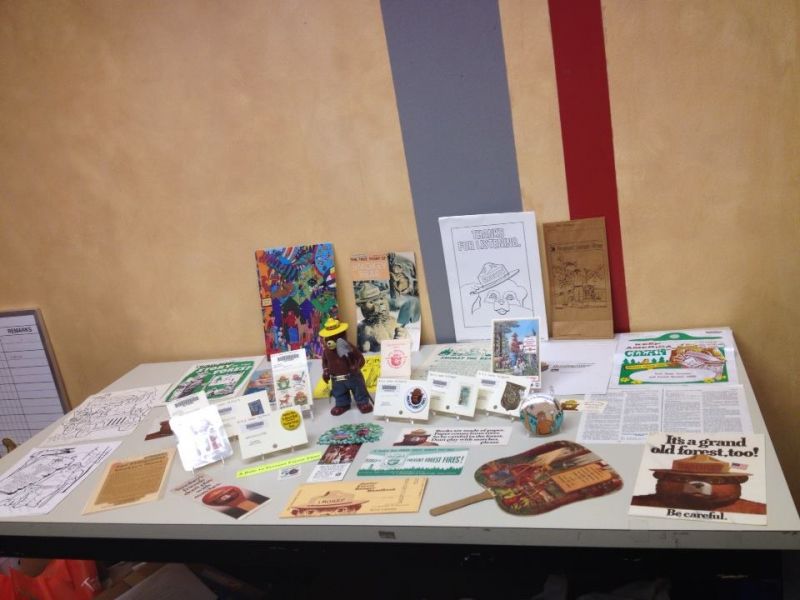 The whole UNT Libraries Smokey Bear kit. The pamphlet in center front is the Junior Forest Ranger Handbook. The newspaper clipping off to the left is an article about the death of the real Smokey Bear at the National Zoo in 1976. See our Smokey Bear kit catalog record for a complete list of items in the collection.
Photos by Betty Monterroso
Article by Bobby Griffith and Melody Kelly