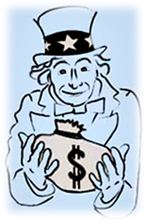 Did you ever leave a job and forget to pick up your last paycheck? Maybe you never collected your security deposit after moving from an apartment, or perhaps you have a rebate coming for a computer you purchased decades ago, or a refund for an overcharge on a long-forgotten electric bill.
Billions of dollars are being held by the government because the rightful owners don't know how to find it or that it even exists. These forgotten funds can come from bank closings, matured savings bonds, pensions, mortgage refunds, and many other sources. Here is a way to discover whether the government is holding onto any money that rightfully belongs to you.
Unclaimed funds are usually held by individual state treasuries, so to do a thorough search you should be sure to check with each state in which you have ever lived. The National Association of Unclaimed Property Administrators (NAUPA) has a Web site at www.unclaimed.org where you can select a state from a clickable map (or select from a drop-down menu) and find out whether that state has unclaimed property in your name. You can also search several states simultaneously by going to missingmoney.com, another site sponsored by NAUPA.
You can find other sources of Unclaimed Money from the Government at the USA.gov government information Web site.
Beware of scammers who claim to be government agencies and offer to reunite you with your money for a pre-paid fee or who ask you for personal financial information that could be used to access your bank account. The Federal Trade Commission has information on how to recognize, avoid, and report these Government Imposter Scams.
Article by Bobby Griffith.
Illustration from the USGS publication Putting Down Roots in Earthquake Country.