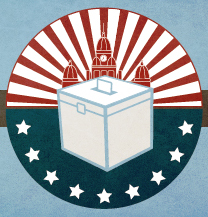 The official election day is November 4 this year, but UNT students, faculty, and staff who live in Denton County will have an opportunity to beat the crowds and vote early in the November 4, 2014 General Election without even leaving the Denton campus. Other voters from the community who are registered in Denton County will also be allowed to vote early on the UNT Denton campus.
Time and Place
From Monday, October 27 to Friday, October 31 the UNT Libraries, in cooperation with the Denton County Elections Administration, will host an early voting booth in Room 142 of Sycamore Hall. The voting area will be open from 7 a.m. to 7 p.m. Visitors can park on campus for a fee.
Candidates and Issues
A Voter's Guide from the League of Women Voters of Denton is available to help you become a more responsible voter by learning about the candidates and issues being voted on. Some of the more contentious local issues include an initiative to ban hydraulic fracturing (fracking) within Denton city limits, and a local option to allow the sale of all alcoholic beverages, including mixed drinks, in Denton. There are also several bond programs coming up for a vote.
Learn more about the upcoming elections at the Denton County Elections site and the Texas Elections Division Web site.
Don't Forget Your I.D.
Don't forget that now that a new Texas voter I.D. law has been passed and upheld by the U.S. Supreme Court, you must now present one of the following forms of photo identification in order to vote:
Vote Texas
Information about voter registration, voting rights, special needs, and other issues related to voting in Texas is available at the Texas Secretary of State's VoteTexas.gov page.
Contact Julie Leuzinger if you have any questions.
Article by Bobby Griffith.