The Library of Congress, in cooperation with Sony Music, has made available to the public a vast collection of historical recordings—the largest ever made publicly available online.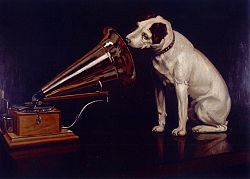 On May 10, 2011 they officially launched the National Jukebox, a Web site that provides public access to over 10,000 recordings made between 1901 and 1925 by the Victor Talking Machine Company, still famous today for their advertisements featuring the dog Nipper listening to "His Master's Voice" on a wind-up gramophone. These historical recordings are now owned by Sony, which has granted license for the Library of Congress to stream them online. Recordings available on the National Jukebox include not only music, but also spoken word recordings such as poetry and political speeches.
Through the additional cooperation of the University of California, Santa Barbara, these recordings can be searched online via cataloging data provided by UCSB's Discography of American Historical Recordings database, itself an expansion of their earlier Encyclopedic Discography of Victor Recordings database.
Also available on the National Jukebox site is an interactive digital facsimile of the 1919 edition of the Victrola Book of the Opera. This tome was developed as an advertising gimmick, but contains much valuable educational information. It includes descriptions and illustrations of over 100 operas, and the online version links to recordings of excerpts from each that were available from Victor Records. Some of these recordings were made by such early 20th century luminaries of the operatic stage as Enrico Caruso, John McCormack, and Geraldine Farrar, while others are popular overtures and instrumental arrangements.
Here are a few holiday-themed tricks and treats from this vast collection to keep you entertained during the Halloween season:
Article by Bobby Griffith.
"His Master's Voice" painting by Francis Barraud from Wikimedia Commons.