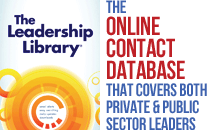 This massive commercial database contains biographical and directory information for hundreds of thousands of administrators, board members, and other leading individuals at 40,000 government agencies, large companies, news media, and major professional and nonprofit organizations at the federal, state, and local level.
How It Works
You can search the database by the name of a person or organization and by keyword. You can search for a single individual or agency, or build a customized contact list by selecting specific criteria such as area of expertise, geographical location, and the size or type of organization. The "one-click list" feature allows quick and easy access to frequently-requested lists such as the 1000 largest public companies, all the current members of congress, or all the current governors in the U.S.
What It Contains
These are just a few of the data you can find out about a person:
Date of birth
Educational experience
Religion (of politicians)
Current job position
Current business and mailing address (with a link to the location in Google Maps)
Current e-mail address, fax, and phone number
Career history, including previous positions held
The Leadership Library integrates the contents of fourteen Yellow Books published by Leadership Directories, Inc.:
In their paper incarnation the first five of these directories are updated quarterly, and the rest are updated semi-annually. The Leadership Library database has the advantage of being verified and updated daily, whenever a change occurs. The information is often more extensive and more up to date than what is available on the agency's official Web site!
Who Can Use It
Members of the UNT community can access this database from anywhere; guests may access the Leadership Library from the public computers available inside the UNT libraries. Follow these steps to get in:
Start at http://www.library.unt.edu/
Select "Databases" tab from left menu bar
Select "Leadership Library on the Internet" from the "Select a Database" drop-down menu and click "Go" button
Enter EUID and Password if your are off campus
There are many ways to use the database, depending on your specific needs, but the most common approach is simply to enter a name or a keyword in the search box at the top of the screen and click "GO" or select from the suggestions that appear below the search box. The results will appear in a pop-up box.
Who might find this database useful? Just about anyone!:
Libraries rely on the database as a comprehensive, accurate, up-to-date reference tool.
Universities find it useful for placement and tracking of alumni.
Foundations and nonprofits use it to search for grants and sponsors.
Sales and marketing teams can use the verified contact information to generate thousands of valuable corporate and financial contacts.
Are you trying to sell to the government? Search hundreds of thousands of federal, state, and local government contacts to generate new business.
Advocacy and lobbying groups can use the database to contact influential members of Congress and state legislatures.
Do you need an attorney? The Leadership Library includes contact information for thousands of law firm, government, and lobbying contacts, including managing partners, general counsels, HR staff, and more.
Government agencies and embassies use the Leadership Library to build powerful relationships with the private sector, and even as a convenient contact directory for their own offices.
So whether you are a politician, journalist, entrepreneur, or citizen activist, this indispensable resource can prove a priceless powerhouse of information practical for a plethora of purposes. Come to the UNT Libraries and try it out today!