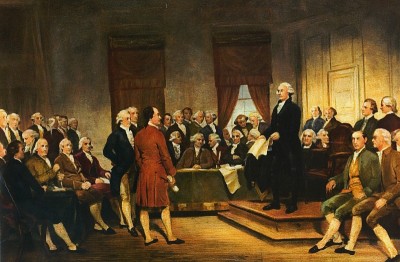 In commemoration of the initial signing of the United States Constitution on September 17, 1786, Congress has designated September 17 of each year as Constitution Day. All schools that receive federal funds have been charged with providing educational programming related to the Constitution on or near September 17.
As part of the UNT celebration, the UNT Honors College—with support from the UNT Libraries and funding from the Jack Miller Center—will be presenting a panel discussion on the constitutional issues raised by the recent Supreme Court decision in the case of Obergefell v. Hodges. In a 5–4 decision, the Court held that the fundamental right to marry is guaranteed to same-sex couples by the Due Process Clause and the Equal Protection Clause of the Fourteenth Amendment to the Constitution, while also noting that the Free Exercise Clause of the First Amendment protects the rights of those who choose not to recognize same-sex marriage because it is against their religion.
Join us for this exciting discussion, "The Futures of Marriage Equality and Religious Liberty: Perspectives on Obergefell v. Hodges," beginning at 11 a.m. in Room 100 of the Auditorium Building, 1401 W. Hickory St.
Pocket-sized editions of the Constitution will be distributed in at the panel discussion and will also be available throughout the day at the Eagle Commons Library.
Additional resources for celebrating Constitution Day have are available from the U.S. Department of Education, the National Constitution Center, the National Archives and Records Administration, and the Law Library of Congress.
Article by Bobby Griffith
Illustration: "Washington as Statesman at the Constitutional Convention," by Junius Brutus Stearns (1856)