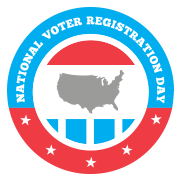 Today is National Voter Registration Day. If you are not yet registered to vote, take this special opportunity to prepare so that you will be eligible to participate in the next election.
Two Denton County deputized voter registrars, Robbie Sittel and Julie Leuzinger, will be registering new Denton County voters, helping with changes of address, providing information on mail-in ballots, and answering election-related questions on Tuesday, September 22 in the following locations on the UNT campus:
Kerr Hall Lobby       10:00 a.m. – 2:00 p.m.
Rawlins Hall Lobby  6:00 p.m. – 8:00 p.m.
It's Never Too Late to Register
National Voter Registration Day isn't the only time to register! You can register to vote any time, although your Texas voter registration will not become effective until 30 days after your application is received (or on your 18th birthday).
UNT students, faculty, and staff can contact Robbie Sittel or Bobby Griffith at the Eagle Commons Library, or Julie Leuzinger at Willis Library, to schedule an alternative time. We are also available to come to classes to talk about voter registration and register students at any time during the semester. Help us spread the word by sharing with your departments.
You can also register by mail, but be aware that your application must be received by October 5, 2015 to vote in the upcoming November 3, 2015 constitutional amendment election in Texas.
Use the National Mail Voter Registration Form to register to vote, update your registration information with a new name or address, or register with a political party in any state in the U.S.
Eligible Texas residents may register to vote by mail by filling in a Texas voter registration application online or in paper and mailing it to the Voter Registrar in your county of residence.
If you wish to vote absentee and are a uniformed service member or family member or a citizen living outside the U.S., contact the Federal Voting Assistance Program to register to vote.
Do You Want to Know More?
The National Voter Registration Day Web site has information about the origin and history of this special day, information on registering to vote, lists of special events going on in your area, and resources to help you spread the word about National Voter Registration Day via social media and e-mail.
Most questions about voting in Texas can be answered by going to http://votetexas.gov/
The League of Women Voters has provided information about voting in every state of the U.S. at Vote411.org . Enter your address in their database to obtain personalized voting information. You will be able to see the races on your ballot, compare candidates' positions, and print out a "ballot" to keep track of your preferences—you can even take it with you into the polling booth as a reminder on Election Day!  Information for military and overseas voters is also available here:  https://vote411.overseasvotefoundation.org/vote/eod.htm
The UNT Libraries Web site lists many resources useful to voters. The following are especially relevant:
Visit the Government Documents Department in the Eagle Commons Library to find out more information about voting and elections.
Article by Bobby Griffith.
Logo from the National Voter Registration Day Web site.